You are here
Back to top
Argentine Grapes Approved for Export to China
May 25, 2017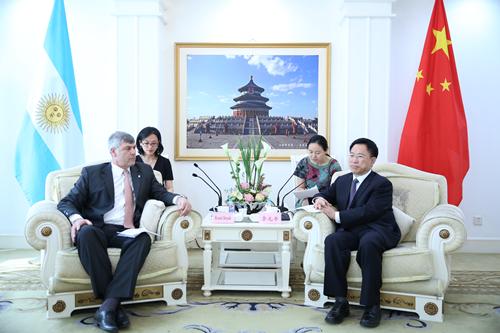 Argentinean sources confirmed grapes have been cleared for export to China. This concurs with the recent trip made by Argentina's President, along with the head of Argentina's Ministry of Agriculture Ricardo Buryaile, where they met their Chinese counterparts to sign a protocol concerning sanitation and quarantine of grape imports.
President Mauricio Macri of Argentina was invited to attend an international cooperative summit forum for China's One Belt One Road Initiative, one of China's most ambitious foreign economic development plans. The Argentinean envoy hopes this trip opens up more of China's lucrative markets to other agricultural exports such as blueberries, honey, green peas and more. In a gesture of solidarity, President Mauricio Macri noted fast-paced economic development in China and Argentina are complementary to each other. In the next few years, Argentina aims to double production of agricultural products and expand exports—achieving a status as the "world's supermarket".
According to the Chinese National Bureau of Quality Inspection (AQSIQ), on May 15, the Deputy Director of AQSIQ Li YuanPing met with Ricardo Buryaile at a conference in Beijing. Together they exchanged views related to quality inspection cooperation of grape exports to China.
The latter protocol for Argentine grapes was signed in the presence of representatives from both Argentina and China. Moreover, China and Argentina announced a five-year plan for strategic bilateral agricultural cooperation. This joint declaration highlights the promise to strengthen Sino-Argentinean quality and quarantine cooperation of agricultural products.
Apart from cooperation between governments, Alibaba Group's CEO Jack Ma met with the president of Argentina as well. They publicized a cooperative agreement that names Alibaba as the official channel for sales of Argentinean wines and other distinctive fresh produce products. Jack Ma said this cooperation will help cultivate and develop Argentinean businesses. Concurrently, Alibaba wants to use this opportunity to develop more ties with domestic Argentinean businesses.
Upcoming Events

September 06, 2023

to

September 08, 2023
October 19, 2023

to

October 21, 2023
Featured Produce
Produce Marketplace
Elangeni Food Group

·

South Africa

Universal Capital Gr

·

Ecuador

AGRI GATEX LIMITED

·

Africa
Joshua Lim

·

Malaysia

City fresh fruit co.

·

Thailand

Chun lin orchard-Sel

·

Taiwan nan
China Market Access List