You are here
Back to top
Vanguard Reveals Shifting Table Grape Landscape in China
August 17, 2019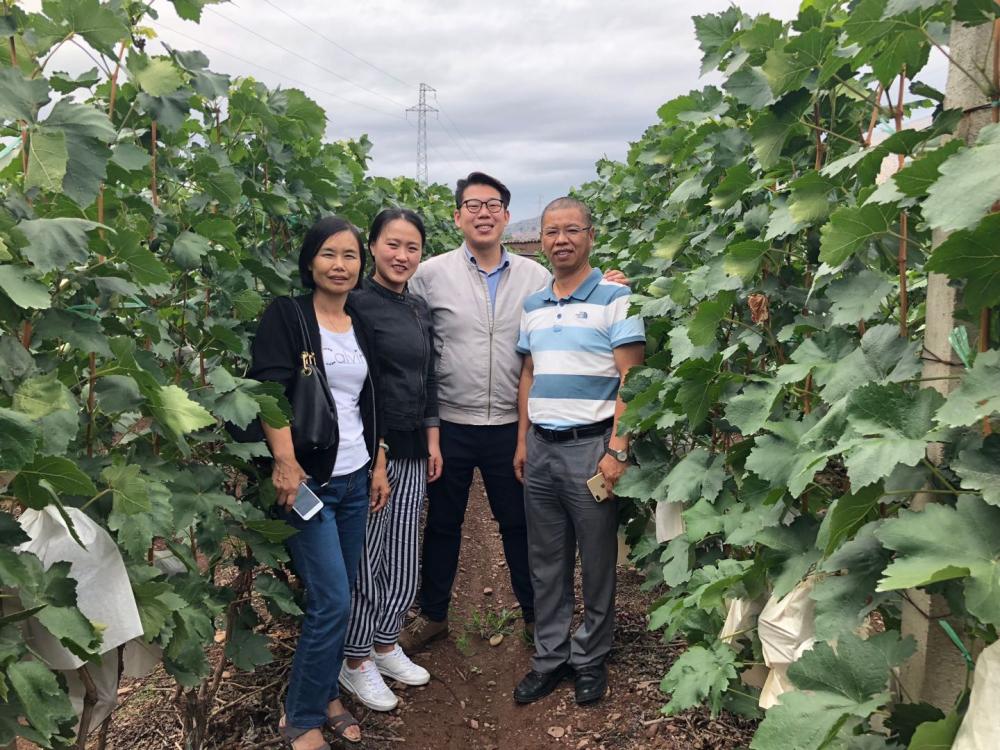 Timothy Li (second from right) and Hannah Yu (second from left) of Vanguard International China Procurement & Sales with two growers at a Yunnan vineyard
With offices in ten countries and regions across the world and growers in over 30 countries, Vanguard International has an impressive global network and extensive field-to-table fresh produce operations. Produce Report recently caught up with Timothy Li, Vanguard International's China Procurement & Sales Manager to discuss his company's table grape procurement operations in China, current trends, and expectations for the ongoing season.
Vanguard has been exporting China-grown grapes since 2002, with the main export variety being Red Globe. The growing season for Red Globe grapes spans from June to September and Vanguard is expecting that for 2019, the crop size of their partner-growers' Chinese Red Globe grapes will remain steady at between 44,000 and 54,000 tonnes, roughly the same size as the previous season. A higher temperature and less rain than usual at the beginning of the growing season caused these early Red Globes to be smaller and have a higher Brix content than average. However, heavy rainfall in mid-July balanced this out somewhat and led to a grape crop larger in size (diameter) in the mid-season. If there is slightly less rain in August, this will lead to an excellent overall crop quality.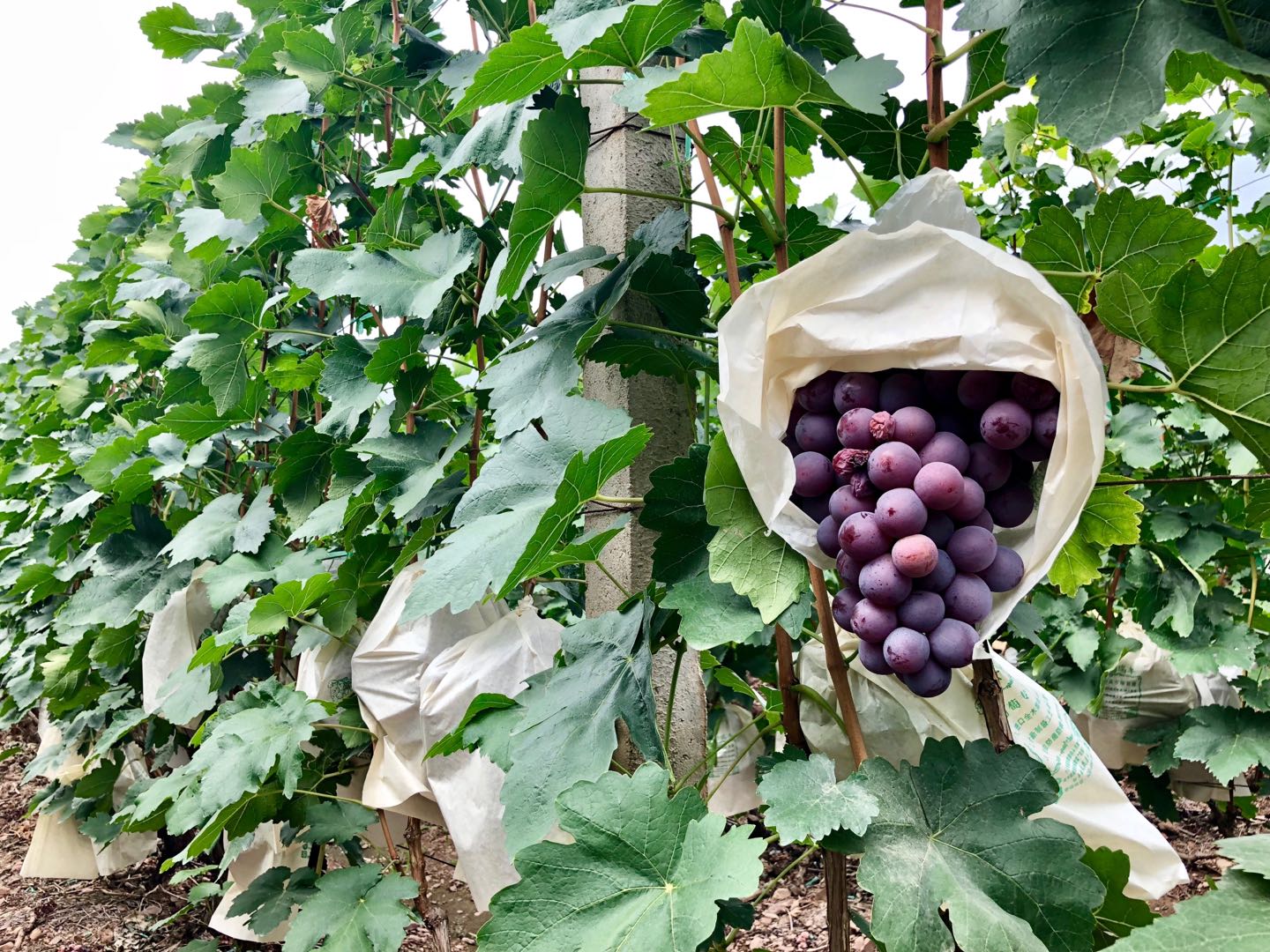 Xinjiang accounts for approximately 35-40% of total Red Globe grape plantation acreage in China, which continues to increase each year across China. Yunnan is also another large grape-producing region for Vanguard, who works with local growers in both provinces and works closely with them to market their fruit to Vanguard's customers around the world. Of this crop, roughly 65% is intended for domestic consumption, with the remaining 35% destined for markets in Southeast Asia, namely Indonesia, Bangladesh, and Thailand, with smaller shipments sent to Malaysia, Singapore, the Philippines, and India. Mr. Li noted that the strength of Vanguard's Red Globe grape exports lies in the fact that they are less expensive then their competitors and can be shipped quicker to Southeast Asian markets, taking only one to two weeks from loading to arrival.
Red Globe is the only variety currently exported by Vanguard outside of China, which Mr. Li said is because Chinese growers are very much focused on supplying the domestic market first for quicker returns and the export market only second. Additionally, some popular varieties such as the Xinjiang-grown Crimson Seedless grape have a shorter shelf life and are more delicate to transport than Red Globe, which makes them more conducive to domestic sale than external export.
An increasing trend, especially in Xinjiang, has been farmers replacing Red Globe grape plantations with wine grapes, which can offer a potentially more lucrative rate of return than the increasingly competitive Red Globe grape. This has caused the volume of Red Globe grapes in the province to drop by about 10% this year compared with last season. Mr. Li told Produce Report that some growers have even begun trying to plant Shine Muscat seedless green grapes in Xinjiang. "This is still in its developmental stage, as the nights in Xinjiang are too cold for this variety, and more time and education are needed for growers to be able to apply best practices for planting good quality Shine Muscat in Xinjiang."
According to Mr. Li, although Vanguard exports a significant volume of China-grown Red Globe grapes each season, this figure has been decreasing in recent years. "As the plantation area of Red Globes grapes grows overall across China, exporters are relying more on consignment sales in Southeast Asian markets to move their product, which has led to a less quality product and a more unstable market." Because of this, Vanguard has started to develop new varieties for export from China, such as Shine Muscat.
Besides Red Globe, Vanguard markets several other varieties of grapes across China for sale domestically. In Xinjiang, late-season red seedless grape varieties such as Flame Seedless, Crimson Seedless, and Horse Milk are now beginning their growing season. Yunnan's green seedless Muscat crop is currently in the middle of season, whereas the black seedless Summer Royal grape is expected to wrap up production later in August. Other varieties of grapes such as Kyoho, Scarlet Royal, and Summer Royal continue to be marketed for Vanguard in smaller regions across China.  
Image source: Vanguard International
Upcoming Events
October 19, 2023

to

October 21, 2023
Produce Marketplace
Elangeni Food Group

·

South Africa

Universal Capital Gr

·

Ecuador

AGRI GATEX LIMITED

·

Africa
Joshua Lim

·

Malaysia

City fresh fruit co.

·

Thailand

Chun lin orchard-Sel

·

Taiwan nan
China Market Access List