You are here
Back to top
Yunnan Expected to Become Largest Macadamia Production Region
August 16, 2015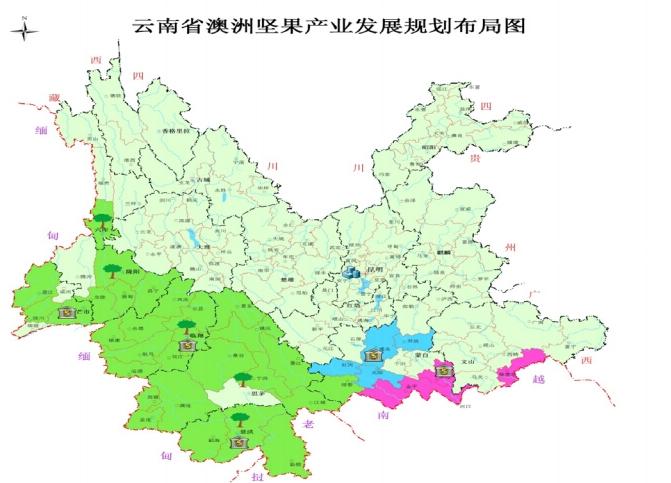 With China presently accounting for 3% of the world's total macadamia output, Yunnan, a province in south-western China, has now surpassed Guangdong as China's leading province in terms of macadamia production. The climate of Yunnan's low latitude plateau features a distinct dry and wet season, huge daily temperature swings, and continual sunshine. With these ecological conditions baring close similarity to those of macadamia's native origins, Yunnan holds a promising future for macadamia production. 
According to cultivated area and output statistics for macadamia produced in China, the total area of cultivation in Yunnan reached 75,150 hectares in 2014, five times greater than that in Guangdong, the second largest macadamia-producing province in China; similarly, the total output of macadamia in Yunnan reached 4,200 tons, or six times greater than the output in Guangdong. After visiting Dehong, Lincang and Xishuangbanna in Yunnan province, Mr. John Wilkie concluded that Yunnan had the potential to become the largest, and finest, macadamia planting, processing, and exporting base in the world, granted support from authorities of the different levels of government is provided and maintained. According to statistics provided by the Yunnan Provincial Forestry Bureau, Dehong, Lincang, and Xishuangbanna are the three main macadamia production areas in Yunnan, together accounting for over 80% of the total planting area and 94% of the total macadamia output of Yunnan. 
After concluding agreements with macadamia growers, local corporate 'champions' purchase the macadamia from growers and guide these growers on the proper construction of processing plants and assist them in improving processing techniques for macadamia. Initiated by the Yunnan Macadamia Industry Development Co., Ltd., the Yunnan Macadamia Society was established in 2014 and has made great contributions towards improving national, trade, and local standards of the macadamia industry. The Yunnan provincial government plans to have 400 million acres of land devoted to the production of macadamia by 2020, by which time Yunnan is expected to grow to become the largest macadamia production region, according to Yang Bin, vice president of Yunnan Macadamia Industry Development Co., Ltd. 
Photo Source: ynmac.com.cn
Upcoming Events
October 19, 2023

to

October 21, 2023
Produce Marketplace
Elangeni Food Group

·

South Africa

Universal Capital Gr

·

Ecuador

AGRI GATEX LIMITED

·

Africa
Joshua Lim

·

Malaysia

City fresh fruit co.

·

Thailand

Chun lin orchard-Sel

·

Taiwan nan
China Market Access List