You are here
Back to top
Prince Fruit and Yunji at it Again, This Time With Meyer Lemons
August 24, 2017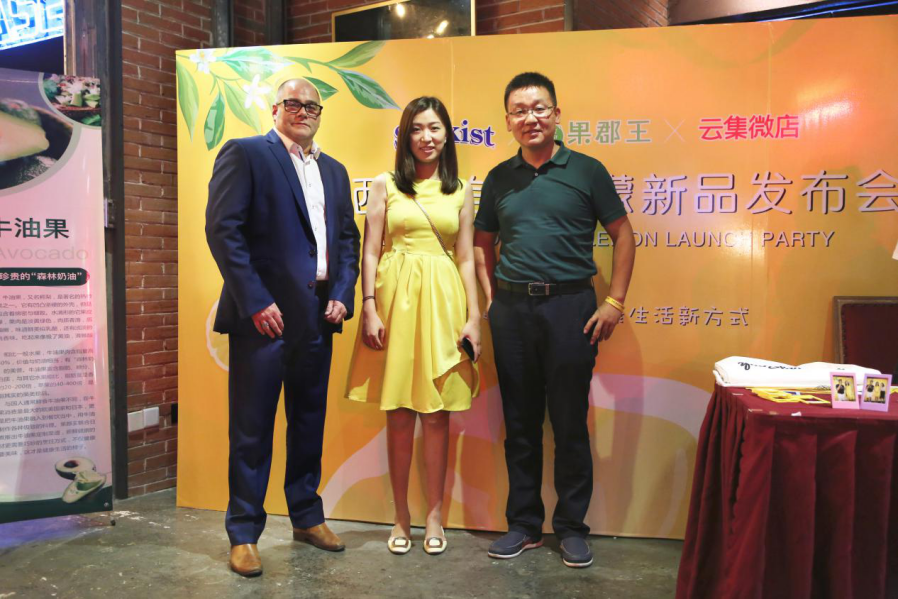 On August 18, Prince Fruit hosted the "New Zealand Meyer Lemon Launch Party", cosponsored by First Fresh and Yunji Micro Shop, in Shanghai's Jingan district. Present at the event was the General Manager of Prince Fruit Wang Jing, First Fresh Managing Director Ian Albers, Yunji Micro Shop Vice President Zhang Tiecheng, Shanghai Day Day Cook Senior Vice President Zhou, and more.
Samples of the blooming orange-yellow Meyer lemon, Meyer lemon cocktails, and desserts invigorated the party. Meyer lemons are thought to be a hybrid between lemons and oranges. After ripening, the skin of a Meyer lemon becomes bright orange. Managing Director of First Fresh Mr. Albers told other guests, compared to the normal lemon, the taste of Meyer lemons is milder—its shelf life is relatively long as well.
According to Mr. Albers, the Meyer variety originated from China before being popularized by Frank Meyer, a United States Department of Agriculture (USDA) worker, who introduced it to the United States for cultivation. Today, growing Meyer lemons are popular with home gardeners in New Zealand. In 2014, New Zealand began exporting Meyer lemons to China.
The typical sizes of Meyer lemons in the Chinese market are typically 115, 140 or 165 millimeters. The production season for Meyer lemons in New Zealand is from May to September—exports normally conclude near the end of August. Mr. Albers told Produce Report, aside from Meyer lemons, First Fresh is making preparations for the export of Navel oranges. Moreover, after 12 years of negotiations, First Fresh finally exported its first batch of persimmons to China on August 15.
Meyer lemons have demonstrated the success achieved by the innovative e-commerce business models of Prince Fruit and Yunji Micro Shop. Prince Fruit has maintained a status of China's largest supermarket supplier and distributor of fruits via a dual sourcing model that utilizes orchards and imports—which allows them to work with foreign orchards directly. They have remained in the industry forefront and recorded earnings of over a billion Yuan.
Last month, Prince Fruit and Yunji Micro Shop, in a cooperative promotional event, sold over 300,000 Sunkist Oranges in two hours. Regardless of which metric, they all surpassed those of traditional fresh produce e-commerce sites such as Tmall.com and JD.com. Furthermore, with help from Yunji, Prince Fruit's brand "Mary Sue Durian" achieved explosive sales. The success of Meyer lemons in China has also allowed New Zealand businesses to witness the ecosystem of China's e-commerce industry and the great ability of its leaders such as Prince Fruit and Yunji Micro Shop.
In recent years, the enormous increase of fresh produce consumption shows that Chinese consumers are pursuing healthier lifestyles. During the event, Senior Vice President of Day Day Cook Mr. Zhou elaborated on different cooking methods for lemons, which can "spice up life" and promote better health.
Image Source: Prince Fruit
Upcoming Events

September 06, 2023

to

September 08, 2023
October 19, 2023

to

October 21, 2023
Featured Produce
Produce Marketplace
Elangeni Food Group

·

South Africa

Universal Capital Gr

·

Ecuador

AGRI GATEX LIMITED

·

Africa
Joshua Lim

·

Malaysia

City fresh fruit co.

·

Thailand

Chun lin orchard-Sel

·

Taiwan nan
China Market Access List