You are here
Back to top
China Trip a Success for Mexican Agricultural Delegation
December 07, 2015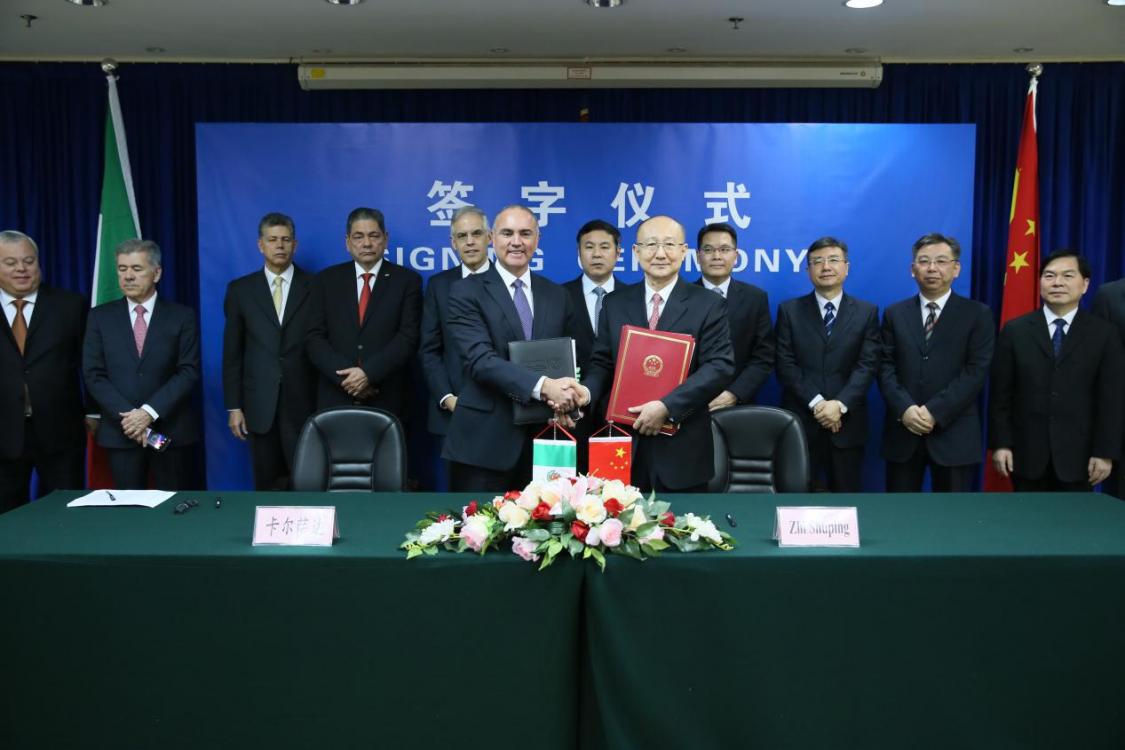 Mexico's agricultural products trade deficit with China could narrow considerably in 2016 on the heels of a productive year of agreements between China and Mexico in 2015 and the efforts of Mexican government officials to boost exports to China.
One such official is Jose Calzada Rovirosa, head of the Secretariat of Agriculture, Livestock, Rural Development, Fisheries and Food (SAGARPA). Secretary Calzada led a delegation of Mexican government and industry representatives on a whirlwind tour of three Chinese cities on December 6 to 11 aimed at bolstering exports of current Mexican products and paving the way for Chinese import approval of new products, including Mexican fresh bananas and blueberries.
In previous statements, Calzada has said he hopes to push Mexican agricultural product exports to China—which hit US$146 million in 2014 and are on track to increase 24% year-on-year in 2015—to above $300 million in 2016.
Mexican ambassador to China Julián Ventura told Produce Report that Mexico has been successful this year in laying the groundwork for this export push, having inked import sanitary agreements with China for more agricultural products than any other country during 2015.
The following is a recap of the China trip by Calzada's delegation, based on information provided to Produce Report by SAGARPA and research by the Produce Report team:
First Stop, Beijing: Dairy products and tobacco protocols ceremony; potential for Mexican bananas and blueberries; Joyvio talks
On December 7, Calzada and the Mexican delegation met with Zhi Shuping, Minister of China's General Administration of Quality Supervision, Inspection and Quarantine (AQSIQ). The two parties discussed quarantine and access issues for agricultural products and also held a signing ceremony for sanitary protocols allowing Mexican dairy product and tobacco imports into China.
The same day Calzada met with China's Minister of Agriculture, Han Changfu, and expressed SAGARPA's desire to deepen cooperation and exchange with China on issues such as corn cultivation and breeding, agricultural products traceability, fishery resources conservation and aquaculture. He also indicated he was preparing to attend the minister-level agriculture talks at next year's G20 conference in Hangzhou, China.
Also on December 7, Mexican delegates, including Enrique Sánchez Cruz, Director of Mexico's National Service of Animal and Plant Health, Quality and Food Safety (SENASICA), met with representatives from China's Ningxia [provincial-level] Autonomous Region to sign a memorandum of understanding for mutual recognition of halal products.
The following day, Calzada met with Jerome (Jianhua) Chen, Executive Director of Overseas Development for Joyvio Group, a major Chinese fruit producer and marketer. A main subject of conversation was Mexico's push to gain import access to China for Mexican bananas and blueberries—products for which Calzada sees great promise in the Chinese market if sanitary protocols can be established.
Chen emphasized the need for better air shipping routes to bring these products to market should China and Mexico agree on sanitary protocols. Presently, there are relatively abundant direct air freight routes from Mexico to Shanghai and Guangzhou, Chen pointed out, but shipments bound for the northern ports of Tianjin and Dalian must be routed through South Korea. Calzada pledged upon returning to Mexico to push for more development of direct air routes to northern China.
During the Beijing segment of the Mexican delegation's China visit, Calzada also met with China Agricultural Wholesale Market Association (CAWA) President Ma Zengjun. Both sides agreed that in addition to fruits, they would strengthen cooperation in 2016 on aquaculture products and meat.
Second stop, Zhengzhou: Trade facilitation meetings, direct air freight to Zhengzhou
On December 9 the Mexican delegation met with Hunan Province Vice Governor Zhao Jiancai in provincial capital Zhengzhou. The delegation was also joined by industry representatives from Mexico to hold a business meeting with regional agricultural products importers. The overarching aim of the delegation's visit to Zhengzhou was to develop the city as a distribution point for Mexican agricultural products. In a major development furthering this goal, a memorandum of understanding on establishing direct cargo flights from Guadalajara to Zhengzhou was also signed.
The opening of direct flights to Zhengzhou is a strategically important development for Mexico as it pushes to surpass US$300 million in agricultural exports to China in 2016. The Zhengzhou airport was approved by AQSIQ as a port of entry for fruit in 2008 and has grown into a major distribution point for fresh produce entering China.
The airport currently hosts 27 air freight routes originating in 22 cities from 14 countries and regions across the Americas, Europe and Southeast Asia. It will serve as the primary port of entry for Chilean cherries coming to China by air this season.
Direct flights from Guadalajara to Zhengzhou, reportedly up to three weekly with a capacity of 120 tons each, would allow Mexico to bring more delicate fresh products like avocados and berries to market in China and push distribution deeper into smaller cities in the country's interior.
Third Stop, Shanghai: A Focus on Retail and Import Issues
The Mexican delegation spent December 10 in Shanghai focused on China's fruit retail sector. The day started with a visit to the Baoshan District logistics and distribution center of Alibaba Group-invested company Yiguo, a major player in China's fruit e-retailing market. Subsequently the group took a tour of the headquarters of another major fruit e-retailer, FruitDay. Finally, delegates visited Pagoda, a major brick-and-mortar retailer focused on fresh fruit. Pagoda pledged to use its extensive retail shop network to push more high quality Mexican fruits to consumers across China.
The delegation capped off its successful China visit on December 11 with an inspection tour of Shanghai port facilities and a meeting with the chairman of Bright Food Group. 
Calzada Shares his Personal Avocado Recipe
Avocados have been a shining star among Mexican exports to China as Chinese consumers have increasingly picked up on the fruit's health benefits and have become better educated about selecting and preparing ripe avocados. 
When Produce Report caught up with Calzada during his visit to China, he shared his personal favorite quick and easy avocado preparation, which combines Mexico's national fruit with China's staple grain: slice a ripe avocado in half and smash the pulp. Stir in some mixed rice, salting to taste, and enjoy. Delicious.
Image Source: AQSIQ
Upcoming Events

September 06, 2023

to

September 08, 2023
October 19, 2023

to

October 21, 2023
Featured Produce
Produce Marketplace
Elangeni Food Group

·

South Africa

Universal Capital Gr

·

Ecuador

AGRI GATEX LIMITED

·

Africa
Joshua Lim

·

Malaysia

City fresh fruit co.

·

Thailand

Chun lin orchard-Sel

·

Taiwan nan
China Market Access List