You are here
Back to top
Cherries from Wenchuan and California will compete in Chengdu Markets
May 23, 2017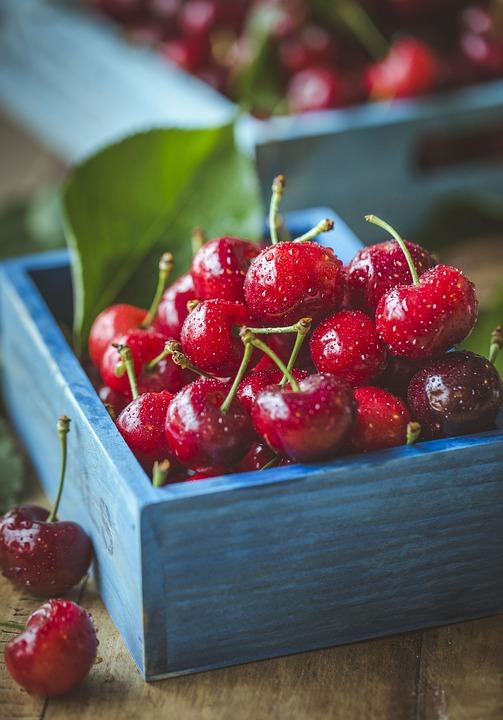 Sweet cherries from Sichuan's Wenchuan mountainous areas will begin to mature this month. A member of Wenchuan's Bureau of Agriculture said, "due to weather related issues, Wenchuan cherries will make it to the market 10 to 15 days later than previous years. This year, cherries will come into season in late may." Cherries from across Wenchuan's diverse topography will mature through the end of June.
Presently, Chinese domestic cherry farming is mainly concentrated in Shandong and Sichuan province. In Shandong, cherries are farmed at a lower altitude and planted in green houses—facilities that can regulate temperature. As a result, Shandong cherries come into season earlier—this year they matured before the end of April.
Wenchuan cherries are planted in the Western Sichuan Plateau. In Wenchuan, total yearly illumination is 2672.3 hours and annual rainfall amounts to about 400 to 500mm. The diurnal temperature variation is over 10 degrees Celsius. This regions natural environment and climate are very suitable for cherry cultivation. The sugar level and color of Wenchuan cherries makes them one of the best varieties in the world.
The "red light" is the main variety of Wenchuan cherries. In 2016, production levels of sweet cherries in Wenchuan achieved 2.5 million kilograms. Limited output, however, has caused a supply shortage in Sichuan province. Growth is expected this year with production estimates around 3.5 million kilograms. Currently, the pre-sale price of Wenchuan cherries on e-commerce platforms is between 100 and 160 Yuan (USD14.5-23.2)per kilogram. Likewise, harvest prices are expected to exceed 60 Yuan (USD 8.7)per kilogram.
Meanwhile, American cherries will come into direct competition with Wenchuan cherries. According to reports, 12 tons of California cherries will ship via plane to Chengdu in early June. This will mark the first batch of cherries imported directly to the Chengdu airport this year. Previously, fruit imports to Chengdu had to be redirected at customs—sent to coastal ports for clearance. A figure in charge of imports noted, "This batch of cherries is purchased directly from American farms, which takes about 20 hours to arrive from take-off to clearance. The price will be 30% cheaper than those entering from the coast ". Avoiding coastline entry through Chengdu's airport minimizes cost and shortens transport time, which can ensure the freshness of products. In anticipation of their arrival, these cherries have already been pre-booked by many local dealers.
Upcoming Events

October 27, 2022

to

October 29, 2022

November 02, 2022

to

November 04, 2022
Featured Produce
Produce Marketplace
AGRI GATEX LIMITED

·

Africa

ALOE ECO PARK SAPI D

·

Mexico

Tien Thinh Agricultu

·

Vietnam
Joshua Lim

·

Malaysia

City fresh fruit co.

·

Thailand

Chun lin orchard-Sel

·

Taiwan nan
China Market Access List