You are here
Back to top
Moroccan citrus to test waters in Shanghai
December 23, 2016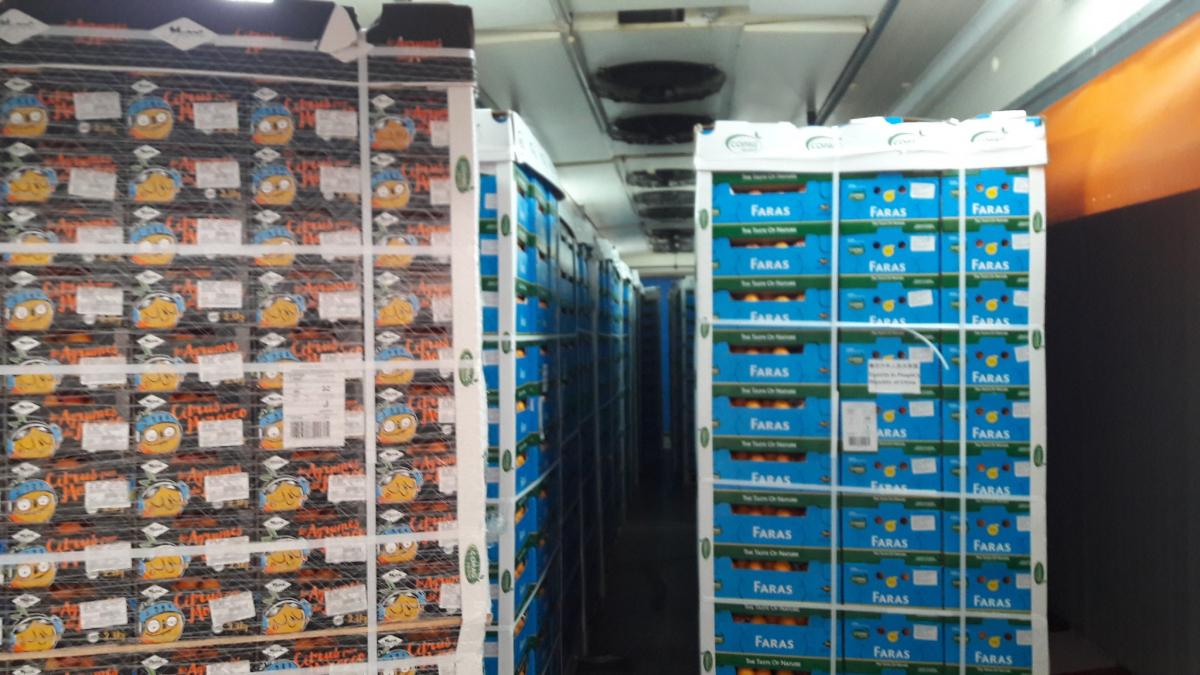 On November 18, the first batch of Moroccan citrus departed from Agadir to China. It contained 2,688 cases and was 25,412 kg in total. After 28 days, it reached Shanghai ahead of schedule and passed through customs inspection in the evening of December 20. The following day, the citrus appeared in Shanghai Hui Zhan market. It was the first time Moroccan citrus had been imported through the Port of Shanghai and entered the Chinese market.
The Moroccan Clementine, were Copag's first of the season to test the waters. More Moroccan high-quality citrus, e.g., Nour, Nardorcott, Navel and Maroc Late, are expected to enter the Chinese market, providing Chinese consumers with more high-end choices. Nardorcott, which is a Moroccan specialty that's known for its nice shapes, and high sugar content, will be imported next January.
Copag has an annual output of 120,000 tons, an annual export volume of 70,000 tons and a single cold chain logistics capacity of 17,000 tons of citrus. The growing season lasts from November to June.
"We are in cooperation with Copag, which is Morocco's largest citrus producer. We aim to establish a direct link with producing areas." said Mr. Wang Ye from Bideng Trade Co., Ltd (Chengdu), "We provide long-term, diverse products like oranges and many other kinds of citrus, including the Nardorcott variety."
Bideng Trade Co., Ltd. (Chengdu) was established by Dutch importer and exporter Walderveen B.V. It is mainly responsible for the development and operations of both Moroccan and Spanish for China's domestic markets. Biding will be the exclusive importer .of Copag's citrus brand Faras.
In September 2016, Bideng Trade Co., Ltd. (Chengdu) and the Dutch founder of Walderveen visited Copag. They witnessed the start-up of the first batch of product sorting with the company of Copag's founder.
"Because of the high-degree of commercialization of agriculture and restrictions for pesticides used in the cultivation process, the products are able to pass EU Proficiency Test for Pesticide Residues. That's whywe are cooperating with Morocco." Mr. Wang Ye added. If I couldn't make it tonight, that would be tmr morning at latest that I could send the translation work to you
Located in the Mediterranean region, Morocco is in the perfect area for citrus cultivation. The country is the world's third largest exporter of oranges and citrus. The annual export volume reached 420,000 tons, of which Europe and Russia are the primary destinations.
Due to Russia's trade ban, however, the export of Moroccan citrus to Russia is reducing, which is urging the producers to create a new market.
On May 11 this year, witnessed by President Xi Jinping and King Mohammed VI of Morocco, AQSIQ Minister Mr. Zhi Shuping signed an agreement with Morocco Minister of Agriculture and Fisheries Mr. Aziz Akhannouch the MOU on import and export food safety between AQSIQ and Morocco Ministry of Agriculture and Fisheries at the Great Hall of the People.
Image: Bideng Trade Co., Ltd. (Chengdu)
Upcoming Events

September 06, 2023

to

September 08, 2023
October 19, 2023

to

October 21, 2023
Featured Produce
Produce Marketplace
Elangeni Food Group

·

South Africa

Universal Capital Gr

·

Ecuador

AGRI GATEX LIMITED

·

Africa
Joshua Lim

·

Malaysia

City fresh fruit co.

·

Thailand

Chun lin orchard-Sel

·

Taiwan nan
China Market Access List