You are here
Back to top
Mission Produce and Lantao organize inaugural Chinese Avocado Congress
August 18, 2016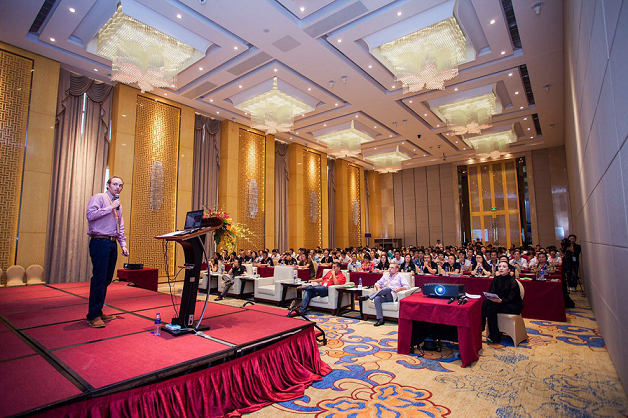 On July 28, 2016, the inaugural Chinese Avocado Congress was held at the Hotel Nikko in Guangzhou, China. The organizers, Lantao International and Mission Produce, invited over 200 wholesalers, distributors and related individuals in the trade to attend this meeting.
Lantao International, the first distributor of imported avocados in China, accounts for more than 70% of the avocados distributed in the Chinese market.  John Wang, CEO of Lantao, kicked off the Congress with an overview of avocado development over the past four years in China.  He emphasized that the huge success and growth of the avocado's popularity in China was a team effort among the many entities in the distribution chain–from the growers, to the customers to the fruit salespeople in the wholesale markets.
"Every consumer's experience when they eat avocados is important to us," said Mr. Wang.  "One of the purposes of holding this conference is to increase the professional knowledge of the trade so we can better guide consumers on the proper selection, storage and eating of avocados."
Wang also announced that Mission will build China's first avocado ripening center in Shanghai.  The new facility will have four ripening rooms will allow Mission and Lantao International's distribution network to reach 85% of Mainland Chinese consumers with ripened fruit. Mission Produce has experienced exponential growth with ripened fruit in the United States market, and expects China's market to follow suit.
Multiple sessions from Mission included presentations by Keith Barnard, Director of Global Grower Relations; Ben Barnard, Director of North American Operations; and Tommy Padilla, Asia Export Sales Manager. The Mission team discussed their knowledge of avocado planting, harvest, packing, transportation with market development in China, along with future development strategies between Lantao and Mission to further develop the market.
During the question and answer session, guests and avocado experts spoke face-to-face to communicate challenges and ideas on growing the category. According to Mission's Padilla, "We feel very confident about the development of the avocado market in China, especially with the strong support and enthusiasm shown throughout the event."
About Mission Produce:  Mission recently completed construction on new packing facilities in Oxnard, California, and in Chao, Peru. In addition to California and Peru, the company has operations in Mexico, Chile, Canada and The Netherlands, as well as eight value-added ripe centers across North America. Over the past 30 years, Mission has grown to become a leader in the worldwide avocado industry. The Mission trademark is registered throughout the world, including China.  
About Lantao International:  Lantao is the largest importer and distributor of premium fresh fruit from around the world into China.  With 8 distribution centers throughout Mainland China, including Shanghai, Beijing, Guangzhou, Zhengzhou, Herbing, Shenyang and Qingdao, Lantao reaches a total population of 1.1 billion people, or about 85% of the potential avocado consuming public in China.
Upcoming Events
October 19, 2023

to

October 21, 2023
Produce Marketplace
Elangeni Food Group

·

South Africa

Universal Capital Gr

·

Ecuador

AGRI GATEX LIMITED

·

Africa
Joshua Lim

·

Malaysia

City fresh fruit co.

·

Thailand

Chun lin orchard-Sel

·

Taiwan nan
China Market Access List