You are here
Back to top
Hong Kong and China Top South Africa's Citrus Exports to Asia
September 28, 2016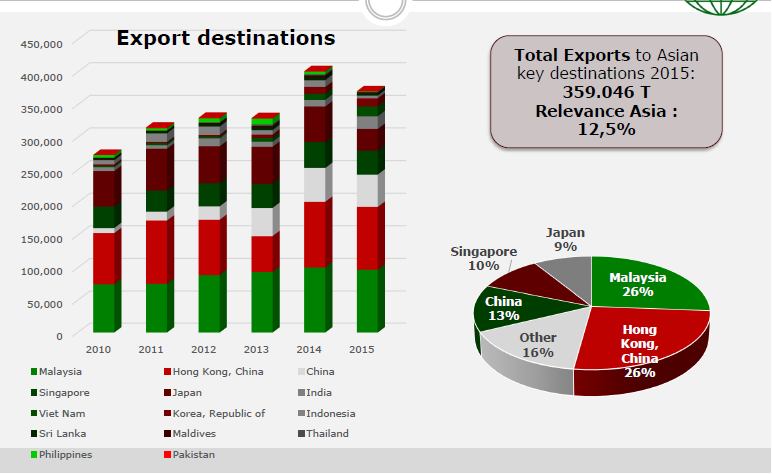 Together, Hong Kong and China import 39% of all South African citrus fruit marketed in Asia. Hong Kong's share amounts to 26%, while China's represents 13% of the total Asian imports. According to Justin Chadwick, CEO of South Africa's Citrus Growers Association (CGA), these figures show the importance of the Hong Kong and China markets in his country's fruit trade.
Other major markets in Asia for South African citruses are Malaysia (26%), Singapore (10%), and Japan (9%), while the rest of the countries account for the remaining 16% of overall imports to this region, according to the results in 2015. This data was announced by the South Hemisphere Association of Fresh Fruit Exporters (SHAFFE) and provided to mass media through the latest CGA newsletter.
In 2015, South Africa's citrus exports to Asia amounted to almost 360,000 tons, representing 12.5% of the country's total citrus sales abroad. In the period from 2010 to 2015, the export volumes grew by over 38%. The peak of exporting activity was observed in 2014, when nearly 400,000 tons of fruit were delivered to Asian markets. Such a sharp growth can be explained by a significant increase in fruit supply – in 2014, South Africa's citrus production hit its all-time high. In addition, that year the EU introduced restrictions on imports of South African fruit, resulting in some shipments en route to Europe being diverted to other destinations, including those in Asia.
Among all the Asian countries, China is the only one that has shown consistently steady growth in the import of South African citruses, without any "ups and downs". In the last five years, the import volumes increased almost five times, from less than 10,000 tons in 2010 to 47,000 tons in 2015. This figure indicates the high appreciation for South African citruses among Chinese consumers, as well as the effective mechanisms in China–South Africa trade.
To define further steps for developing the citrus trade between the two countries, a South African fruit delegation visited China in September this year. The delegation held a number of important talks with local agricultural authorities in Beijing. One of the issues on the agenda was CGA's request to allow break bulk reefer vessels as an alternative to containers during transportation. For South Africa, a country where fruit production is seasonal, it is crucial to provide quick delivery of large volumes during peak times. The advantages of reefer vessels in this regard can hardly be argued. After the CGA submits the documents, which contain more technical details on the requested substitution, the final decision will be made, supposedly before the start of the next citrus season in May 2017. Co-loading shipments to China, Japan, and South Korea may also become possible.
Upcoming Events
October 19, 2023

to

October 21, 2023
Produce Marketplace
Elangeni Food Group

·

South Africa

Universal Capital Gr

·

Ecuador

AGRI GATEX LIMITED

·

Africa
Joshua Lim

·

Malaysia

City fresh fruit co.

·

Thailand

Chun lin orchard-Sel

·

Taiwan nan
China Market Access List