You are here
Back to top
A Hit With Consumers, Chilean Sugar Plums Drive Chile's Stone Fruit Growth in China
March 27, 2019
Sugar plums. Image courtesy of ASOEX.
There are some rules of thumb when it comes to fresh fruit and Chinese consumers. For example, Chinese consumers are sensitive to quality and will pay a premium for it. Another preference that we see play out time and time again: when it comes to fruit, the sweeter the better.
This demand for high brix fruit surely is a large part of the runaway success of Chilean sugar plums in the China market in recent years, with export volumes of sugar plums from Chile to China rising more than 70-fold over four years from 165 tons in the 2014/15 season to 10,584 tons in the 2017/18 season. This season is also seeing an in-store promotional campaign by the Chilean Stone Fruit Committee of ASOEX dedicated specifically to sugar plums.
Sugar plums, which are of the species Prunus domestica, originate from Europe, as opposed to most other commercial red and black-skinned varieties, which are of the species Prunus salicina and originate from Asia. Traditionally, because their very high sugar content acted as a natural preservative when dried, sugar plums were used to make prunes. Seeing fresh sugar plums starting to catch on in China, and eager to be part of the development of a new market, many of these growers have switched over from using their plums for prunes to supplying them fresh for export to China. According to the Chilean Exporters Association, there are now approximatkey 60 Chilean fruit companies involved in the export of sugar plums.
Aside from a high brix and strong supply, another reason Chilean sugar plums have caught on with consumers in China during wintertime? "We believe that there is an increase in demand for sugar plums because it is also produced in China. There are important plantations of this exact same variety in Xinjiang [a region of northwestern China]," said one Chilean exporter. "And you see that in the northern hemisphere season, this domestically grown product is also very popular in China. We as an industry are looking forward to bringing more sugar plums to China for consumers to enjoy during the winter."
The Chilean Stone Fruit Committee of ASOEX ran a series of in-store promotions during March in Shenyang, Shanghai, Nanjing and Guangzhou. Totally, the campaign, which lasted for two weeks, included 700 tastings at 60 different retail outlets. The supermarket and hypermarket partners for the in-store promotions were Auchan, CityShop, G-Super, Hema, Metro, RT-Mart and Sam's Club. The specialist fruit retailer partners were 30+, Xianfeng, Pagoda and Wellfruit.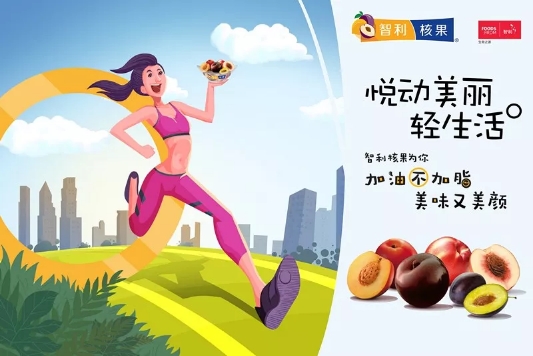 The sugar plum promotions were part of the Chilean Stone Fruit Committee's overarching "Chilean Stone Fruits Month" in China which featured another series of in-store promotions for nectarines and other varieties of plum, alongside an advertising and media campaign. The tagline for Chilean Stone Fruits Month was"Spring up your life" (悦动美丽轻生活).
"The industry is very focused not only on exporting, but also on actively promoting consumption of different types of fruits in China," Charif Christian Carvajal told traders at the Jiangnan Market event. "That is why If anyone would like support in terms of promotional activities for stone fruit, we are always more than happy to help in any way we can, especially to promote Chilean sugar plums and other stone fruits in regional cities."
Featured Produce
Produce Marketplace
Elangeni Food Group

·

South Africa

Universal Capital Gr

·

Ecuador

AGRI GATEX LIMITED

·

Africa
Joshua Lim

·

Malaysia

City fresh fruit co.

·

Thailand

Chun lin orchard-Sel

·

Taiwan nan
China Market Access List