You are here
Back to top
Frutacloud CEO: How Can a New Produce Cover All Channels in China?
March 20, 2017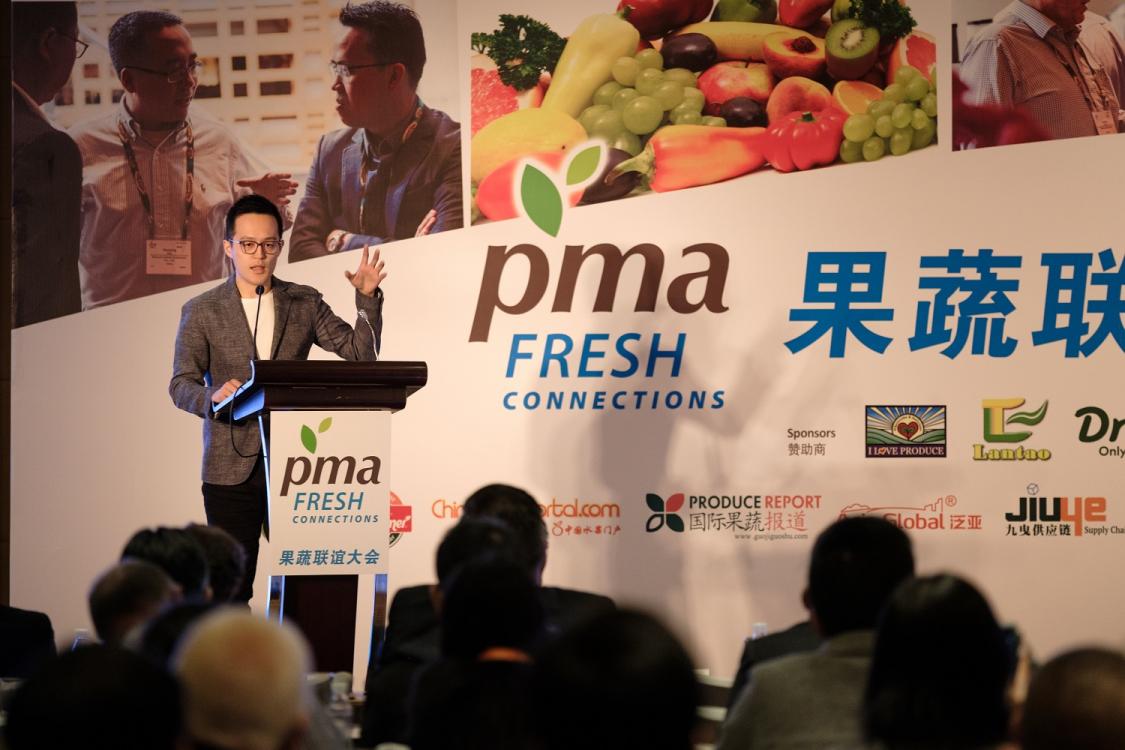 In the PMA Fresh Connections held in Shanghai on March 16, George Liu, the CEO of Frutacloud, gave a speech on online and offline marketing strategies in China. Established in 2016, Frutacloud is a startup that provides integrated supply chains for high-quality fruit to all types of customers, aiming to minimize the number of brokers and steps in the logistics system.
Before covering his main topic, Mr. Liu emphasized one key element for the success of any brand in China: channel coverage. Unlike the market in the West, China's consumer channels are still very fragmented with no particular dominant channel, especially in the fresh fruit industry. Offline channels still account for more than 90% of the fresh fruit market share, although online channels are favored by the younger generation.
After a basic introduction into the market channels in China, he spelled out his ideal strategy for how a new product can cover all channels in the Chinese market: to start online and penetrate offline. In Mr. Liu's opinion, online channels are perfect places to introduce new products but only if the campaign is correctly executed.
Afterwards, Mr. Liu's talk evolved to cover what the correct execution entails for online marketing campaigns. He highlighted five elements: story creation, size selection, packaging, channel selection, and effective marketing.
Story creation is the first thing to catch a consumer's eye, so the message has to be clear. The message should be on what makes the product stand out. Origin? Taste? Appearance? Variety?
Speaking of size selection, he considered two critical issues when determining the optimal size. One is to find the size for optimal taste. Secondly, some products are sold by piece, and therefore small size has an edge for having a lower cost per piece.
In terms of packaging, often a neglected factor in the industry, he explained in detail both the advantages and the disadvantages of two major packaging approaches in China: original packaging and repackaging for the domestic market.
Once an appealing story, an appropriate size, and the optimal packaging are ready, channel selection is the next priority because each online channel has its own target audience. In this step, Mr. Liu advised that the primary goal here is to create an impact on the market, while volume is only the secondary goal.
With all these four key elements executed correctly, effective marketing decides everything. He elaborated on two new tools that are both cheap and proven to be highly effective. One is live broadcast, which can attract undivided attention along with interactions, especially for millennials, post-80s, and post-90s. Another powerful marketing weapon is WeChat content marketing through WeChat subscription accounts, which all have their own target audience who have actively subscribed to following content relevant to them.
After all of the work mentioned above has been done, a new internet celebrity product is just around the corner, which will naturally capture the attention of supermarket buyers and wholesalers alike. Mr. Liu then pointed out that this is the time to penetrate the 90% offline market by finding two to three trusted agents in several giant wholesale markets.
At the end of the talk, he took the chance to mention that his company Frutacloud is able to activate products via all potential channels for the best possible return on every single piece of fruit.
Images: PMA
Upcoming Events

September 06, 2023

to

September 08, 2023
October 19, 2023

to

October 21, 2023
Featured Produce
Produce Marketplace
Elangeni Food Group

·

South Africa

Universal Capital Gr

·

Ecuador

AGRI GATEX LIMITED

·

Africa
Joshua Lim

·

Malaysia

City fresh fruit co.

·

Thailand

Chun lin orchard-Sel

·

Taiwan nan
China Market Access List