You are here
Back to top
Fresh Jiangnan to Invest in Guangxi Province Trading Center for SE Asian Fruit
July 28, 2019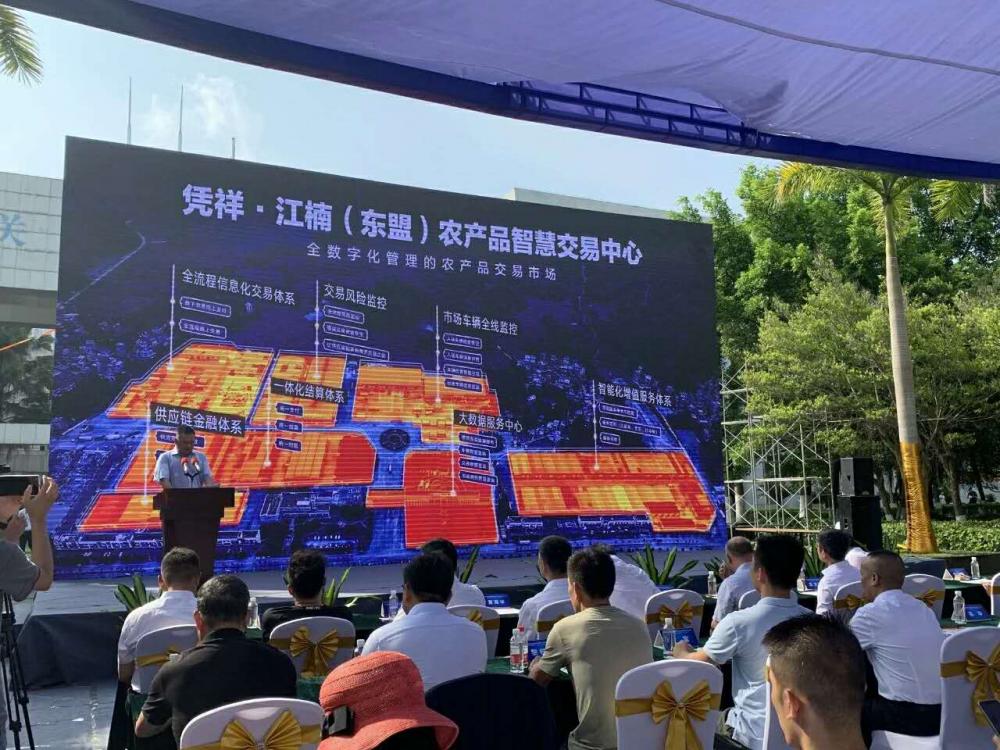 At the signing ceremony for the new project. Image: Fresh Jiangnan
Fresh Jiangnan, a China-based operator of a B2B fresh fruit trading platform, announced on July 19 that it had signed a contract with the government of Pingxiang county, which borders Vietnam in Guangxi province, to build a new 'smart' trading center for fruits imported from Southeast Asia into China.
The Pingxiang-Jiangnan (ASEAN) Agricultural Products Smart Trading Center will provide sales, ecommerce, storage, customs and logistics services in Pingxiang—the major overland entry point for fresh fruits coming from Vietnam and other Southeast Asian countries into China. Fresh Jiangnan, which will provide investment and technological support to the project, was founded by YE Canjiang, the chairman of Guangzhou Jiangnan Fruit and Vegetables Wholesale Market Co., Ltd., the major fruit wholesale center for southern China.
The new trading center aims to take advantage of Pingxiang's location and preferential trading policies for fresh fruits to create a new integrated distribution channel for Southeast Asian fruits to come into China.
Aside from bordering on Vietnam and seeing a large volume of imported fruits via 'border trade' programs, Pingxiang also has convenient road access to Thailand, Laos and other Southeast Asian countries via mature logistics routes.
In the case of Vietnam, Pingxiang lies about 3 to 4 hours by road from the Vietnamese provinces Bắc Giang and Bac Ninh, with a total trucking distance from those provinces to the Pearl River Delta of 15-16 hours, and 48 hours to the Yangtze River Delta.
In the case of Thailand, overland to eastern China by trucks from Bangkok via Pingxiang takes 5-7 days as opposed to 10 to 15 days by sea—and to southern China takes 3-4 days as opposed to 10 to 12 days by sea.
The ASEAN bloc has been Guangxi province's largest trading partner for almost two decades. According to Guangxi Customs figures the trade in fresh fruit between Guangxi province and ASEAN nations amounted to 1.2 million tons with a value of RMB 85 billion ($1.21 billion) with YOY growth of 13% in volume and 54% in volume. Two designated ports of entry for fresh fruit in Guangxi—the Pingxiang Friendship Gate and the Dongxing Port—have become the primary entry points for fruit coming into China from Southeast Asia.
The Pingxiang Friendship Gate is also China's largest overland port by trade volume.
Vietnam and Thailand are two of China's most important suppliers of imported fresh fruit. According to official national customs figures, in 2018 China imported $1.7 billion worth of fruit from Thailand and $719 million, ranking second and fourth respectively among countries exporting fresh fruit to China.
Featured Produce
Produce Marketplace
Elangeni Food Group

·

South Africa

Universal Capital Gr

·

Ecuador

AGRI GATEX LIMITED

·

Africa
Joshua Lim

·

Malaysia

City fresh fruit co.

·

Thailand

Chun lin orchard-Sel

·

Taiwan nan
China Market Access List