You are here
Back to top
Early Murcott Mandarin Variety Key to BGP's Good Start in China
November 06, 2018
▲Mr. Neil Barker (fifth from left) at Asia Fruit Logistica 2018
From September 5 to 8, the booth of BGP International, a Melbourne-based produce company, caught the eye of many attendees at Asia Fruit Logistica 2018 Hong Kong. Since its founding in 1992, BGP has strived to provide customers with high-quality fresh produce year-round through extensive cooperation with partners in Australia, the United States, Pakistan, India, Turkey, Egypt, South Africa, and New Zealand. Now, the company has also expanded operations to California, the Philippines, India, and Egypt. Produce Report interviewed Neil Barker, CEO of BGP, to explore how his company has done in China.
Citrus has been a key category for BGP, with the company's annual citrus volume exceeding 40,000 metric tons. Relying on oranges, mandarins, and grapefruit from the world's leading production regions to develop the Chinese market has proven a sound strategy which pairs well with BGP's own strengths. The company's strategy for China focuses on a special Murcott mandarin, the very early Murcott variety Royal Honey Murcott, which was discovered and patented by Ironbark Citrus, a producer of premium Australian mandarins in Queensland. This variety matures one month earlier than other Murcott mandarins and possesses a skin texture and taste profile which appeals to Chinese consumers.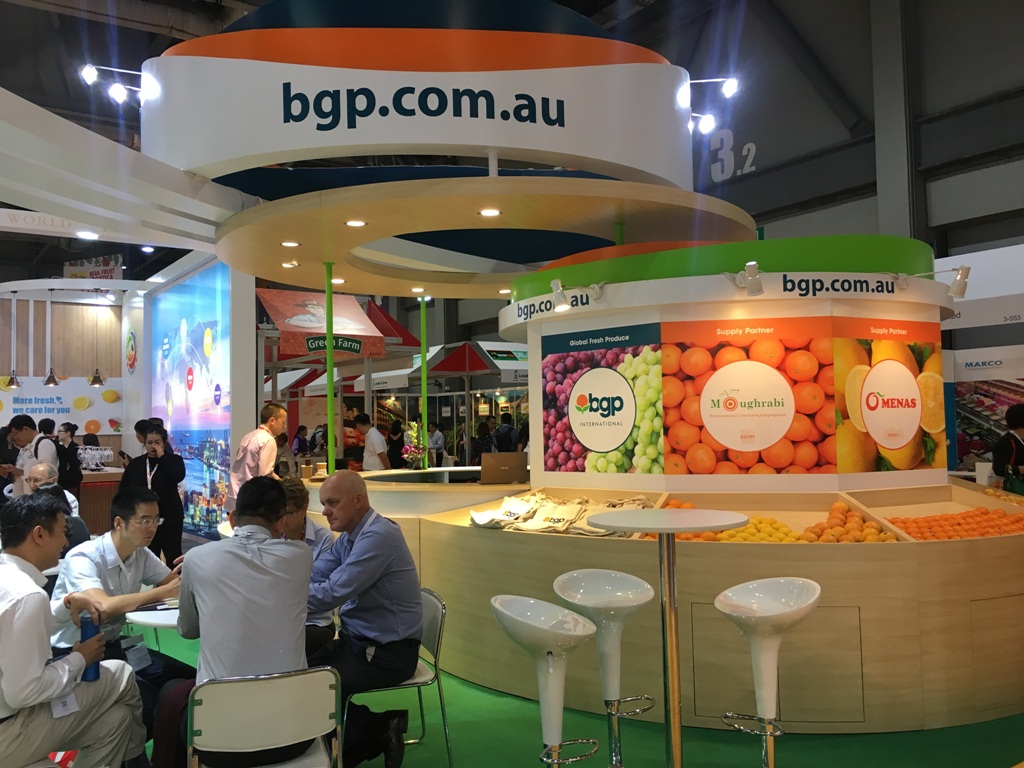 ▲BGP's booth at Asia Fruit Logistica 2018
As an appointed partner of Ironbark Citrus, BGP enjoys the privilege of being able to promote the variety in China before fierce market competition kicks in. "Until now, every year when the sales season kicks off for Royal Honey Murcott, demand is always two to three times greater than the volume available, so we have to restrict access to only a small number of specially-selected importers to better serve the market." Neil continued however, noting that, "because we started with these early varieties, we are in a good position to go on with our later Murcott varieties."
For a first-hand account of this highly sought-after variety, Produce Report also spoke with Jing Huang, Assistant to CEO for Fruitday, a major Chinese fresh produce e-retailer, who confirmed the popularity of the Royal Honey Murcott in China. "This will be our fifth year marketing this variety on our platform. In addition to maturing early, Royal Honey Murcotts also boast a good appearance, excellent taste, high brix, and low acid content. As a result, it has been received well on Fruitday and is a perfect fit for the Chinese market."
▲Royal Honey Murcott
According to Neil, production of Royal Honey Murcotts is expected to double over the next 3 years and BGP will be working to continually increase market penetration for the variety in China. 
Besides sourcing from Australia, BGP were also among the first companies to bring Chinese consumers mandarins, grapefruit, and lemons from Egypt. "We also expect some increases in these volumes in the years ahead. To achieve this goal, our grower partners in Egypt and South Africa are planting new farms with varieties specifically developed for the Chinese and Asian markets," Neil remarked. In addition to expanding the existing supply chain volumes, BGP is actively exploring new fruit varieties as well, such as avocadoes, nectarines, plums, and peaches, to further add value to its business in China.
BGP has been exporting premium Australian fruit to China since the early 2000s. Over the years, the company has developed into a crucial supplier to many upscale supermarkets, online retailers, and wholesalers in China. As one of the forerunners in marketing China-grown produce around the world, BGP has operated an office in China for a number of years to facilitate its exports of apples, citrus, garlic, and ginger to India, the EU, and other Asian markets. BGP was also involved in the early shipments of Ya pears (a famous type of pear native to northern China) to Australia. 
Image Source: BGP International
Upcoming Events

September 06, 2023

to

September 08, 2023
October 19, 2023

to

October 21, 2023
Featured Produce
Produce Marketplace
Elangeni Food Group

·

South Africa

Universal Capital Gr

·

Ecuador

AGRI GATEX LIMITED

·

Africa
Joshua Lim

·

Malaysia

City fresh fruit co.

·

Thailand

Chun lin orchard-Sel

·

Taiwan nan
China Market Access List