You are here
Back to top
A Year Of Global Success For CSO Italy's "Freshness From Europe" Project
July 04, 2017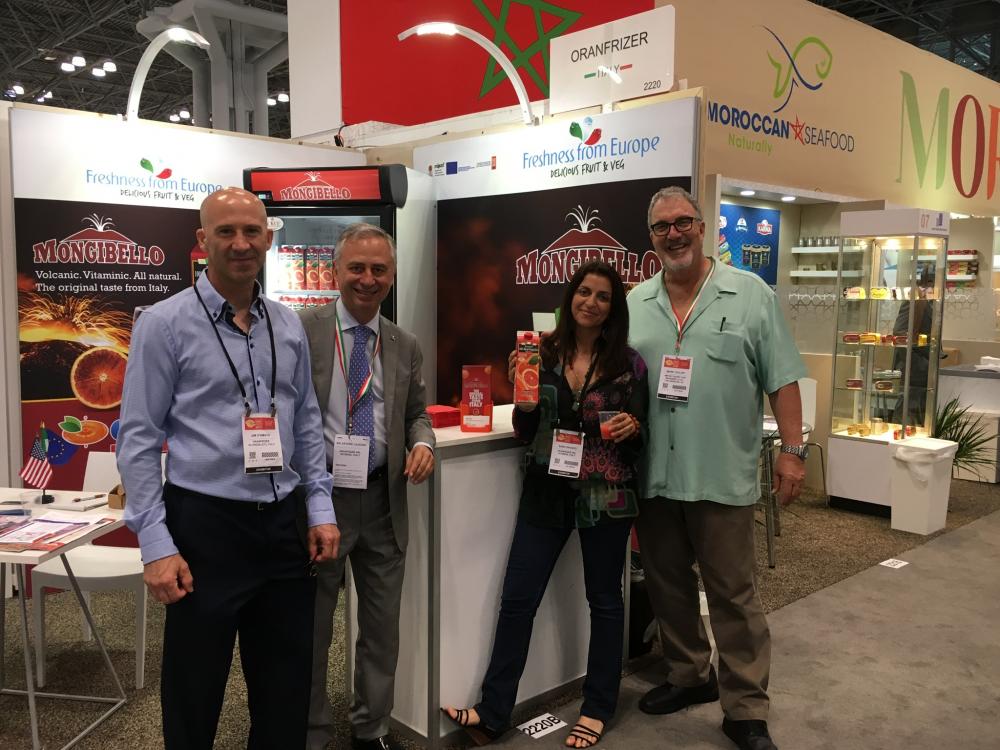 Ferrara, 30 June 2017: From June 25 to 27th, 2017 at the Summer Fancy Food Show in New York, the "Freshness from Europe" Project wrapped up the second year of its international promotional campaign for European fresh and processed fruit and vegetables. With a three-year budget of €5.2 million funded by the European Union, the Italian Government, and CSO Italy, in association with Apoconerpo, Alegra and Naturitalia, Apofruit, Assomela, Cico Mazzoni, Made in Blu, Oranfrizer, Origine Group, Ceradini Group, and Conserve Italia, more than 210 days of promotional activities were held in the 2016-2017 season across various target countries, ranging from China to the United Arab Emirates, North America, and Japan.
There was a strong focus on China this season, beginning with the Fresh Produce Forum China in Chengdu from May 31st to June 2nd, 2016. In addition to participating in the event, representatives from the Project, including CSO Italy president Paolo Bruni, delivered presentations on the opportunities of establishing closer trade and commercial ties between China and Italy in the area of fresh produce. In November 2016, the Project was presented at a workshop organized by Freshfel Europe and CIQA (the Chinese Phytosanitary Inspection Association) in Beijing on key issues in fresh produce trade between China and Europe, namely market access, phytosanitary policy and requirements, food safety policy and requirements, and product-specific procedures. Representatives from "Freshness from Europe" gave presentations on the unique production processes for the products featured in the project, namely kiwis, existing issues in trade between Italy and China, and the great potential for developing the pear, apple, and citrus trade between the two countries.
The Project's activities in China culminated in January 2017 at a "Made in Italy" launch event in Beijing which featured speeches and remarks from key agricultural, trade, and governmental officials from Italy, the European Union, and China. Italian kiwis were the target of much praise, singled out for their high quality and desirability by Chinese consumers, which has helped propel them to an annual export tonnage of over 15,000 tons in China, valued at €21.6 million, a 24% increase over 2015. Although some difficulties in securing final AQSIQ approval for Italian citrus exports to China remain, Italian officials at the event reiterated their commitment to opening the Chinese market to Italian and European citrus, and eventually pears and apples, even if it required charter citrus flights.
Outside of China, the Project was presented at the world's leading exhibitions and trade shows throughout the year, including Asia Fruit Logistica, PMA, Canadian PMA, WOP Dubai, the Winter and Summer Fancy Food Show, and Foodex Japan. Thousands of information packages and other materials were distributed and more than 30 million contacts were reached during the various promotional activities and exhibitions.
In addition to providing consumers with the ability to learn more about Italian fresh and processed fruit and vegetables, the Project's activities enabled CSO Italy and its partner companies to present key Italian fruit and vegetable exports in the context of "global ambassadorial fruit." Foremost amongst these is the kiwi, of which Italy is one of the world's largest producers and of which exports are continually growing to all the target countries, especially China. Pears were exported mainly to Canada, and work is under way to open up the Chinese market for pears as well as apples. Processed fruit and vegetables performed well in China, Canada, and the United States and demand for summer fruit and fresh-cut produce was high in the Emirates, although this year was a difficult one for margins on these products.
The new season begins in July 2017 and features a total budget of more than one million Euros for B2B exhibitions, advertising, and promotional activities. Given the growth in Italian exports in the fresh fruit and vegetable sector, 6% in the first quarter of 2017 worth €12.3 billion, and the strong export growth for kiwi, with average growth of 30% across all of the Project's target countries (namely China, the USA and Canada) in 2016, prospects for the next year appear to be very healthy.
Upcoming Events

October 27, 2022

to

October 29, 2022

November 02, 2022

to

November 04, 2022
Produce Marketplace
AGRI GATEX LIMITED

·

Africa

ALOE ECO PARK SAPI D

·

Mexico

Tien Thinh Agricultu

·

Vietnam
Joshua Lim

·

Malaysia

City fresh fruit co.

·

Thailand

Chun lin orchard-Sel

·

Taiwan nan
China Market Access List