You are here
Back to top
Uzbekistan and China Broaden Cooperation in Agriculture
December 14, 2016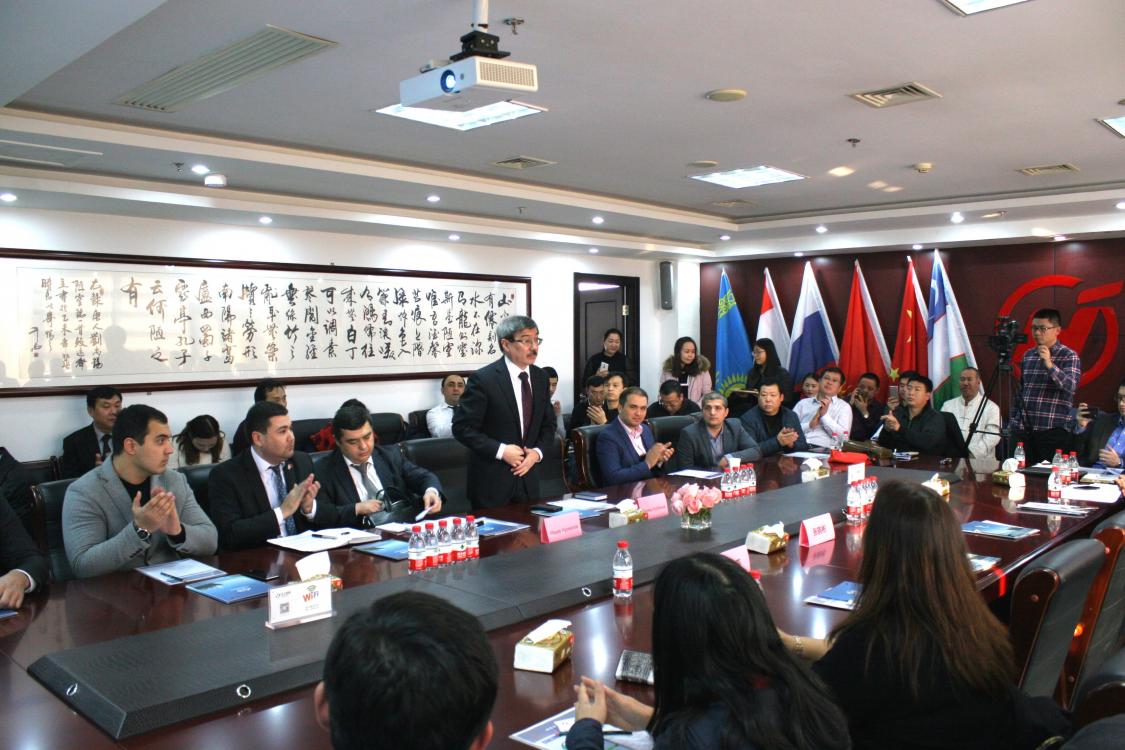 Ambassador of Uzbekistan to China Daniyar Kurbanov presents his country's export potential at Uzbek-Chinese business forum
Photo: Intertrade Invest
In December 2016, a delegation from Uzbekistan, headed by the general director of Intertrade Invest Abdukhamid Karimov, visited China with the aim of discussing ongoing collaboration efforts on a food processing and logistics centre building project in Uzbekistan. The project's total costs have been evaluated as $8.5 million, with funding to be provided by Uzbekistan's Ministry of Economy and China's Xinjiang Silu Changlong Investment. In June earlier this year, during Xi Jinping's visit to Tashkent, quarantine authorities from both countries agreed on deepening cooperation in eliminating trade barriers for Uzbek agricultural products by strengthening quality controls and harmonizing the two countries' food quality standards.
The project envisages construction of a modern logistics centre equipped with cold storage facilities, two plants for processing fruit, vegetables, meat, and milk, and a factory to produce cardboard, plastic boxes, and crates. The planned project will also establish numerous greenhouses and fruit gardens, as well as create the centre's own refrigerated truck fleet. Abdukhamid Karimov informed Produce Report that the centre will produce more than 40 types of food products, with the majority destined for export.
Intertrade Invest is a research centre which assists Uzbek food producers in their export activity, providing essential data on other countries' food quality standards, labeling, packaging, and other practices related to both fresh produce and processed fruit and vegetables. Uzbekistan does not currently export any fresh produce to China; however, it does supply the Chinese market with a range of other agricultural products. "Our major export categories to China include dried fruit and nuts, oilseeds and pulses, and natural fruit juices and extracts," specified Mr. Karimov.
Uzbekistan's global fresh produce exports grew exponentially this year in comparison to 2015: the country exported only 590,000 tons of fresh fruit and vegetables last year, whereas exports for 2016 are expected to reach 1.4 million tons, an increase of 137%. This growth is expected to continue next year and the expansion of Uzbekistan's fresh produce in overseas markets will reach new heights in 2017. As a potential signal of things to come, just this past November Uzbek export enterprises signed 355 contracts worth $1 million in total and which cover a wide range of agricultural products, such as assorted vegetables (which accounts for 32% of the contracts) and fruit (42%).
With vegetable shipments tripling and fruit shipments more than doubling, Produce Report asked Mr. Karimov what he believed was at the root of this year's massive increase in exports. Mr. Karimov indicated that a number of reforms launched by Uzbekistan this year aimed at increasing agricultural production capacity have had a significant impact on export quantities. "Land allocated for vegetable cultivation has increased to 172,600 hectares, territory given to fruit orchards was expanded by 5,200 hectares, and in total 4,264 new greenhouses were built and put into operation in 2016."
Presently, the main export destination for Uzbek fresh produce are CIS countries; Russia accounts for fully 70-80% of Uzbekistan's overall exports, with smaller quantities of fruit and vegetables being shipped to the EU and countries in Asia. When evaluating China as a potential market and export destination, long-term cooperation is required between the two countries. The path to market access in China is paved with numerous quarantine inspections, agreements, and other such requirements, which makes attaining market access more difficult than perhaps in other countries. Given the continuing growth in Uzbekistan's production forecasted for the coming years, as well as the general popularity among Chinese consumers of fruits such as grapes, cherries, and apricots, all which are also grown in Uzbekistan, Uzbek fresh produce could likely be used to fill some of the existing demand in China for fresh fruit and vegetables. However, significant efforts towards this end have yet to be initiated.
Featured Produce
Produce Marketplace
Elangeni Food Group

·

South Africa

Universal Capital Gr

·

Ecuador

AGRI GATEX LIMITED

·

Africa
Joshua Lim

·

Malaysia

City fresh fruit co.

·

Thailand

Chun lin orchard-Sel

·

Taiwan nan
China Market Access List