You are here
Back to top
Spanish Exporters Are Ready to Send Stonefruit to China
May 06, 2016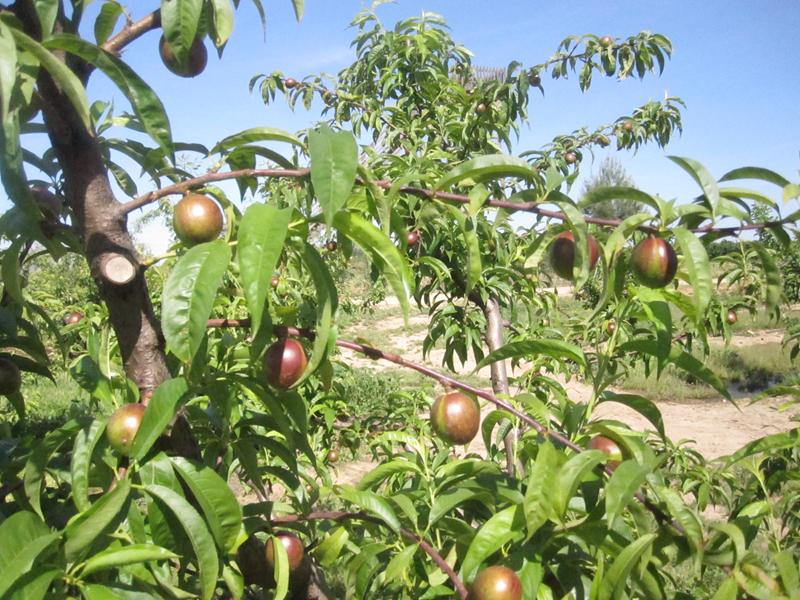 Nectarines growing in Badajoz, Spain
According to FEPEX, the Spanish Federation of Associations of Producers and Exporters of Fruits, Vegetables, Flowers and Live Plants, China and Spain signed a phytosanitary protocol on April 13, allowing Spanish stonefruit to be exported to China.
The Spanish stonefruit destined for China includes plums, peaches, nectarines, and flat peaches. The season for Spanish stonefruit has already started and will end in September 2016. To learn more about the characteristics and advantages of Spanish stonefruit, Produce Report interviewed Markus Liljergren, the CEO of AEC Inter S.L., a major Spanish fruit export company.
"Until now the production of Spanish stonefruit is quite favorable, since the weather is good. We have already begun the harvest, and the quality of fruits is great in general," said Liljergren.
Spain is famous for its good weather and long hours of sunshine. Spanish fruits are generally large in size and sweet in flavor.
"Depending on the species, the diameters of Spanish peaches could reach 75 to 85 millimeters. Their skins are smooth and velvety. The color is uniform and intense, falling in the range from yellow to orange. Some are pink depending on the variety," according to Liljergren. "And the pulp is sweet and juicy, with a delightful sweet scent. Some pulp displaying the color of red or orange could be a bit sour."
Data from the supplier of AEC Inter S.L. shows that Spain produces 150,000 tons of plums, and they are all quite delicious regardless of the variety. In 2015, Spain produced 1,646,131 tons of stonefruit. Nectarines represented the highest volume, accounting for 33 percent of the total production. Afterwards were peaches (18%), flat peaches (17%), yellow peaches (16%), plums (9%), and apricots (6%).
The Ministry of Economy and Competitiveness of the State General Administration disclosed that up to October 2015, Spain had exported 3112 tons of fruits and vegetables to China, a growth of 176% over the previous year. The trade volume in vegetables and fruits increased 205%. Among all the exported products, there were 2719 tons of oranges, which ranked first in the list. The second most exported product was lemons, with an export volume of 1309 tons, followed by grapefruit (56 tons). The protocol signed between China and Spain will further increase the trade volume in fruits and vegetables between China and Spain.
AEC Inter S.L. specializes in exporting high-quality fruits and vegetables to China. The oranges under its brand "Oh-la" have won the hearts of Chinese consumers.
Featured Produce
Produce Marketplace
Elangeni Food Group

·

South Africa

Universal Capital Gr

·

Ecuador

AGRI GATEX LIMITED

·

Africa
Joshua Lim

·

Malaysia

City fresh fruit co.

·

Thailand

Chun lin orchard-Sel

·

Taiwan nan
China Market Access List