You are here
Back to top
Refreshing Jazz Apples
February 28, 2017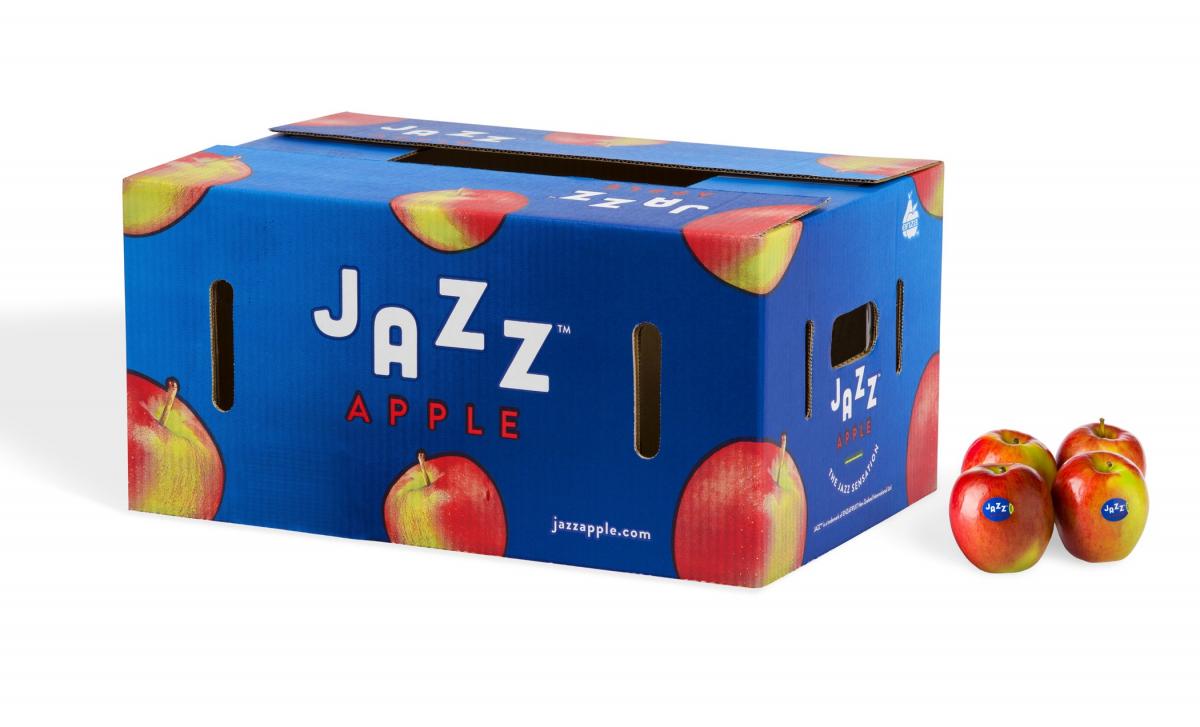 T&G chose the 2017 Fruit Logistica in Berlin as the venue in which to unveil the brand refreshment of their trademarked apple, 'Jazz'.
The re-invigoration of the brand is aimed at creating a platform for continued growth of the already popular 'Jazz' apple, by attracting new customers, while still remaining relevant with current consumers. The refreshed design suite will involve all touch points from packaging and promotion to digital platforms. "The brand refresh has been developed based on consumer insight. We have also connected with growers, distributors and customers to arrive at the new design suite. This design is more modern and contemporary, making it more relevant to consumers across the many markets 'Jazz' apples are enjoyed in," said Sandi Boyden, Marketing Manager Pipfruit for T&G Global.
"T&G has a portfolio of apples to suit the needs of many consumers. "'Jazz' apples are bi-colour and have a sweet-tangy flavour with a great crunch. They are ideal as a snack for a busy lifestyle on the go," said Boyden. They are sold loose or in different sized bags.. Envy apples are another trademarked apple from T&G. These apples are also bi-colour and have a sweeter taste profile, and tend to be larger in size.
The 'Jazz' apple brand refresh will also affect China which has matured as a market for T&G going from a place where the company would do sporadic spot trading when it first started exporting there in 2001 to one of the main markets for the company, second or third for all T&G products, according to Sarah McCormack , Executive General Manager – International. On the heals of this market growth T&G opened a local office in 2014. "Our strategy in China," explained the Executive General Manager, "is to get closer to our customers by having staff on the ground who can see what consumers want and who are able to drive our strategy…it has helped us to strengthen our relationships with our customers…Now we are able to identify new trends, and gather market information from all our global offices and that is what we really aim for."
What's more, the growing prevalence of online retail in China would seem to fit in well with the particular focus on online marketing for the 'Jazz' variety. "We are doing some business with online retailers and it helps with our growth strategy, but also with our strategy to get closer to our end consumer," explained Ms McCormack, "but it's all really about us helping our customers to grow their business as well as seeing how we can supply them with premium branded products (such as the 'Jazz') 12 months of the year."
Featured Produce
Produce Marketplace
Elangeni Food Group

·

South Africa

Universal Capital Gr

·

Ecuador

AGRI GATEX LIMITED

·

Africa
Joshua Lim

·

Malaysia

City fresh fruit co.

·

Thailand

Chun lin orchard-Sel

·

Taiwan nan
China Market Access List