You are here
Back to top
Pagoda to Open 10,000 Stores by 2020, Providing Global Superior Fruits for Chinese Consumers
September 14, 2017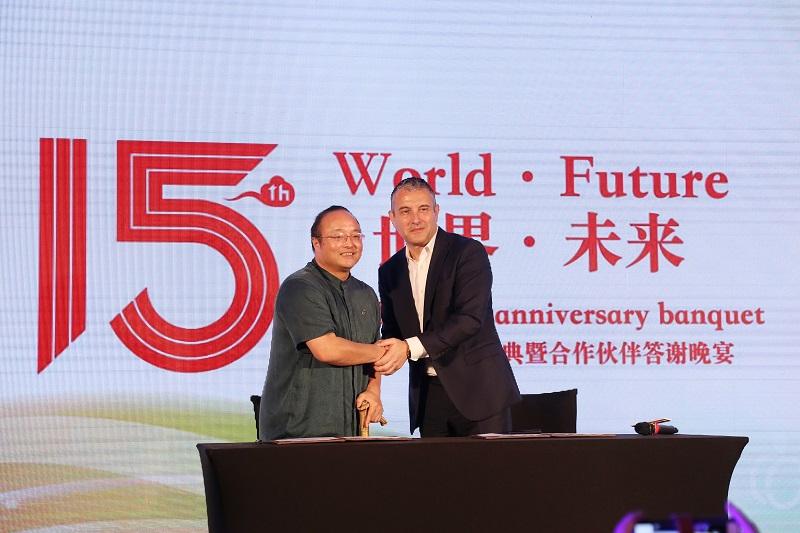 On September 7, over 200 representatives of leading companies in the fruit industry from 14 countries, including Zespri (the world's largest marketer of kiwifruit from New Zealand), SunWorld (a U.S. fruit and vegetable packer and marketer), Agrofresh (a U.S. export consortium for fruit and vegetables), Prize (a leading fruit exporter in Chile), Core (a worldwide supplier of fresh food) and so on, attended the Pagoda Global Supplier Meeting at Hong Kong SkyCity Marriott Hotel.
This event marks the largest supplier meeting held by Pagoda Group in its 15-year history and the first of its kind in Hong Kong. To our knowledge, the event has been widely reported by Produce Report, Eurofresh, Asiafruit and other international media.
For the past 15 years, Pagoda has tirelessly developed its overseas supply chains. This reputable effort was reflected by an impressive international procurement report released by Pagoda, which provided core indicators such as procurement scale, growth rate, origin procurement and in-depth cooperation.
In 5 years, international fruit procurement achieved sales growth of 30 times over.
In 2002, Pagoda opened China's first and only franchised fruit chain store when diverse chain-store industry patterns had only begun to emerge. There was no precedent for a global fruit chain store and as a result, the industry lacked a talent pool for fruit business management. Facing these problems and difficulties head on, Huiyong Yu, Founder of Pagoda and Chairman of the Board of Directors, did not waver. Instead, he saw an opportunity to become the world's "King of Fruit Chain Stores". According to Huiyong Yu, "There is no precedent because everyone is aware of the overwhelming odds and shrinks back in the face of difficulties. If it wasn't this way, Pagoda would never have this opportunity, which is why we must live up to it". In the first year, Pagoda's annual sales only amounted to RMB 560 thousand.
Pagoda traversed the fruit industry without any reference to work from for 10 years. In 2012, 344 of its own chain stores were put into operation. During the same year, Pagoda set a short-term goal of reaching an annual sales volume of RMB 4 billion in the coming 5 years—a great leap for any company with an annual sales volume of less than RMB 700 million. Five years later, however, it was clear that Pagoda would achieve its goal. Annual sales reach RMB 6 billion early in 2016. And there are more than 2,500 chain stores across China by the end of this August.
Fruit supply chains constitute a key factor that supported Pagoda's rapid development while overseas supply chains played an increasingly important role throughout. In 2017, the number of overseas suppliers increased to 64 from the original 5 suppliers in 2012. Compared to RMB 148 million of sales volume in 2012, fruit imports are anticipated to grow to approximately RMB 4,500 million by the end of 2017, representing a development trend within China's fruit market.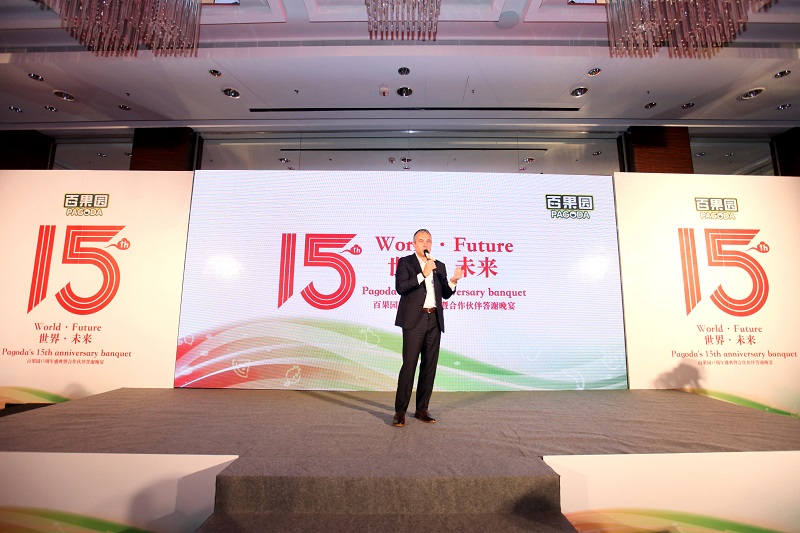 In 2015, the total value of imported fruits exceeded USD 6 billion— which broke the record for fruit import in the past ten years—increasing by 17% year on year. The dramatic increase of fruit imports is mainly contributed to the upgrade of domestic consumption in China, in which consumption ideas are undergoing a far-reaching shift towards quality, brand, and diversity-orientation. Growing demand for quality fruits underpins the market share of imported fruits at higher prices and superior quality.
According to CITIC Securities Research, China's GDP per capita reached USD 8,866 in 2016. By 2020, the domestic fruit market capacity is expected to reach RMB 3 trillion while the fresh fruit industry and per capita consumption enter a period of remarkable growth.
To take hold of this opportunity, Pagoda has attached great importance to fruit supply chains, especially overseas ones of growing significance. What is Pagoda's strategy to extensively develop its overseas supply chains?
Pagoda Extends its Rapid Shipping Export Standards Globally
In 2016, imported fruits directly procured from Pagoda's own fruit bases contributed to 15% of the total imported fruits; in 2017, that proportion doubled. By 2020, it is anticipated that imported fruits directly purchased from overseas bases will reach 60%. In Pagoda's words, "it has simplified the procurement procedures, reduced costs to lower prices, and ensure the quality of fruits to the greatest degree through seamless information docking and a high level of sales and procurement collaboration".
The sulfur-free Thai Longan is a fine example. From November 2016 to March 2017, Pagoda delivered Thai Longan in containers from the east of Thailand by charter to provide fresh and flavorful Thai Longan for its consumers. Fruits were collected and packed from the origin in the morning and delivered to Pagoda's outlets to ensure customers could be served with fresh fruits in the evening. Pagoda has earned a good reputation because of these successful attempts to satisfactory sales performance.
Apart from the sulfur-free Thai Longan, another example is the on-tree ripened durian. This idea was first put forward by Pagoda in 2006. Because durian is a climacteric fruit, it is usually collected at 60% ripeness, which, without a doubt, has considerable influence on the original flavor of the fruit. To provide customers with a "naturally ripened" durian, Pagoda has established a special supply chain of Thai durians according to the characteristics of individual fruits, with which the durians at 90% of ripeness are collected and delivered to Pagoda's outlets and others are not. And with the catalytic ripening during the delivery process, customers can enjoy 100% naturally ripened durians.
Reportedly, Peter Zhu, Head of Pagoda's International Procurement Business Department, has visited over 20 countries in the past 2 years in order to provide more overseas fruits to Chinese consumers. In the process of exploring the origins of superior fruit resources, Peter Zhu and his team have successfully enlisted cooperation of direct procurement of 22 overseas locations including the U.S. (cherry), Peru (grape), Mexico (avocado), Israel (pomelo), South Africa (conserves) and Thailand (durian), etc. Taking the Muscat from Santa Elena for example, the aspermous grape derived from wine grapes presents a favorable pallet and unique fragrance. In 2017, the gross output of Muscat was 148 containers including 27 exported to China—among which Pagoda purchased 13 containers accounting for 48.2% of the total import volume in China. Pagoda's customers are provided with worldwide fruits of superior quality conveniently.
Furthermore, U.S. cherry plums were mainly delivered to China by air in the past, leading to relatively high costs. After Pagoda's participation in 2012, sea transportation was adopted in order to effectively reduce cost without impairing fruit quality—with the price of sea transportation having an advantage over air transportation by RMB 8/kg. Now, customers can buy the fruit from retail ends at a lower price and allow U.S. cherry plum growers to clear their fruits. In 2017, the gross output of U.S. cherry plums reached 93 containers including 12.5 exported to China, among which Pagoda purchased 11 containers of the fruit—88.5% of the total import volume.
"The major difficulty of direct procurement from overseas bases lies in output standards", said Peter Zhu. "No matter if it's collecting 90% naturally ripened durians or purchasing cherry plums", he added. In addition to domestic supply chains, Pagoda has established overseas output standards as well. According to Pagoda's fruit standard system, maintaining close communication with every cooperative partner and provide fruit products in strict accordance with the corresponding standards is required.
Educating Chinese Consumers, Develop China's Market
Pagoda is not only in search of overseas procurement and trade cooperation but also exploring opportunities to make upstream investments abroad. For example, avocados have become a popular fruit in the Chinese market in the past two years. Its emergence and popularity are closely related to Pagoda's investment in the fruit.
As CBN Weekly reported, to help educate Chinese consumers, Pagoda has provided customers with avocado eating guides and free avocados in its outlets since 2013. This is an exemplar of Pagoda's business concept, i.e. seeking business development and increasing market share through customer education rather than taking advantage of consumers who lack knowledge of certain fields. In April 2017, To increase the market share of the avocado and offer better products to Chinese consumers, Pagoda, Mission Produce, and Lantao founded an avocado joint venture in Shanghai Free Trade Zone and launched an instant avocado brand "Mr. Avocado"; it is also the first avocado ripening center in China.
So far, through their joint efforts, "Mr. Avocado" has obtained favorable market feedback and recognition from consumers within a short time. Sales volume of Mr. Avocado has shown growth from one container to three containers per week. According to Pagoda, after the instant avocado product was launched, in three months time, the sales volume of avocado-related products of Pagoda's outlets in Shanghai has increased by over 400%. Clearly, the ready-to-eat avocado is dramatically altering consumption habits.
Mission Produce, overseas partners of Pagoda
In addition to pioneering new fruit products, such as avocados, in China, Pagoda is also good at remodeling "potential fruits". The South African Fuji is an apple originally exported to Malaysia that intermittently came to the attention of Peter Zhu. Thanks to Pagoda, it was eventually introduced to the Chinese market in 2016. To do so, Pagoda rolled out a trial sale of five containers and obtained a desirable response from the market. In 2017, Pagoda plans to order 31 containers of the fruit. However, the supplier has a limited gross output is unlikely to meet future demand. In this case, Pagoda has successfully changed "Fuji", the previously unmarketable fruit, into a popular product in the Chinese market.
Pagoda is always willing to develop and introduce more overseas products, especially fruits that have sales channels in other countries but not in China. Cooperation with suppliers regardless of sizes and volumes is always desired. The Rockit apple from New Zealand for example, half of all Rockit apples in China are sold by Pagoda and it was introduced to the Chinese market just last year.
Impressively, Pagoda owns over 2,500 outlets in China and expanding at the pace of 4-5 new outlets every day. With an online-to-offline marketing system and 23 million high-end members, Pagoda is confident when it comes to building successfully fruit brands. Pagoda, to a certain extent, is a brand incubator as well as a channel brand.
As to future development, Pagoda expects to open its 10,000 outlets by 2020 and substantially increase the quantity of imported fruits. By 2030, the overseas procurement fund is projected to be RMB 13 billion including RMB 7.8 billion for direct procurement of fruit bases. According to data analysis provided by Pagoda, by 2020, imported durians are expected to reach 4,589 containers while coconut and cherry products are anticipated to reach 1,191 and 980 containers respectively.
Peter Zhu remarked, "At the same time, overseas trade cooperation will be gradually transformed into strategic cooperation while we undergo a shift from short-term purchases and sales cooperation to comprehensive, in-depth and diversified cooperation that allows both simple trade patterns and profound whole-industry chain cooperation not limited to purchase, trade patterns, vegetation, post-collection treatment, cooperation and investment projects".
Image Source: Pagoda
Featured Produce
Produce Marketplace
Elangeni Food Group

·

South Africa

Universal Capital Gr

·

Ecuador

AGRI GATEX LIMITED

·

Africa
Joshua Lim

·

Malaysia

City fresh fruit co.

·

Thailand

Chun lin orchard-Sel

·

Taiwan nan
China Market Access List