You are here
Back to top
An Overview of Global Blueberry Production in 2016
September 28, 2017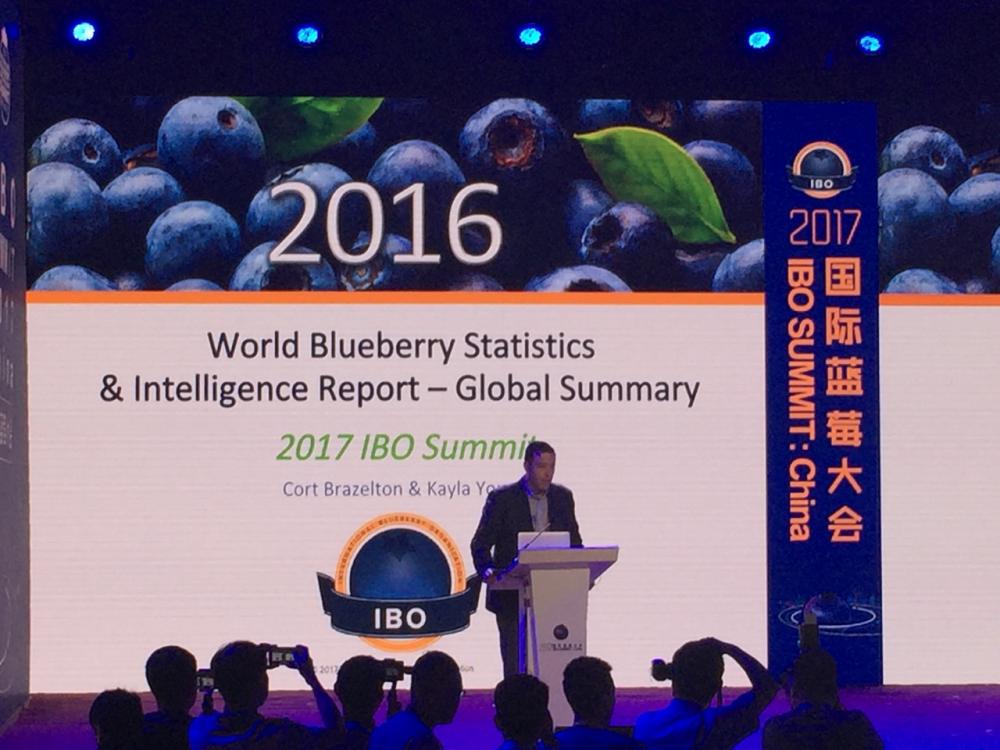 Cort Brazelton presenting at IBO Summit 2017: China
From September 11 – 12, the International Blueberry Organization (IBO) held its first ever annual summit in China, hosting global industry leaders in Qujing City in eastern Yunnan Province. At IBO Summit 2017: China, Cort Brazelton, Director of Business Development at Fall Creek Farm & Nursery (Oregon, USA), delivered the IBO's biennial report on the global blueberry industry, highlighting major developments in blueberry production and planting as well as providing seven trends observed in 2016 and predictions for the future.
The vast majority of commercial blueberry crops can be divided into two categories: highbush and lowbush. Highbush blueberries are the most cultivated blueberry and the berries themselves are large, abundant, and are less sensitive to warmer temperatures than lowbush blueberries. More than three quarters of the world's blueberry production is of the highbush species, with the United States, Chile, and Canada accounting for 76% of this production.
Lowbush blueberries, also often called 'wild' blueberries, are smaller, sweeter, more intense in colour, and more temperature sensitive than highbush blueberries. Over 90% of worldwide lowbush production is in the United States and Canada, namely Maine and Eastern Canada, and 97% of this production is in processed wild blueberries, which are used in jams, juices, jellies, yoghurt, and other such products, as well as being sold individually quick frozen (IQF). Remarkably, combined global production of highbush and lowbush crops has been split approximately 50%/50% between fresh and processed blueberries every year since 2012.
2016 saw world highbush production grow by 92,000 metric tons (MT) to 655,000 MT, an increase of 16.3% over 2014. Production in fresh highbush blueberries is increasingly focused in developing markets, dropping in North America from 49% of global production in 2014 to 41% in 2016 while growing in South America (24% in 2014 to 29% in 2016), Europe (16% in 2014 to 17% in 2016), and Asia & Pacific (8.2% in 2014 to 9.1% in 2016). Processed highbush production remains primarily of North American origin, as 76% of processed highbush blueberry production was located in North America in 2016.
Lowbush production grew by an even larger percentage than that of highbush, increasing by 24.5% over 2014's figures and adding 41,000 MT to total 206,500 MT in 2016. Europe and China are the only other sources of these 'wild' blueberries outside the United States and Canada at 6% and 3.6% of global production, respectively.
Since 2012, China's highbush production has more than doubled, expanding from 11,300MT in 2012 to 20,000 in 2014 and 28,000MT for 2016. Most of China's highbush production is concentrated in fresh blueberries, with a 4:1 ratio of fresh to processed highbush blueberries in 2014. However, processed volumes doubled in 2016 to 8,000MT and now comprise 40% of China's total highbush production. 2016 was also the first year where North America accounted for less than 50% of global planting distribution, due largely to the 'internationalization of the blueberry industry' and exceptional growth in highbush planting acreage in the Asia & Pacific region. Since 2008, highbush planting in this region grew by 774%, from 3,186 hectares to 27,859 hectares in 2016, largely driven by massive increases in planting area in China. Although China only comprises 5% of global highbush production, roughly 20%, or 22,000 hectares, of global blueberry planting was done in China in 2016, second only to the United States. However, this is perhaps a reflection of the relative immaturity of the Chinese blueberry industry, as low production volumes in spite of high planting acreage can be an indication of inefficiencies within a young and still-developing industry.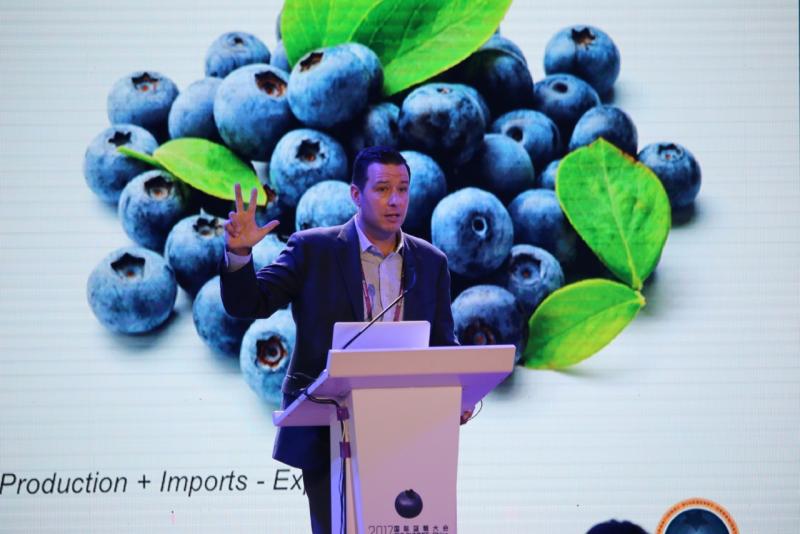 Mr. Brazelton predicted that global highbush production would reach 813,000 MT by 2019 and exceed 904,000 MT in 2021, driven by sustained growth in Europe and South America and rapid growth in Asia & Pacific, namely in China. However, Mr. Brazelton warned against unrealistic expectations, for although 'rapid growth brings incredible opportunity, mistakes are made with rapid growth,' a fact that must be recognized and prepared for in the future. He also noted that more must be done to preserve product quality and enhance consumer satisfaction. With that, Mr. Brazelton delivered seven conclusions and trends observed in the global blueberry industry in 2016: 
Blueberry utilization (production plus imports minus exports) is increasingly global, with the highest rate of category growth, volume, and value in Asia and Europe
Demand for fresh blueberries can now be filled during traditional growing off-seasons by new sources of supply, such as China, Peru, and Mexico
The move to proprietary and controlled genetics in fresh blueberries is accelerating, driven by an industry-wide shift from a supply focus to a quality and value proposition focus
Outside capital and investment continue to enter the blueberry supply chain, sometimes affecting asset values and the rate of industry growth
The processed blueberry market is troubled due to limited product differentiation, new product development, and large number of handlers in a fragmented market
Blueberry substrate production has become an important competitive growing system in new and existing growing regions
There is a high desire for increased mechanization, especially in harvest, but progress in this remains limited
Featured Produce
Produce Marketplace
Elangeni Food Group

·

South Africa

Universal Capital Gr

·

Ecuador

AGRI GATEX LIMITED

·

Africa
Joshua Lim

·

Malaysia

City fresh fruit co.

·

Thailand

Chun lin orchard-Sel

·

Taiwan nan
China Market Access List