You are here
Back to top
New Zealand's New Establishment Operates in Shanghai
April 30, 2015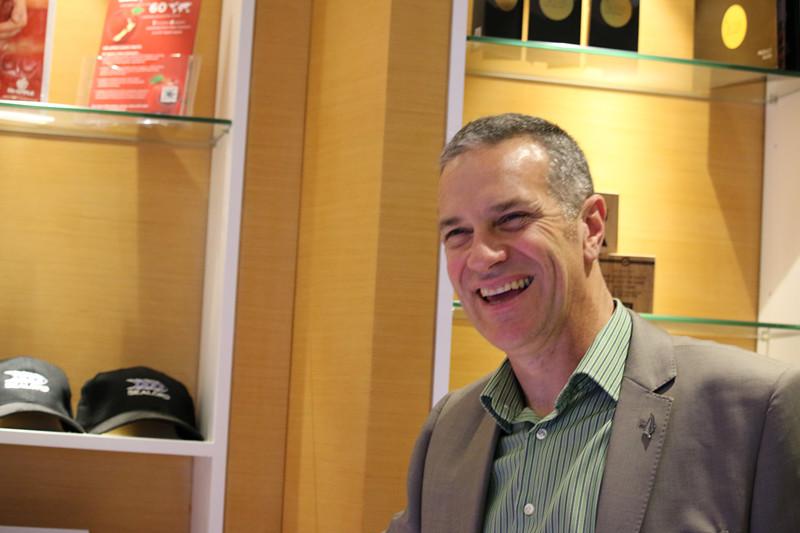 A new company known as Primary Collaboration New Zealand (Shanghai) Company Limited or PCNZ officially opened its doors in the Central Plaza, Shanghai on April 8th. Honorable Steven Joyce, New Zealand Minister of Economic Development, joined New Zealand diplomats, local employees and suppliers in cutting the ribbon.
Kevin Parish, General Manager of PCNZ, refers jokingly to the new business as 'cousin' of New Zealand Ministry of Primary Industries (MPI) as both entities use the same word 'primary' in an interview with Produce Report in the company boardroom.
"MPI and other New Zealand government departments have supported the establishment of the PCNZ business," says Kevin. He was former Trade Commissioner for New Zealand Trade and Enterprise based in Hong Kong and Macao.
Representing six of New Zealand finest companies, PCNZ has "a good basket of products" from its six founding members, including Pacific Pace (horticulture), Sealord (fisheries), Silver Fern Farms (meat), Synlait Milk (dairy), Villa Maria Estate (wines) and Kono (seafood), among which Pacific Pace collaborates with Mr Apple, Crasborn and JM Bostock and shares the unique apple brand Diva.
PCNZ is recruiting market managers who will represent the founders and associated products, "We are focusing very much on getting people on board to work together with current distributors and look for new opportunities," Kevin said.
The past year has been spent setting up the business and making sure that the entity is fully compliant. The focus is now on the first operational phase of the journey and the establishment of the procedures and policies to build a strong platform for the business. The second, expected to start in July, will have the company "into the operation rhythm required and looking for ways to collaborate amongst the founding companies with the market."
PCNZ was born from the desire that six New Zealand companies wanted to learn more about Chinese market. They collaborate and coordinate reciprocally for collective good of one single force - PCNZ.
In 2012, government officials, including New Zealand Minister of Primary Industries, chief executive officers of 30 New Zealand companies went to a Stanford University 'bootcamp' in California, in attempt to draw inspirations from the IT industry which incorporated some 'design thinking' sessions with leading IT and design experts.
Those present settled on the answer 'China' to the question - "What market is most crucial for New Zealand primary industries in the future?"
Representatives of six of the companies, which are commonly considered synonymous with premium quality in New Zealand, decided to "lift the game" by creating a marketing consultancy company. This was a break away from traditional business model and they aspired to develop stronger market relationships and build more sustainable business. PCNZ came into being at this point; and the six member companies invested in the development of PCNZ as the original company shareholders.
This model indirectly works as an incubator and also, as a New Zealand brand powerhouse. With "very good government support" from all the New Zealand government agencies stationed in the Chinese commercial hub of Shanghai, the new model will facilitate services for its founding members in China. It is expected that the innovative design, if well operated, will create benefits for all those involved. 
The private and public partnership model is different from that of associations in terms of structure and function, private or public; usually associations represent interests of one single industry or a particular item, but this model works across multiple industries and products which is the strategic difference.
New Zealand has significant trade with China. "…relying on exports because, we're a small country, a small population," Kevin said. Since the two countries signed a bilateral free trade agreement in 2008, trade with the south pacific country soared. In 2013, China replaced Australia in becoming New Zealand's biggest trading partner and export market. "Over half of total exports are currently in the food and beverage category," Kevin said. In 2014 Chinese president Xi Jinping's visit to New Zealand developed the bilateral relationship to a full strategic one, unveiling larger targets for trading prosperity between the two countries in terms of categories and scale.
For many Chinese their knowledge of New Zealand is confined to its industries like horticulture, dairy and meat. PCNZ will apply marketing intelligence to promote its brand in the world's second biggest economy and establish New Zealand as a stronger export oriented country.
Scrolls of Chinese calligraphy are hung on the wall of the new office as an impressive decoration. To balance Ying and Yang of the office space, Kevin invited Mr. Zhao a Fengshui Master to be present at the opening ceremony. "We are a Chinese company, but we are owned by NZ companies," Kevin said. "We are mix between the two, between the diligence of the New Zealand people and the Chinese cultural heritages. Together our energy will create a strong and successful business."
Featured Produce
Produce Marketplace
Tien Thinh Agricultu

·

Vietnam

Tien Thinh Agricultu

·

Vietnam

Tien Thinh Agricultu

·

Vietnam
Upcoming Events

June 05, 2019

to

June 07, 2019

September 04, 2019

to

September 06, 2019

September 23, 2019

to

September 27, 2019
Market Access List