You are here
Back to top
Grapery CEO: The Perfect Taste a Simple Goal but a Tough Road
October 29, 2017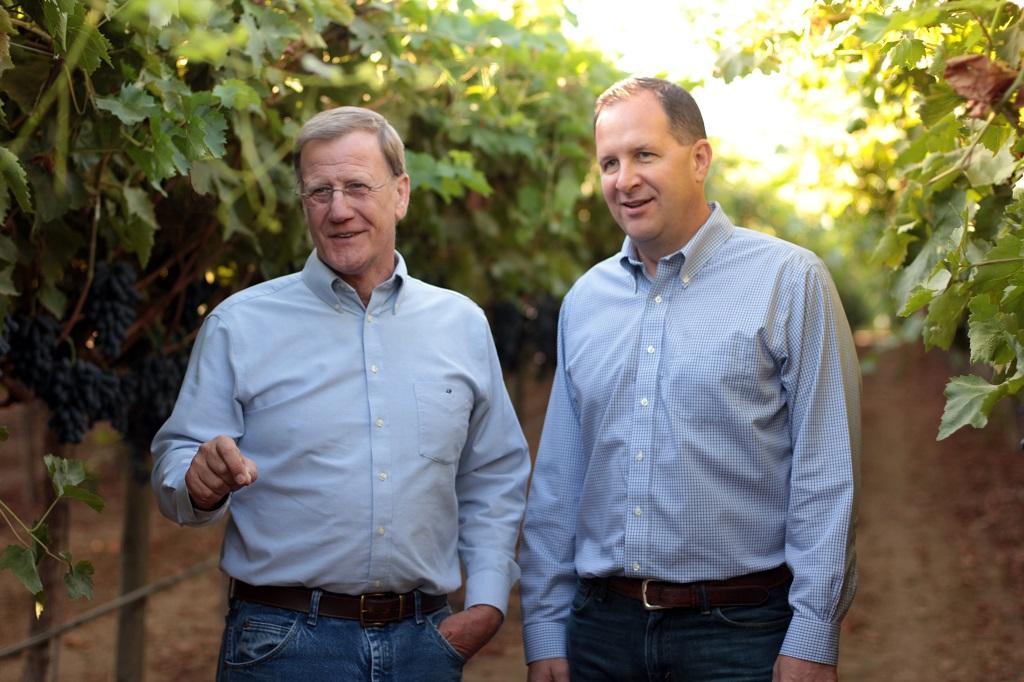 ▲ Jack Pandol-Founder(left),Jim Beagle-CEO (right)
Each year, California ranks first in terms of grape production in U.S. In a place loaded with millions of tons of grapes, a company stands out not by blindly amassing volume but by providing something unique. At the PMA Fresh Summit in New Orleans, Produce Report had the chance to interview Jim Beagle, CEO of Grapery, and learn the stories behind his sought-after table grapes.
Founded by Jack Pandol in 1996, Grapery is thriving based on its simple goal: to deliver customers the best tasting table grapes they'll ever have. All Grapery grapes are grown in the Southern San Joaquin Valley in California, an ideal location to grow the best fresh table grapes in the world. As to why flavor is so highly valued by Grapery, Mr. Beagle remarked that, "Farmers around the world have priorities on how they farm. Some want lower costs, some want bigger fruit, some want a prettier look, some want a longer shelf life, and some want a higher yield. For us, we just want to surprise clients as to how great a grape can really taste."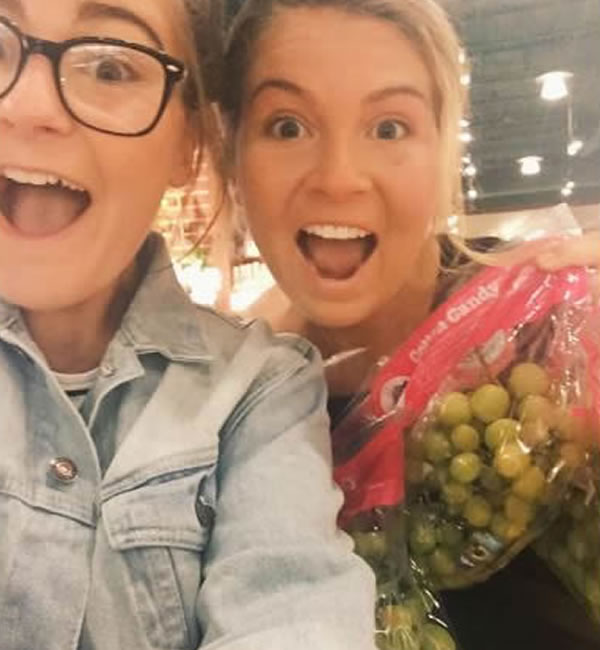 Developing new varieties: hard work, innovation, and sometimes a little luck
As the superior flavors of Grapery grapes amaze customers, few would doubt they must stem from the careful selection of superb varieties. Grapery and its breeders scour the world for all kinds of delicious table grape varieties and try out millions of cross-pollination combinations each year, of which only one or two varieties are commercially viable. "We have been in the business of breeding exciting new varieties for more than fifteen years. Thanks to a long-standing partnership with International Fruit Genetics, a Grapery co-founded nursery, we often get first access to a lot of new and emerging varieties even though they might later be grown by other growers in other parts of the world." 
However, breeding a novel variety sometimes requires more than hard work and innovation. The birth of Cotton Candy, one of Grapery's hit products, was a lucky accident. "Frankly, we were stunned when discovered a new grape that tasted like cotton candy," Mr. Beagle told Produce Report.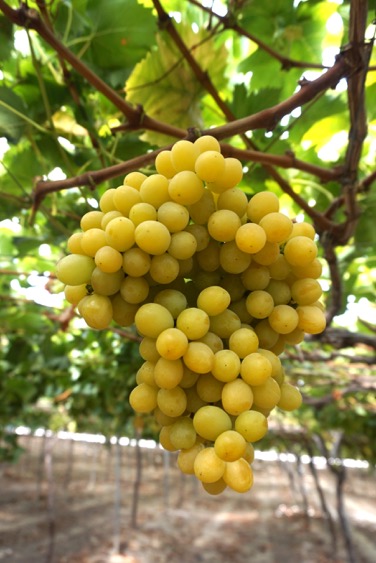 ▲Cotton Candy
It all comes down to taste
Nevertheless, having a great variety by itself is far from enough, as other steps are necessary to unlock the full potential of a promising variety. Another big secret of creating a delicious taste lies in the harvesting. Grapery lets their table grapes mature on the vine until they are perfectly ripe. "Grapes on the vine don't get ripe at the same time. Typical growers wait until average grapes on the vine reach an acceptable level before picking them all up only one time, which leads to an uneven quality. Our harvesters visit the same field five to seven times over many weeks and only hand-pick the ripest grapes," noted Mr. Beagle.
While this devotion to ripeness may lead to a shorter shelf life, Grapery addresses this challenge through two distinct practices. Mr. Beagle called one of these the "nutrition program," which aims to strengthen and sustain the vines by nurturing the soil. As a result, Grapery grapes are stronger compared with typical grapes at the same level of maturity.
Grapes are picked in the summer and their shelf life drops if they remain unrefrigerated after harvest. Therefore, the other key practice is to transport the grapes to cold storage facilities as quickly as possible. The average time it takes Grapery grapes from being cut off the vine to being packed in a cold storage facility is around seven hours, much quicker than the industry-average of twenty-six hours.
Partners key in sharing the Grapery story
Covering an area of 600 hectares, Grapery orchards produce over one million boxes of table grapes a year, accounting for 2% of California's grape crop. According to Mr. Beagle, Grapery supplies 80% of its product to the U.S. market, with the remaining 20% exported overseas. In the domestic market, Grapery prefers to align with retailers that place importance on offering high quality products and services to their customers, such as Whole Foods, The Fresh Market, Gelson's Markets, Publix, Wegmans, and others. 
"It is vital for us to work with retailers, wholesalers, and importers closely and selectively. Since the practices we use to ensure high quality carry a higher cost, our grapes are more expensive than most others. Our partners should understand our product and what differentiates it from other grapes on the market, so that when they display our products they are able to explain why Grapery grapes have this higher price tag despite appearing the same as other grapes. We want the story behind our grapes being told down the value chain." 
For Chinese consumers, flavor is king
It may be surprising to know that China is the biggest overseas market for Grapery, which has dealt with the Chinese market for around two decades. Its annual exports to China have reached thirty containers in recent years. As to what makes China Grapery's top export market, Mr. Beagle noted that, "Some of our grape varieties are not privately-owned by us and are also available to other growers around the world, including Chinese growers. Fortunately for us, some of these varieties haven't adapted well to the grape-growing regions in China so far. As a result, we enjoy the advantage of facing less competition in the Chinese market. However, I believe that the Chinese consumer preference for high quality fruit is overall more important."
The company has chosen to partner with Hong Kong-based P&C International Trading Ltd. to better serve the Greater China market. At the retail level, Grapery has also taken some concerted effort to tap the Chinese market through co-operation with Pagoda, Fruitday, and Sam's Club. As Chinese consumers learn more about Grapery and its jaw dropping products, the brand is increasing in popularity and demand in China.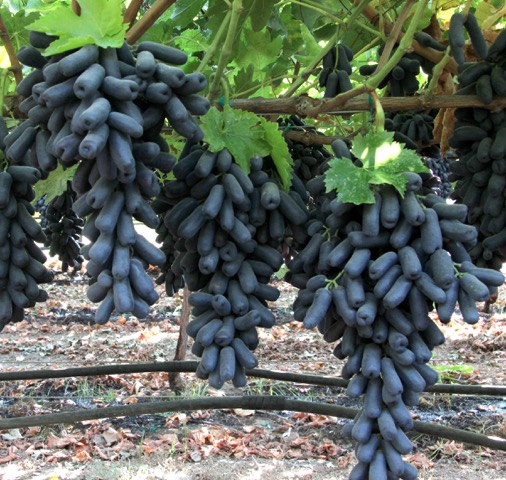 ▲Moon Drops
To get a greater overview of Grapery's performance in China, Produce Report also interviewed Mr. Leo Cheung, Director of P&C International Trading, who confirmed Grapery's strong performance in the Chinese market. "Let's take Moon Drops, the most popular Grapery grape in China, for example. This variety can only be called 'Sweet Sapphire' by other growers. Chinese consumers find most Sweet Sapphire grapes soft and easier to break down or shrivel. On the other hand, Grapery's Moon Drops grapes are crispy, juicy, and sweet. Furthermore, they are much more resilient, better grown, and possess a longer shelf life." Mr. Cheung went on to note that, "Market feedback on Grapery's Cotton Candy grapes in Hong Kong is also fantastic, even though they are more difficult to handle due to their maturity. I believe once we find the right partners in Mainland China, they will also enjoy a brilliant future in China."
New varieties and flavors on Grapery's horizon
As to Grapery's visions for the future, Mr. Beagle emphasized their continued attention to flavor. "We are working on a wide range of exciting varieties which might come up over the next few years. Some of them feature candy-like flavors, while others possess unique shapes and/or colors." Moreover, Grapery will continue to expend every effort in figuring out more ways to understand consumers better and meet and surpass their expectations. 
 
Image source: Grapery
Upcoming Events

April 05, 2022

to

April 07, 2022

September 07, 2022

to

September 09, 2022
Featured Produce
Produce Marketplace
ALOE ECO PARK SAPI D

·

Mexico

Tien Thinh Agricultu

·

Vietnam

Tien Thinh Agricultu

·

Vietnam
Joshua Lim

·

Malaysia

City fresh fruit co.

·

Thailand

Chun lin orchard-Sel

·

Taiwan nan
China Market Access List