You are here
Back to top
First-Ever Sale of US Rice to China Announced
July 08, 2019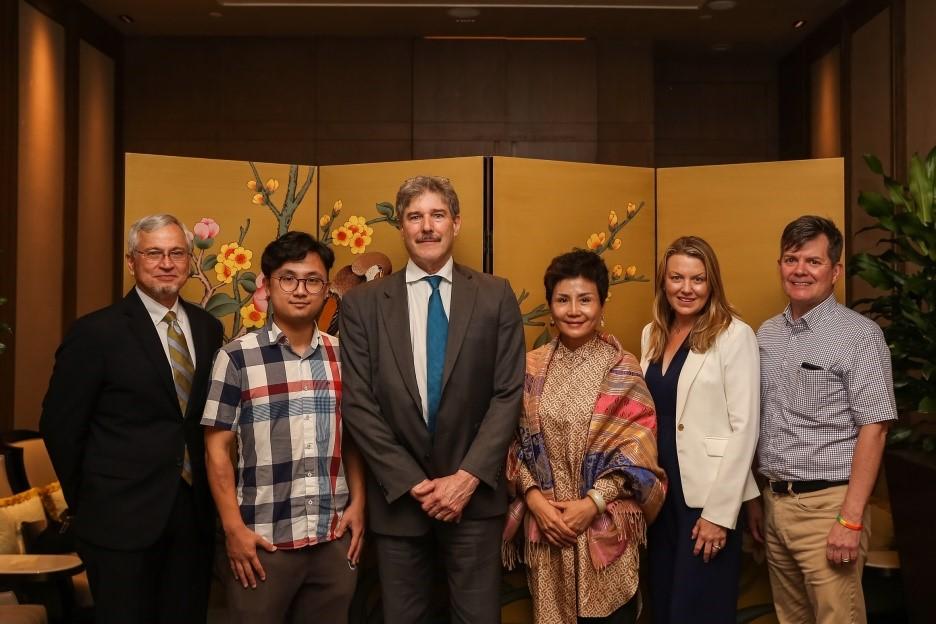 Jim Guinn, Director, Asia Promotion Programs, USA Rice Federation; William Li, Overseas Director, Shenzhen Yintuo & Vice President, Dragon Ocean Hing Group, Jim Levy, U.S. Consul General to China, U.S. Embassy; Chris Zhang, President, Dragon Ocean Hing Group; Erin O'Donnell, Assistant Vice President of Global Rice Trading, Sun Valley Rice; Bobby Richey Jr., Minister-Counselor for Agricultural Affairs in China, USDA. Image: Sun Valley Rice
The door to a promising new market has been cracked open for US rice exporters with the announcement on July 3 that Dunnigan, California-based Sun Valley Rice had completed the first-ever sale of US-produced rice to China.
In a press release, Sun Valley said it would be providing, "California Calrose medium-grain rice to Shenzhen Yintuo, part of the Dragon Ocean Hing Group, one of the largest importers of rice into China." The statement continued, "The private packaged rice for Shenzhen Yintuo will be delivered in time for the upcoming Mid-Autumn Festival, held in September in China and available for both retail and food service distribution." Media reports in the US and China stated that the first shipment would be comprised of two containers carrying 40 tons of rice.
Sun Valley stated that it has been seeking to gain access to the China market since 2004—although China and the US did not finalize import protocols until 2017.
"We chose Sun Valley Rice because when we first toured the US, we went to California and witnessed that Sun Valley Rice had clearly studied Asian cultures deeply (especially Japanese and Chinese)," said William Li, Overseas Director, Shenzhen Yintuo & Vice President, Dragon Ocean Hing Group, according to the Sun Valley press release.
"Most rice imported into China today currently comes from Thailand, Pakistan and Vietnam and is of the long-grain type," said the statement from Sun Valley. "California Calrose is a medium-grain varietal, predominately grown in the Sacramento Valley, and is considered the premium medium-grain rice due to its superior taste, aroma and texture. "
Despite its domestic production being dwarfed by Asian countries like China and Thailand, the US is globally the fifth largest exporter of rice, with almost 3.2 million tons of exports in 2018.
The industry is hopeful this first deal in one of many to come. "This sale marks a turning point for the U.S. rice industry and its relationship with China," says Betsy Ward, President and CEO of USA Rice, the national trade association representing rice growers, millers and merchants in the United States. "We've spent decades chasing this enormous market, and the Sun Valley Rice sale is the first ever of U.S. rice to a private importer. It is truly historic and sets the stage for continued regular trade with China for U.S.-grown rice."
Jim Guinn, Director, Asia Promotion Programs, USA Rice Federation; William Li, Overseas Director, Shenzhen Yintuo & Vice President, Dragon Ocean Hing Group, Jim Levy, U.S. Consul General to China, U.S. Embassy; Chris Zhang, President, Dragon Ocean Hing Group; Erin O'Donnell, Assistant Vice President of Global Rice Trading, Sun Valley Rice; Bobby Richey Jr., Minister-Counselor for Agricultural Affairs in China, USDA. Image: Sun Valley Rice
Upcoming Events

September 06, 2023

to

September 08, 2023
October 19, 2023

to

October 21, 2023
Produce Marketplace
Universal Capital Gr

·

Ecuador

AGRI GATEX LIMITED

·

Africa

Qualipac Pty Ltd

·

Australia
Joshua Lim

·

Malaysia

City fresh fruit co.

·

Thailand

Chun lin orchard-Sel

·

Taiwan nan
China Market Access List