You are here
Back to top
Cyprofresh Conquers China Market with Specialty Citrus Fruits
June 13, 2016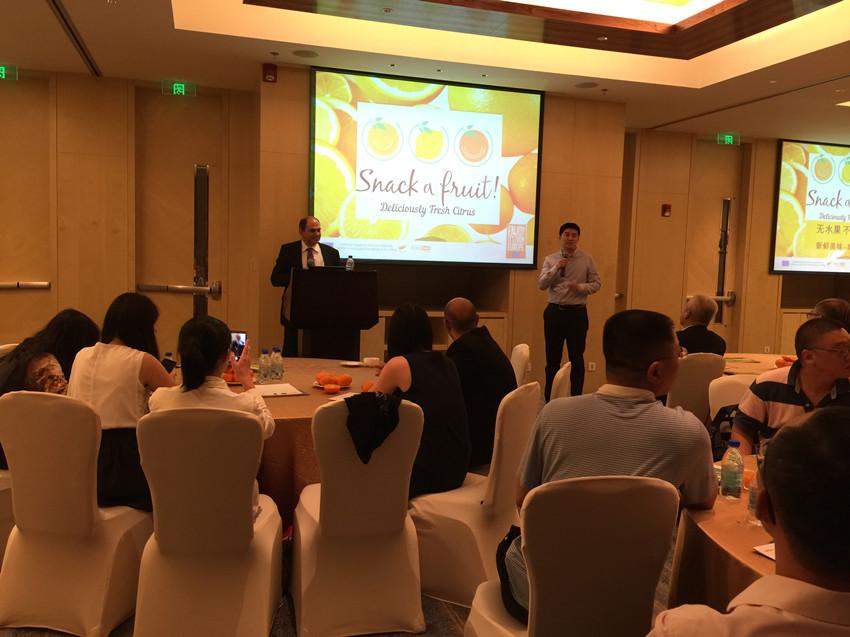 This is an island country at the borders of Asia and Europe, where the wonderful subtropical weather makes it a heaven for planting fruits and vegetables. This paradise on earth is called Cyprus.
Last week, Sedigep came from this beautiful island country to Shanghai and presented its specialty fruit Ortanique Mandora at the "Snack a Fruit, Deliciously Fresh Citrus" conference. Participants at the event experienced the chance to taste the deliciously sweet and sour fruit that boasts a dark-colored appearance.
"Mandora is actually a synthesis of mandarins and oranges, due to the successful cross-pollination technology of the two varieties. The pulp is tender and extremely juicy, often exceeding 60% of the whole fruit's weight. It is a bit more sour than other varieties, which means it is rich in vitamin C and is super good for health. Besides, its market price is quite competitive," Andreas Pytharas, Cyprofresh General Manager, told Produce Report during an exclusive interview.
Sedigep started to export this variety, which is only planted in Cyprus and Spain, to China in 2012. The current production of Mandora is around 10,000 tons and the export volume to the China market hit 1,000 tons last year.
Panicos Panayi, Marketing and Sales Manager of Sedigep, said, "our product is better than those produced in Valencia, due to the fact that the soil and the climate conditions in our country are ideal for this special fruit, which has a long shelf life of up to around 80 days, and this makes it quite suitable for exportation. We hope that it is welcomed by Chinese consumers and I hope to see the exports reach 1,500 tons in the next three years."
Apart from Mandora, Sedigep also produces other fruits such as lemons, grapefruits, oranges, and pomegranates. According to Panicos Panayi, grapefruits have been well accepted and enjoyed by Chinese consumers, with a current export volume of around 500 tons of this fruit. "With the help of our sales agent in China, we try to teach consumers how to taste our products, such as using fruits as one of the ingredients in salads, deserts, dishes, etc., so that they know more of the advantages of our products and fall in love with them eventually."
As its China agent, Liu Wei, General Manager of Agrade Shanghai Company Ltd., said, "Sedigep's two varieties of fruits, namely Mandora and grapefruits, are sold in supermarkets and the wholesale market. Apart from the offline sales, due to the booming market development of e-commerce, we are also trying to expand our online sales channels to boost sales."
Sedigep is a co-operative growers' union established in 1964 with the purpose of planting, treating, packing, and marketing the agricultural products of its 1,000-plus grower members. Nowadays, the company is the biggest packing and exporting organization in Cyprus, handling more than 35% of the island's total export trade in citrus fruits.
Meanwhile, its member organization Cyprofresh, established in 2005, is one of the largest growers' organizations in Cyprus with over 500 members specialized in citrus fruit planting. The total planting area spans 1,100 hectares and its production represents the highest European levels. Its products have been awarded multiple certificates, such as GLOBALG.A.P., the worldwide standard for assuring good agricultural practice.
Sedigep's production procedures operate under strict supervision for detection of pesticide residues, storage, transportation, and traceability, to ensure the highest quality and freshness of its produce.
Panicos Panayi also told us that apart from the two varieties presently on the China market, he also hopes to see more fruits such as oranges and pomegranates being enjoyed by Chinese consumers in the near future.
Image: Agrade Shanghai Company Ltd.
Featured Produce
Produce Marketplace
Elangeni Food Group

·

South Africa

Universal Capital Gr

·

Ecuador

AGRI GATEX LIMITED

·

Africa
Joshua Lim

·

Malaysia

City fresh fruit co.

·

Thailand

Chun lin orchard-Sel

·

Taiwan nan
China Market Access List