You are here
Back to top
Australian Oranges Landed at Kidzwant of Nanjing
August 11, 2016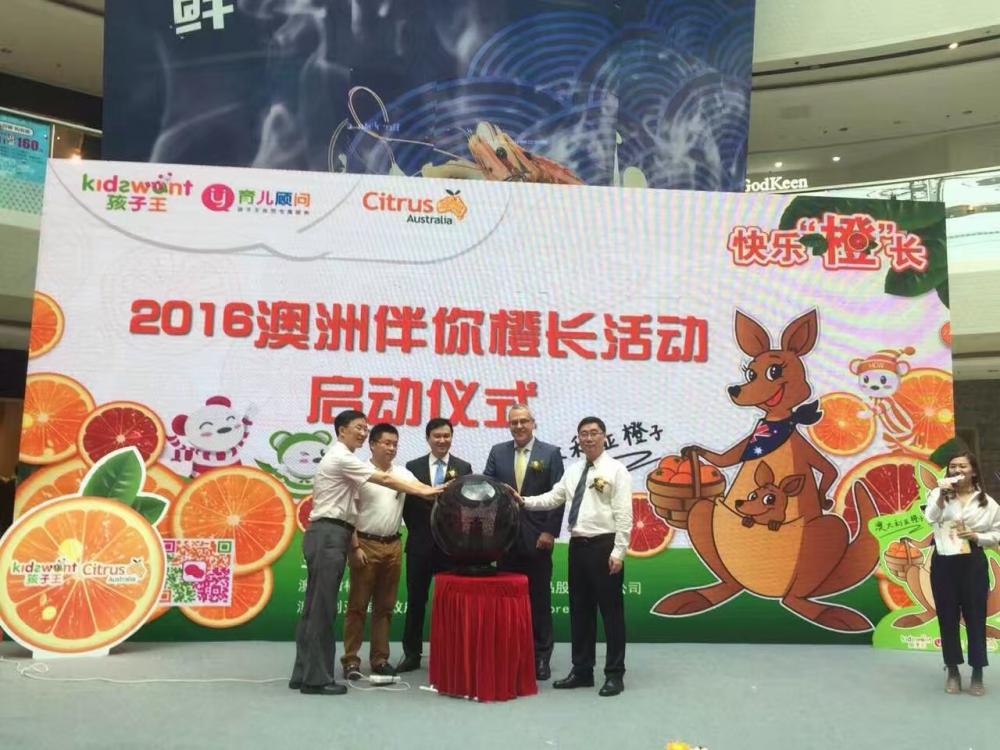 "2016 Growing Up with Australian Oranges" made its debut at Nanjing Jiangning Wanda Plaza on August 7. Officials from the Victoria State and representatives from Citrus Australia, Kidzwant, and Fruitmore jointly announced the starting of the promotional campaign.
According to Tim Dillon, Commissioner for Victoria to China, Kidzwant is one of the partners of choice for Citrus Australia. Citrus Australia is attracted by Kidzwant's professional and mature one-step shopping system for maternal and infant supplies. Kidzwant's young and high quality clientele is expected to offer more opportunities for further cooperation in the future.
Reflecting the Australian oranges' theme, the event's venue was decorated into an orange colored party. 30 parents worked with their children to make fresh Australian orange cream cakes and cupcakes. Young children also enjoyed the fun of painting various funny graphics on the surface of the Australian oranges.
 "Citrus Australia knows both companies very well. Nick Yan, Senior Business Development Manager of Victorian Government Trade & Investment Office, facilitated the successful formation of this cooperation," Fruitmore's General Manager Richard Yi told Produce Report. Kidzwant needs the best quality Australian Navel oranges while Fruitmore is the sole importer and distributor in Eastern and Northern China for Australia's best sweet orange TUMUT GROVE. Cooperation between the two companies is only natural.
The Fruitmore Group was established in 2010. Its core businesses include selling fresh fruits online (those the company represents as distributor and those of others) and offline delivery (to juice shops, fresh fruit supermarkets, restaurants and business enterprises).
"Nanjing is where Kidzwant originated and has its headquarters, with good customer base. Hence it is chosen to be the place for the first leg of this promotion. Similar promotions in Kidzwant's stores in Shanghai and other places will be organized."Produce Report was told.
Kidzwant opened its flagship store on December 18, 2009 at the Nanjing Jianye Wanda Plaza. It has since evolved into an integrated operator of online APP plus offline physical stores. In the area of cross-border business, its model combines bonded warehouse and overseas direct mail. Its main focus now is establishing a global supply chain. Kidzwant is currently sourcing products from 16 different countries and regions.
Through the market development efforts in recent years, Australian oranges have gradually become well known to consumers in first-tier Chinese cities and are beginning to penetrate fast growing second-tier cities like Nanjing. "Australian oranges develop quickly in China and are increasingly accepted in the country. As China's import volume grows, consumers' understanding of Australian oranges has gone beyond just finding out if the products are from Australia. They are beginning to look at the brand, which variant and the quality"
Mr. Yi told Produce Report that the level of acceptance for Australian oranges in Nanjing has been quite high. While still lagging behind Shanghai and Hangzhou, he felt rosy for the future potential. Choosing Nanjing to start the promotion for Australian oranges is aiming at reaching out to consumers, particularly mothers and children, inducing trial and enhancing the understanding of Australian oranges' high quality.
Featured Produce
Produce Marketplace
Elangeni Food Group

·

South Africa

Universal Capital Gr

·

Ecuador

AGRI GATEX LIMITED

·

Africa
Joshua Lim

·

Malaysia

City fresh fruit co.

·

Thailand

Chun lin orchard-Sel

·

Taiwan nan
China Market Access List