You are here
Back to top
Argentinian Grapes Look Forward to China Debut
November 19, 2016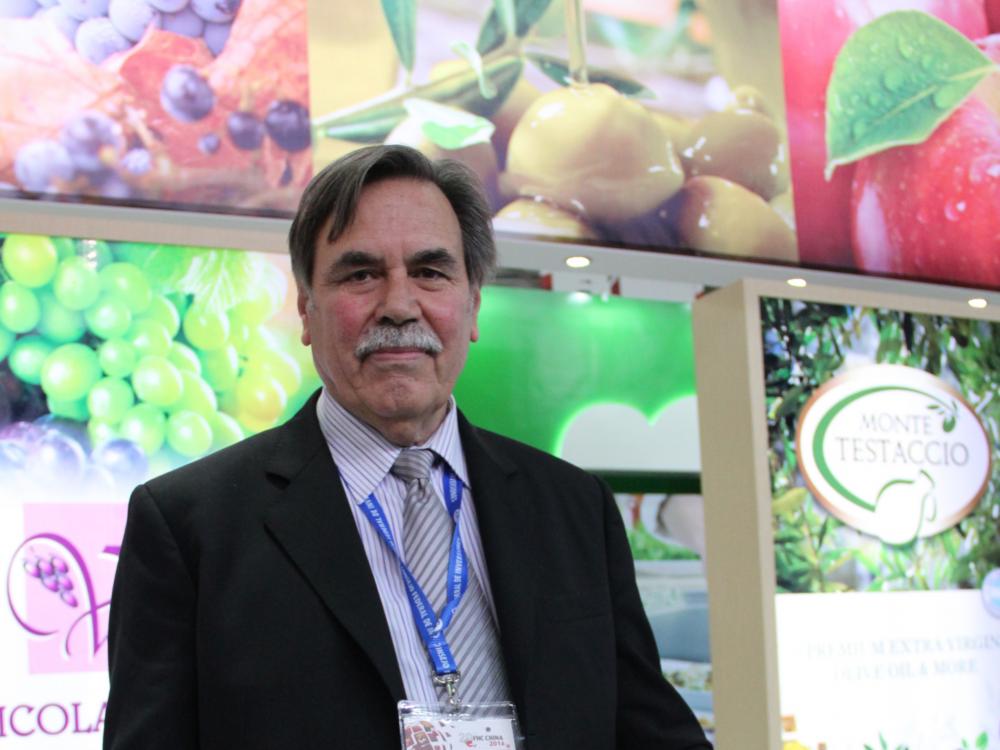 Juan José Ramos: "We are working hard to find partners in China so that we can already begin our exports for this season"

Photo: Produce Report
An agreement on granting Argentinian grapes access to mainland China was reached in July of this year, and grape producers from Argentina soon began to visit the country in order to explore the market and establish business connections. At FHC China 2016 in November, some of these grape producers put their vineyard capacities and grape varieties on display, aiming to create partnerships among local importers. "As the start of Argentina's grape season nears, we are working hard to find partners in China so that we can already begin our exports for this season," Juan José Ramos, president of Argentina's Independent Vintners Association and the owner of Vitícola Cuyo, told Produce Report. The grape harvest in Argentina will kick off in December and Argentinian grapes will begin appearing on the China market as soon as January.
The plantations of Vitícola Cuyo are located in Argentina's northern province of San Juan. The province produces roughly 100,000 tons of table grapes annually, accounting for 90% of the country's total grape output. "San Juan is a perfect place for growing grapes, as the climate is very dry — it rains less there than in the Sahara desert— and very warm, with daily temperatures reaching 35 degrees Celsius and above during the summer months of December, January, and February. Abundant sunshine contributes to the sweetness of the grapes, making the flavour even more intense," described Mr. Ramos.
Over a territory spanning more than 500 hectares, Vitícola Cuyo grows various types of grapes, including Imperial Seedless, Red Globe, and Victoria. Mr. Ramos believes that seedless grapes will have the greatest success in China, based on trends from other countries where Vitícola Cuyo exports its product, namely Russia, Brazil, and Canada. "However, seeded Red Globe and Victoria grapes have their own unique qualities, such as their particular taste and flavour, which make it worthwhile to pursue exports of these varieties," the Argentinian vintner pointed out.
Nonetheless, Argentinian grapes still have much room to grow and face challenges in China, as they currently account for a mere fraction of global grape imports into China. Demand in China for imported grapes far exceeds Argentina's export capacity: China imported 216,000 tons of grapes last year alone, compared to Argentina's total grape exports of only 13,012 tons last year. Furthermore, competition in China among countries in the Southern Hemisphere is already quite fierce. In 2015, Chile, Peru and Australia were three of the top four grape exporters to China, accounting for 42%, 34%, and 7% of total imports, respectively (the USA ranked third at 10%).
Argentinian grape producers remain enthusiastic and optimistic about the burgeoning China market despite these challenges. The opening of China's market to Argentinian grapes is expected to boost the country's grape production, coupled with the development of new technologies and expansion of plantations and vineyards. "Vitícola Cuyo used to export raisins to China in the past but due to a lack of production, we were not able to ensure continuous shipments. However, with some improvements already done and others still to be completed in the near-future, we will have enough product to supply our Chinese clients," stated Mr. Ramos. As fresh grapes need only ten days to dry, shipments of Vitícola Cuyo's raisins to China can also resume in January of next year.
Featured Produce
Produce Marketplace
Elangeni Food Group

·

South Africa

Universal Capital Gr

·

Ecuador

AGRI GATEX LIMITED

·

Africa
Joshua Lim

·

Malaysia

City fresh fruit co.

·

Thailand

Chun lin orchard-Sel

·

Taiwan nan
China Market Access List