You are here
Back to top
Apofruit Presents Solemio at Mac Fruit Attraction China
November 29, 2017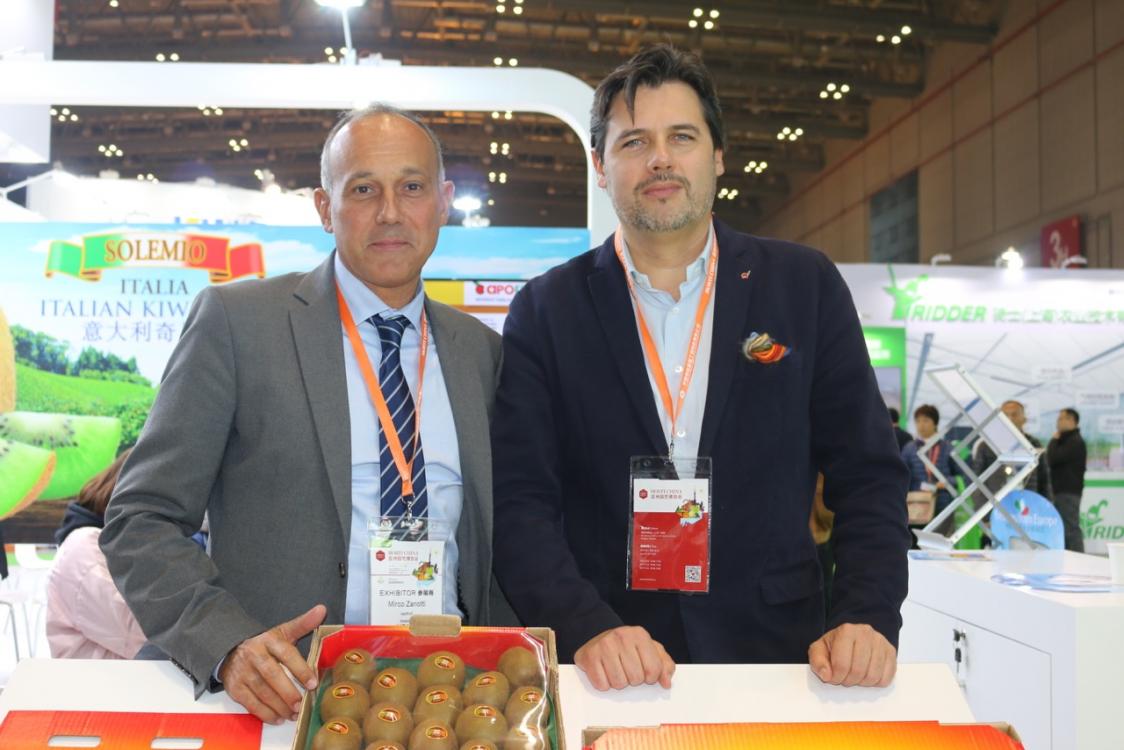 On November 22, Apofruit, a major cooperative company with 4,200 partner growers throughout Italy, presented various fruits - including kiwis, grapes, navel oranges, and blood oranges - from its premium brand, Solemio, at the Mac Fruit Attraction China in Shanghai. In the collective Italian area of the European project "Freshness from Europe", which Apofruit is associated to, Mr. Renzo Balestri, Overseas Export Sales Manager of Apofruit, gave a presentation to Chinese media and traders about new high-quality produce from Italy. Mr. Renzo Balestri said, "[Apofruit] hopes Solemio brand is able to bring the flavors of premium Italian fruits and vegetables to Chinese consumers pursuing healthy lifestyles. We are also eager to export navel and Sicilian blood oranges to China this season"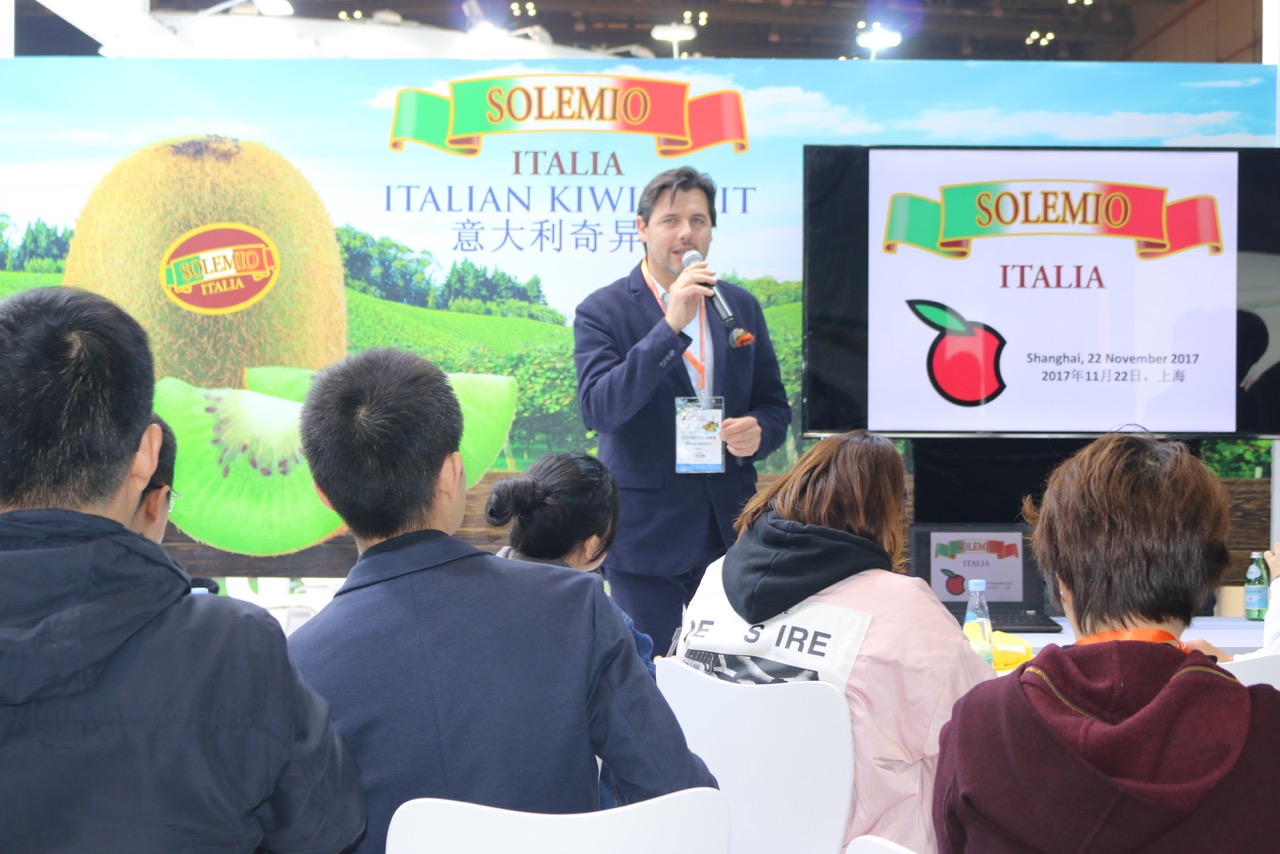 Italy is one of Europe's largest citrus producer with some typical variety which grows only in Sicily. Production season for citrus fruit is between November and March of the following year. The climate and geography of Italy are beneficial for citrus fruit production. As a result, Italian citrus crops are world leaders in terms of quality. Exporters of citrus fruits have been actively preparing for the debut shipment of products ever since the approval of Italian citrus by the chinese AQSIQ last April.
According to Mr. Renzo Balestri, "This season's Sicilian blood orange is awaiting to do its debut in export to China." Citrus crops grown in Sicily are known to be superior to those grown in other regions. One of the world's most famous blood oranges, the Tarocco Blood Orange, is a prime example. The Tarocco is a hybrid-variety made popular by its flavor, color, and market availability. Mr. Balestri wished that AQSIQ would approve the pre-shipment cold-Treatment to allow an extended shelf-life and the possibility to set-up air-transport supplies.
Apofruit is focusing on high-skilled production of fruit and vegetable and high-specialization of the whole supply chain, from field to final consumers.
Balestri said, "We have 12 packing-station facilities in Italy as well as 15 collecting and storage centers." Internationally recognized certifications from Globalgap, BRC, IFC and GRASP have also been obtained. In 2016, Apofruit's total volumes sales reached 340 thousand tons, among which foreign markets accounted for 20/30%. During the 2016-2017 season, Southeast Asia was responsible for 9% of total exports. Apart from citrus exports to China, Apofruit is actively engaged in expanding market access of kiwifruit and grapes to Asia as well.
In fact Kiwifruit is one of the most important fruit for Italy: Italy is ranked as #2 worldwide producer of this fruit  ( even more than New Zealand ). A seasonal production can reach around 500.000 tons of this fruit . Italian kiwifruit is already popular and well received in China. CSO data shows sales to mainland China and Taiwan amounted to 11, 000 tons and 6500 tons respectively. This figure places China as top destination for the Italian kiwifruit exports, outside the EU area .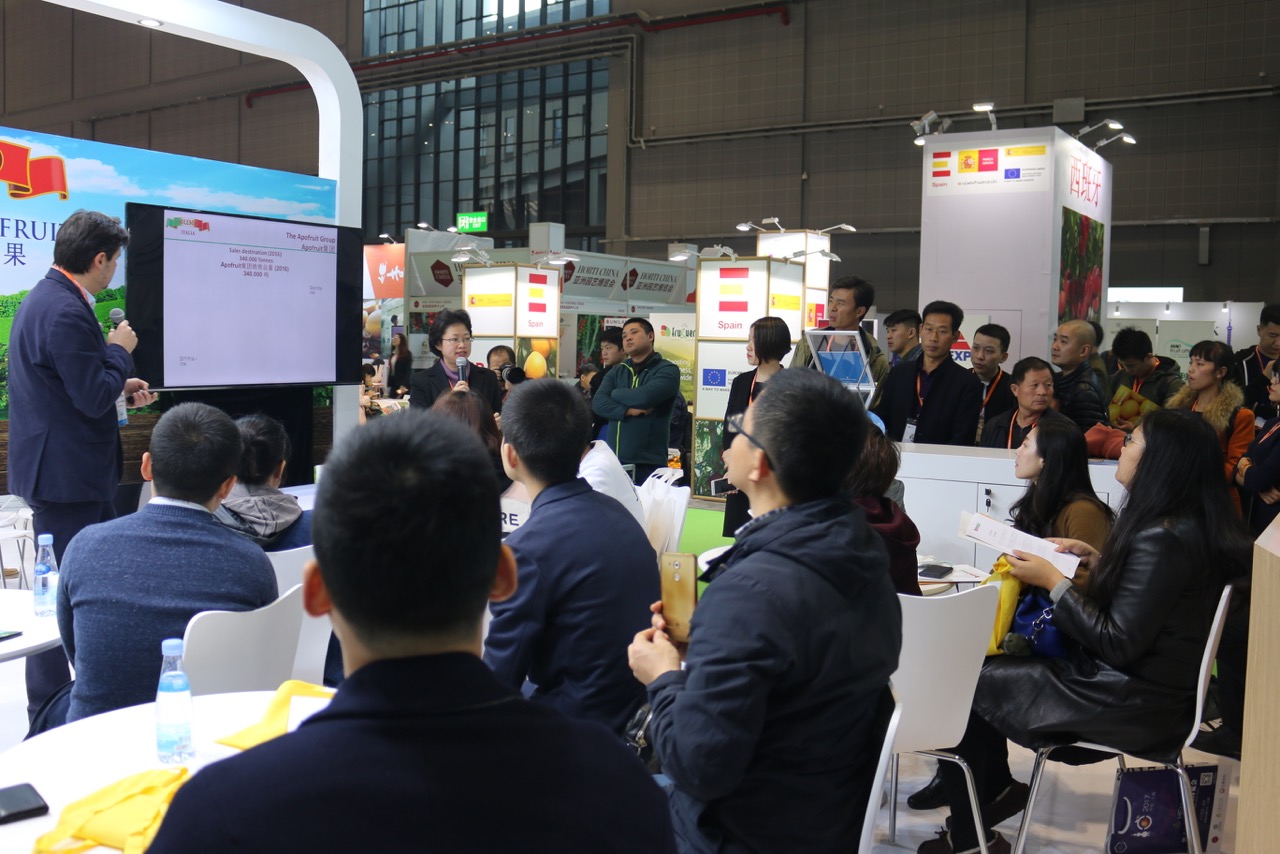 Italian businesses and government recognize the importance of the Chinese market; hence their efforts for further market penetration. The development of new protocol for new items ( like Pears, Apples and Grapes ) are under way year after year .
As for marketing, Solemio brand has developed new packaging for kiwifruit that is designed for Asian consumers. A nice red exterior - the red color is associated with 'good fortune' in Chinese culture  - along with a green flesh of the kiwi, appeal to Chinese consumers  . On this matter, Mr. Renzo Balestri stated, "The new packaging caters more to Chinese audiences," he continued, "Apofruit has high expectation for upcoming sales of  Solemio's products in the Chinese market." Because of China's stringent quality standards for imports, Solemio brand kiwifruits are not only sweet and juicy but also have high nutritional value and better sweet taste .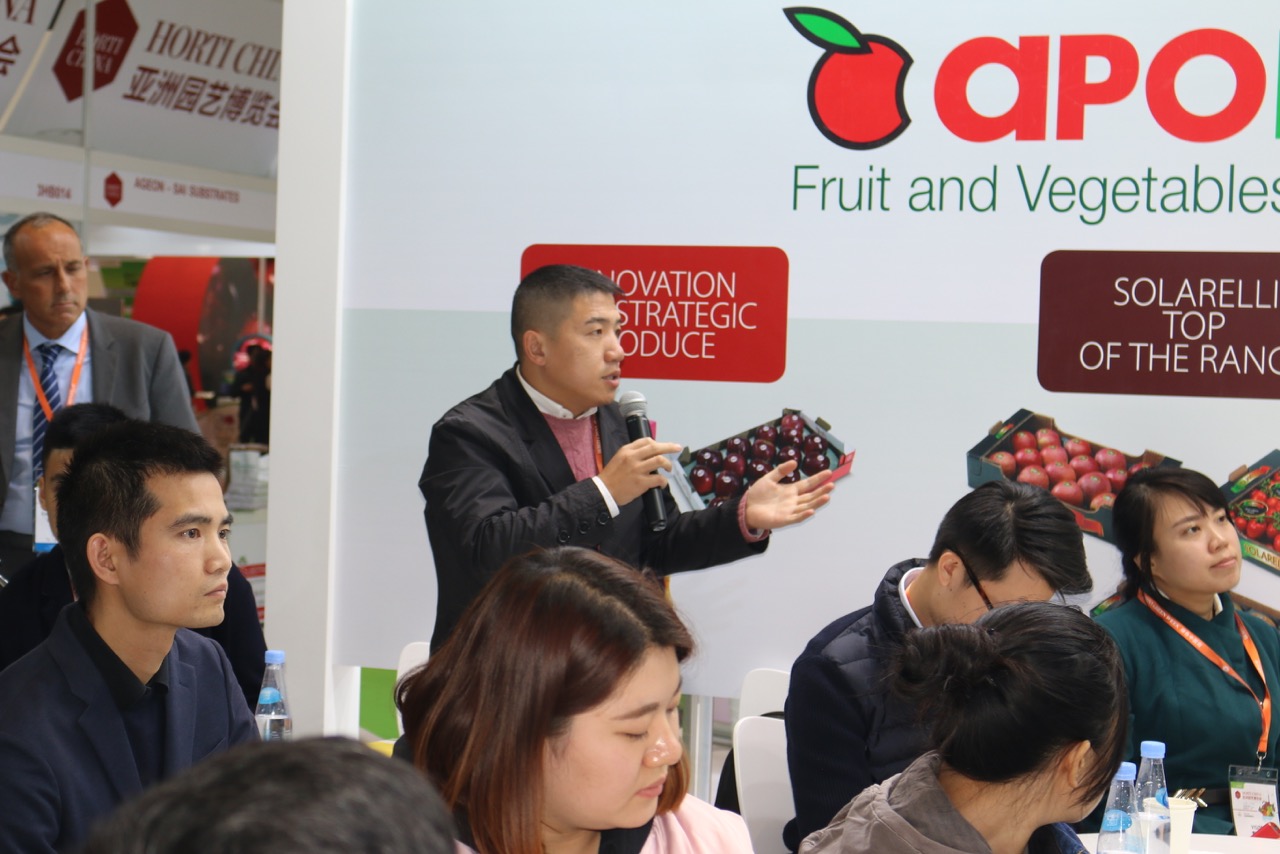 Playing on international markets for over half a century nowaday, Apofruit alone represents around 10% of the whole italian kiwi production . Annual turnover has reached 240 million Euros . Through the 12 packing-stations, Apofruit have selected and specialized at least 4 main sites for storing, packing and shipping just and only Kiwifruit .
Image Source: MZMC
Featured Produce
Produce Marketplace
Elangeni Food Group

·

South Africa

Universal Capital Gr

·

Ecuador

AGRI GATEX LIMITED

·

Africa
Joshua Lim

·

Malaysia

City fresh fruit co.

·

Thailand

Chun lin orchard-Sel

·

Taiwan nan
China Market Access List