You are here
Back to top
Yiguo.com Acquires SunMoon to Embark on Globalization
October 12, 2017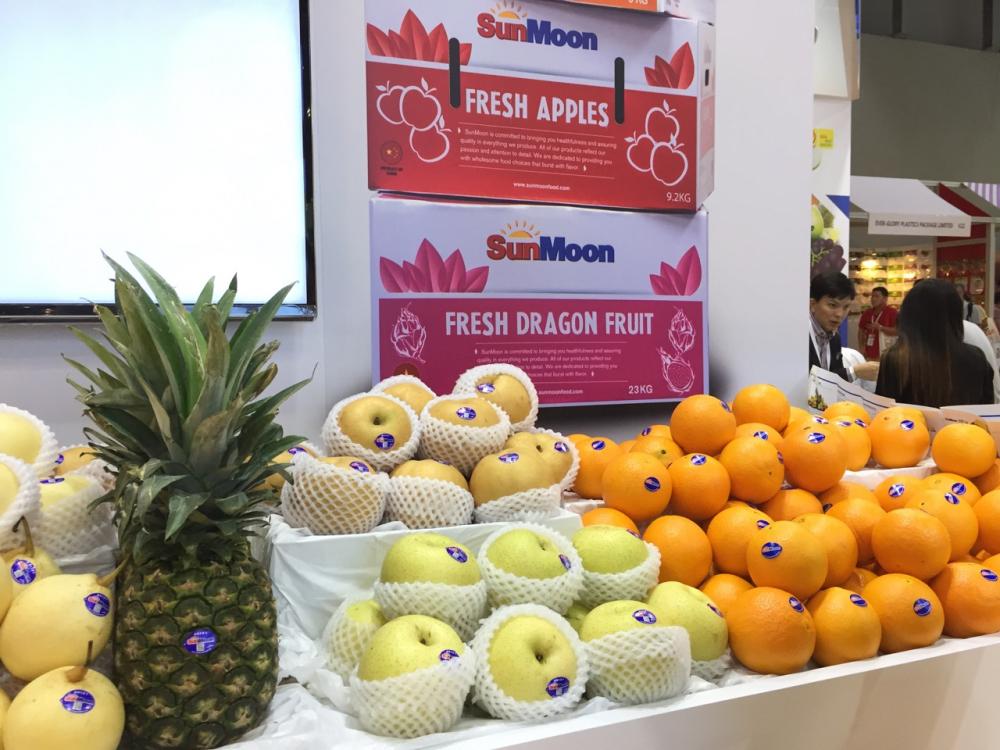 In mid 2017, Yiguo.com, one of China's most prominent fresh produce e-commerce players, acquired 52% of the shares in Singapore's SunMoon Food Company Limited. Starting in the second half of this year, Yiguo can officially use SunMoon's brand and its distribution channel to expand its market in China and internationally. During Asia Fruit Logistica in Hong Kong this  September, Produce Report interviewed Mr. Sam Shum, President of SunMoon Shanghai  Co. Ltd.
According to Mr. Shum, the two companies started working on the acquisition more than a year ago. Since SunMoon is a Singapore Stock Exchange listed company, the process took longer to complete. Since the completion of the process, however, Yiguo has already started to use the SunMoon brand on the avocados, young coconuts, oranges and cherries that it imports and distributes in China. It also uses the SunMoon brand to promote Chinese apples, pears and citrus products in international markets. Apart from SunMoon, Yiguo also owns the Ecofresh brand. Mr. Shum told Produce Report that SunMoon would be targeted at the high-end market while Ecofresh would be positioned as a value-for-money brand. Using frozen fruits as example, frozen Musang King and D101 varieties of durians from Malaysia are branded as SunMoon while frozen Golden Pillow durians from Thailand are marketed under the Ecofresh brand. Some local Chinese fruits, such as passion fruits, also use the Ecofresh brand.
SunMoon was started in Singapore in 1977 as a health food brand and was floated on the Singapore Stock Exchange in 1997. The company has now evolved into a global distributor of fresh produce. Its products come from different countries around the world while the company aims at fulfilling today's consumers' needs for healthy, safe, and high quality agricultural products. Apart from establishing long-term supplier relationship with major retailers in Southeast Asia and Greater China, SunMoon has been cooperating with many renowned food companies from different parts of the world and launched various distilled water, and fruit juices into its markets. At present, SunMoon can provide more than 100 types of fresh produce, frozen fruits and fruit juices etc.
During Asia Fruit Logistica, SunMoon's new range of cold-press juices was showcased. Produce Report was told that the cold-press process could maximally preserve the original tastes and nutritious elements of the fruits. Currently, these products are only marketed overseas but Yiguo has been contemplating about introducing them in China in the future.
Produce Report has also learned that, after the marriage of the two companies, Yiguo's Singapore team is mainly responsible for global product sourcing and for bringing in high quality fruits into China. It continues to use its existing channels to market high quality fruits around the world. Yiguo's China team, on the other hand, deals with marketing high quality Chinese fruits overseas through its Singaporean counterpart. Yiguo's acquisition of SunMoon demonstrates the former's determination for brand building and its aim to provide the market with high quality, healthy and natural fresh produce. Using a dual-brand strategy, it has taken a big step forward in pursuing its strategic objectives.
Photo source: MZMC
Featured Produce
Produce Marketplace
Elangeni Food Group

·

South Africa

Universal Capital Gr

·

Ecuador

AGRI GATEX LIMITED

·

Africa
Joshua Lim

·

Malaysia

City fresh fruit co.

·

Thailand

Chun lin orchard-Sel

·

Taiwan nan
China Market Access List