You are here
Back to top
USDA Holds Bakery Ingredients Promotion in Kunming
November 28, 2016
The USDA Chengdu Agricultural Trade Office (ATO) on November 22 held the third of its series of "US Bakery Ingredients Promotion" events for over 100 attendees in the city of Kunming, capital of Yunnan province in southwest China.
The event was largely focused on introducing Chinese food wholesalers and members of the bakery industry to American almonds, animal fats, cranberries, dairy products, pecans, pistachios, prunes, raisins, walnuts and wheat, and promoting the positive attributes of those products.
The ATO is part of the USDA's Foreign Agricultural Service (FAS). The USDA model for agricultural export promotion relies on different producers forming their own marketing and promotion councils and the FAS, in turn, working together with those groups, including through events such as that held last week in Kunming. "The success of these events is based on the cooperation and participation of our US cooperators," said Yvonne McDowell, the new ATO Chengdu Agricultural Consul, during her opening remarks.
The event was held jointly with Kunming Good Choice Company (昆明贵谦), a major regional wholesaler of food products. On hand were China representatives for the US Cranberry Marketing Committee, the US Pecan Growers Council, the California Walnut Commission, the American Pistachio Board, the California Prune Board, Blue Diamond Growers, US Wheat Associates, the US Dairy Export Council, and the National Renderers Association.
After opening remarks, each industry group was giving a 15-minute slot to introduce their industry's background and products to the audience. This was followed by a live baking demonstration using American ingredients and then time for networking. The aforementioned trade groups also had booths in which to display product samples and informational material as well as interacting with attendees.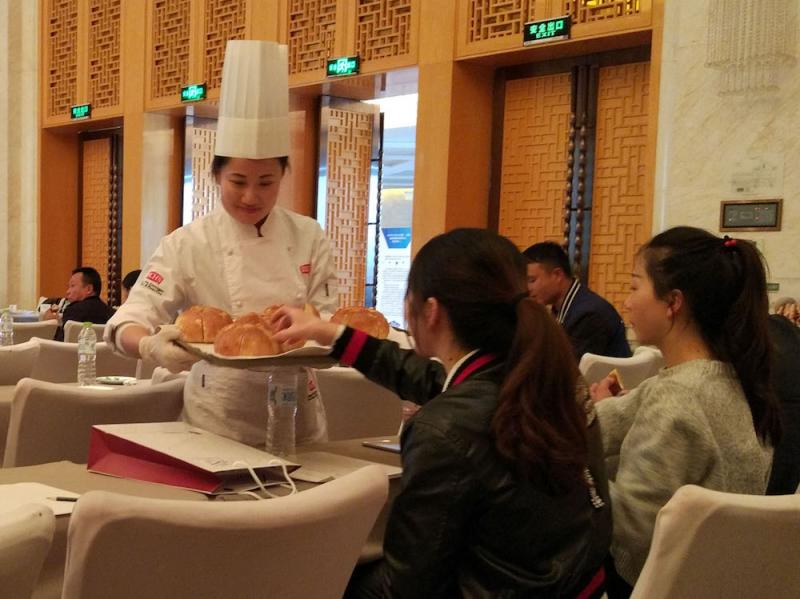 Kunming is a large city, but not as big or as economically developed as the last two sites for US Bakery Ingredients Promotion events, which were held in Chengdu and Chongqing. Thus this event was notable in that ATO is pushing out further into lower tier cities.
But the local market is developing quickly, with local bakery chains integrating more imported ingredients to match local taste buds, which are increasingly receptive to new flavor experiences. Therefore, many of the event's attendees were already familiar with, and positive toward, US agricultural products.
"For raisins, cranberries and almonds we always buy American," said attendee Yang Jianhuang, the General Manger of a local distributor. When asked whether this decision was based on quality or price he indicated that it was based on the quality of these US products.
Images: Produce Report
Upcoming Events
February 08, 2023

to

February 10, 2023

September 06, 2023

to

September 08, 2023
October 19, 2023

to

October 21, 2023
Produce Marketplace
Universal Capital Gr

·

Ecuador

AGRI GATEX LIMITED

·

Africa

Qualipac Pty Ltd

·

Australia
AI Global

·

AI Global

Joshua Lim

·

Malaysia

City fresh fruit co.

·

Thailand
China Market Access List