You are here
Back to top
South Korean Mushrooms Achieve Initial Success in China
November 12, 2017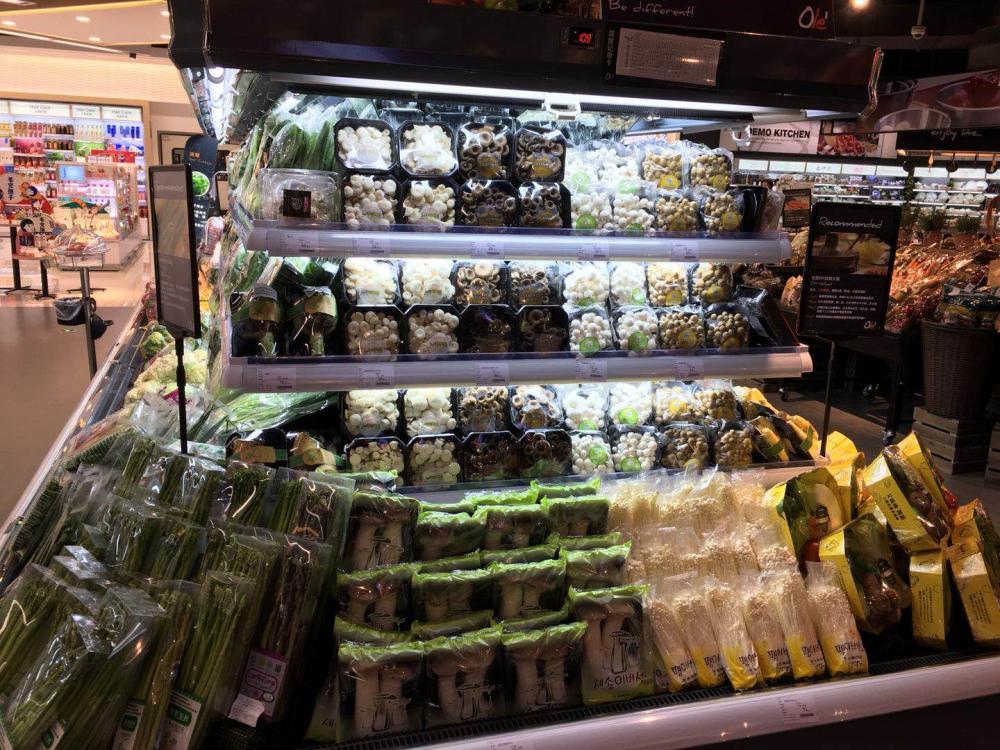 Thanks to the global trend towards healthy eating, the production and consumption of mushrooms is increasing, with more and more varieties available to consumers. In China, premium imported mushrooms, in particular from South Korea, have drawn the attention of the industry in recent years. Produce Report interviewed Shanghai Anyway Import& Export Co.,Ltd., to explore the strength of South Korean mushrooms and get a first-hand account of their market performance in China. 
Ms. Lindy Cao, GM of Shanghai Anyway, takes pride in being the first company to introduce South Korean mushrooms to China in 2016. She told Produce Report that South Korea enjoys a global reputation for the high quality of its mushrooms. Production of Korean mushrooms, from the very initial stage of cultivation to packing and shipping, is systematically managed. Advanced automatic and remote-controlled systems have guaranteed the food safety and cleanliness of the mushrooms, and due to its cultivation in a nature-like environment, the taste of Korean mushrooms closely resembles that of wild mushrooms.
Even though Korean mushrooms are generally superior to most Chinese domestic mushrooms in terms of quality, taste, and food safety, Shanghai Anyway still rigorously tests its products, having completed the first water-testing in 2016. "We only work with the best South Korean suppliers and import only pesticide-free and "GAP" certified mushrooms. It takes just two to three days for the mushrooms to arrive in Shanghai from Incheon," remarked Ms. Cao.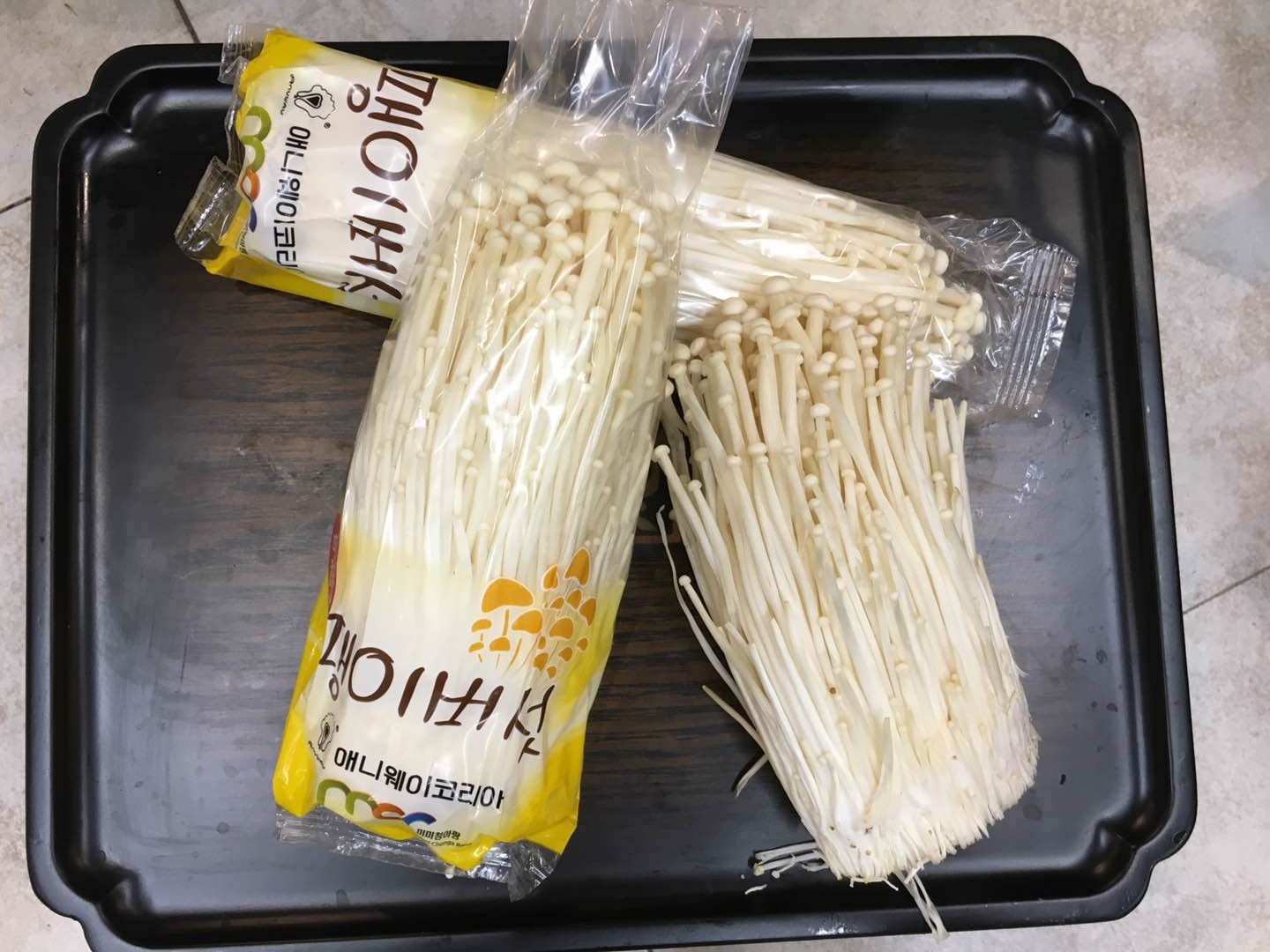 ▲ Enoki mushrooms
When asked about the market performance of Korean mushrooms in China, Ms. Cao told Produce Report that, "high quality products offered at affordable prices have no reason to fail. Almost all our Korean mushrooms are now sold in upper middle-class stores and supermarkets across China and their sales have been very well so far."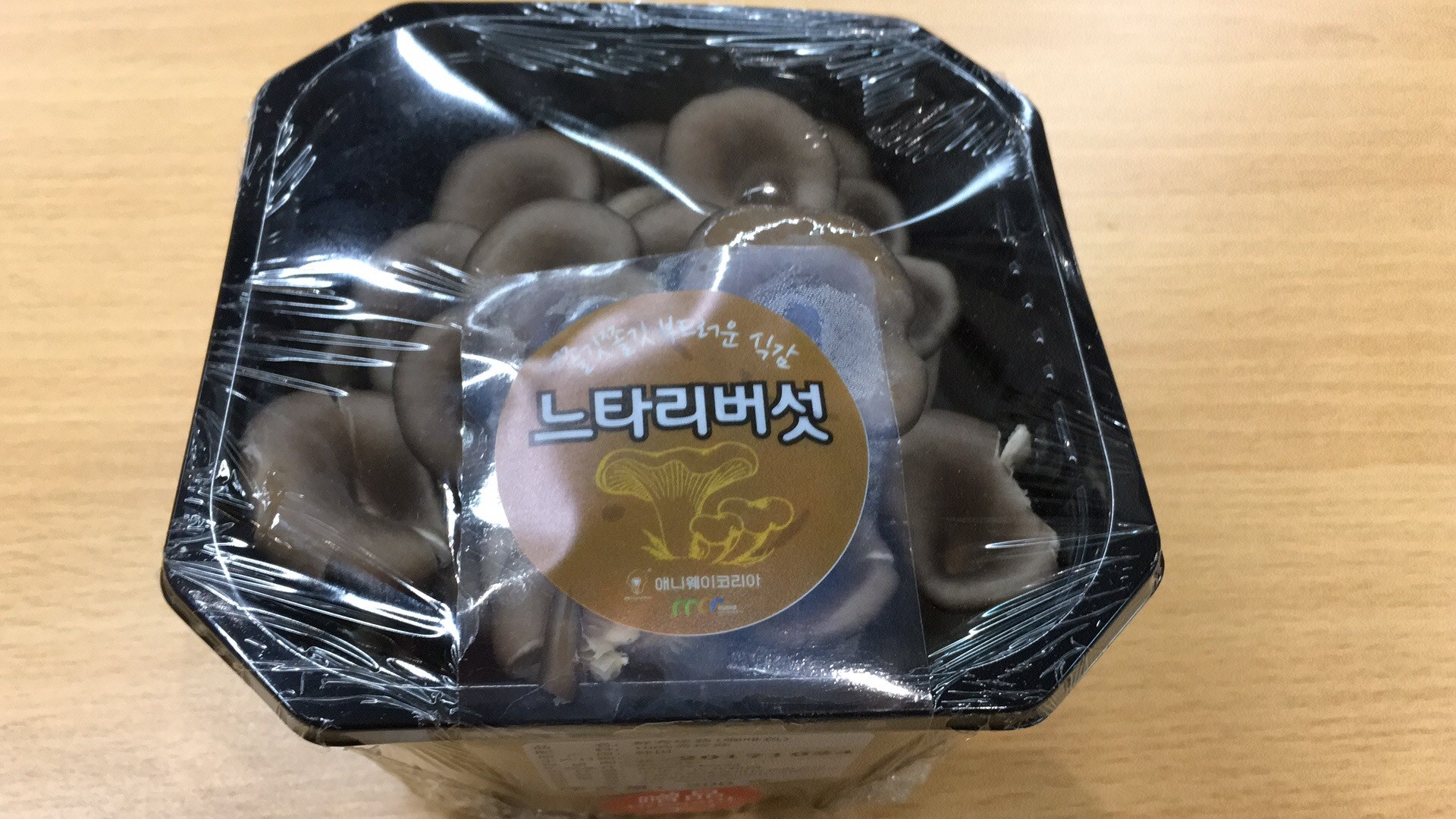 ▲ Oyster mushrooms 
This success has also encouraged Shanghai Anyway to recently increase its import volume to five containers per month with varieties such as Enoki mushrooms, King Oyster mushrooms, Beech mushrooms (white/coffee), Oyster mushrooms (white/coffee), and Golden Enoki mushrooms.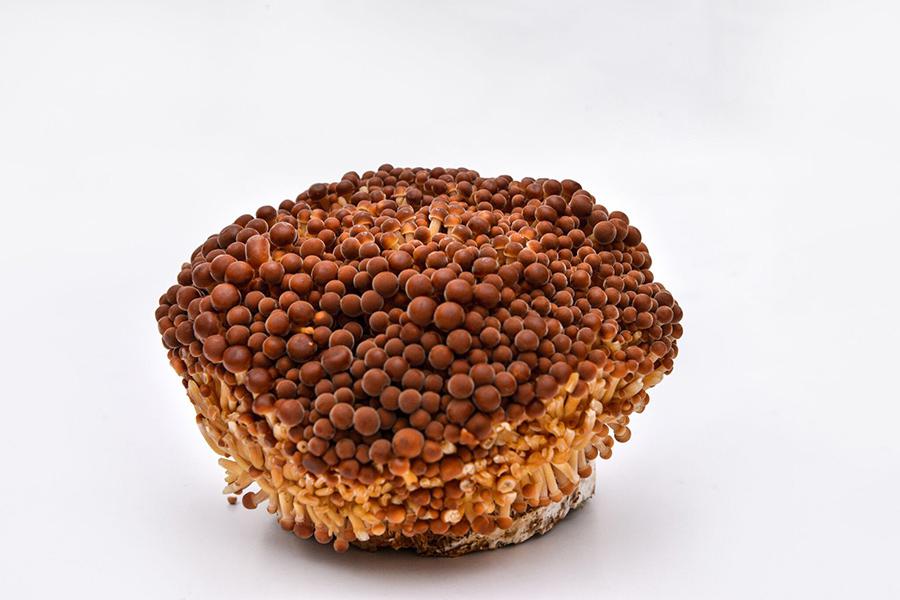 ▲ Golden Enoki mushrooms
This is the first time Golden Enoki mushrooms, one of the cultivated forms of Enoki mushrooms, have been imported to China. Compared with standard cultivated Enoki, Golden Enoki mushrooms possess features which are closer to wild Enoki mushrooms, a sought-after treasure in the market and supply of which can never keep up with demand. Golden Enoki mushrooms have a bigger cap with a diameter of 20-30mm, which is a golden-yellow color as opposed to the pure white color characteristic of most cultivated mushrooms. Golden Enoki mushrooms are also more pleasant to eat than other Enoki varieties because of their tender yet firm texture and refreshing flavour.
Due to these wild Enoki-like qualities as well as generally competitive pricing, Golden Enoki mushrooms are proving popular in the U.S. and Japan. "We are very optimistic about Golden Enoki mushrooms achieving this same popularity in China," Ms. Cao noted. "Our company will continue to import more rare mushroom varieties for Chinese consumers in the future."
Shanghai Anyway Import& Export Co.,Ltd. was founded in 2003. In Shanghai's Fengxian district, Anyway boasts an organic planting base for vegetables and rice covering a total area of one million square meters. As a result of its company-wide philosophy focused on sustainability and accountability, Anyway is committed to providing consumers with safe, healthy, and delicious food and contributing its fair share to environmental protection.
Image source: Shanghai Anyway Import& Export Co.,Ltd.
Featured Produce
Produce Marketplace
Elangeni Food Group

·

South Africa

Universal Capital Gr

·

Ecuador

AGRI GATEX LIMITED

·

Africa
Joshua Lim

·

Malaysia

City fresh fruit co.

·

Thailand

Chun lin orchard-Sel

·

Taiwan nan
China Market Access List