You are here
Back to top
Peruvian Avocado Exporters Devoted to Opening Chinese Market
July 10, 2016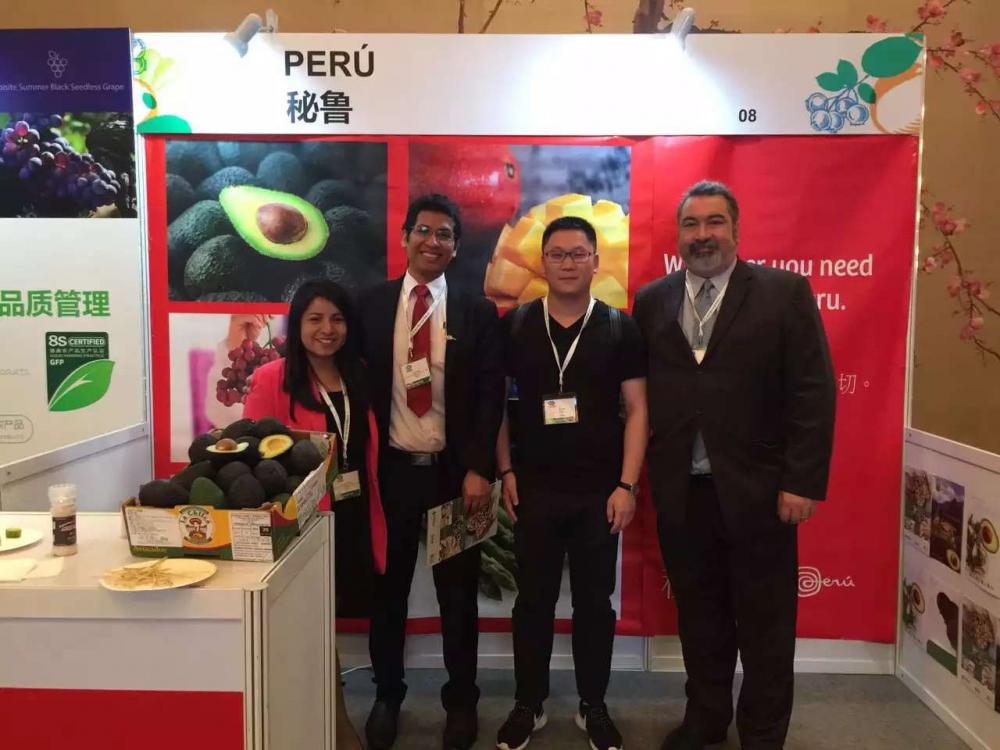 La Chilca avocados attend a food fair in Peru.
China imported a total of 25,000 tons of avocados from Chile and Mexico in the 2015-2016 season. This quantity is not the highest among all avocado markets in the world, but major avocado exporters are very optimistic about the potential of the Chinese market.
As an emerging avocado exporter, Peru does not have a long history of planting Avocados, but its growth has been very fast. Avocado export in Peru has increased from 19,000 tons ten years ago to 180,000 tons in 2014, and the volume keeps growing. Peru has now replaced South Africa as the world's second largest avocado exporter.
Last May, Peru gained sanitary protocol approval from China's General Administration of Quality Supervision, Inspection and Quarantine (AQSIQ) for its Hass avocados, becoming the third country allowed to export avocados to China after Mexico and Chile. After shipping a few containers of avocados to China since last year as a trial run, Peru will officially begin to export avocados to China this season.
The Economic and Commercial Office of Peru in Shanghai expects a major growth in China's avocado imports in 2016.That is why both the government and Peruvian exporters are working very hard to open up the Chinese market.
Camet Trading S.A.C. has 12 years of experience in planting Hass avocados and exporting them to global destinations including Europe, the US, Central America, Chile, and Asia.
Produce Report interviewed Mr. Enrique Camet Piccone, General Manager of Camet Trading company and the former President of the Peruvian Avocado Grower Association (Prohass) from 2006 to 2012. The association has 70 members, and its main function is to provide technical support to growers for exporting avocados to new markets.
Camet's orchards cover 1700 hectares along the coast of Peru and in the mountain ranges. Good climate conditions and diligent partners allow Camet to export avocados for eight months of the year, so that it is able to meet the needs of the customers during the whole avocado season.
"Our industry has been strengthened thanks to the good weather conditions, the water from the Andes that provides the best growing conditions for Hass avocados, and the venture entrepreneurs who invest in this crop," Mr. Camet said proudly, talking about the advantages of Peruvian avocados. Also, Peru has made great efforts in expanding the areas for cultivating fresh fruits and developing its logistical capacities over the past 15 years.
Camet Trading has worked with three Chinese companies this season. And one of them is Los Alisios (Shanghai) import and export Co,. Ltd. Alisios (Shanghai) made the plan of importing Peruvian avocados in February 2016, after learning about the good quality of this fruit in the Expoalimentaria in 2015.
In April, the first batch of Peruvian avocados were sealed and shipped out from Peru, making Alisios (Shanghai) the first Chinese company that directly imported avocados from Peru.
"The experience working with Chinese importers is very good. Chinese companies have done great marketing for the fruit, and we don't have any problems,"said Mr. Camet.
The brand carried by avocados from Camet is La Chilca. In the brand logo, a Peruvian girl wearing traditional Indian dress holds two big avocados in her hand. It shows the good intentions of the company in bringing authentic Peruvian products with the best quality to the Chinese market.
"In order to further highlight our brand in the Chinese market, we are thinking about developing a marketing plan next year," Mr. Camet said.
Mr. Camet believes that the Chinese market has great potential:"Customers are looking for healthy alternatives to include in their daily diet, and avocado is a product that has all the benefits for good nutrition."
In 2015, the company exported 11,000 tons of avocados, ranking fourth among all the Hass avocado exporters in Peru. This year, the company plans to increase their export volume by 15%. It will also add more Peruvian produce such as grapes, mangos, pomegranates, and blueberries to its export categories.
Camet's orchards have all the necessary certifications such as Global Gap, TESCO, BSCI, and SEDES-SMETA. The plants have been awarded certifications including SEDEX, BASC, HACCP, and BRC, which guarantees the quality and safety of these products. This has also helped the orchards and the plants fulfill their commitments to the environment.
Upcoming Events

October 27, 2022

to

October 29, 2022

November 02, 2022

to

November 04, 2022
Produce Marketplace
AGRI GATEX LIMITED

·

Africa

ALOE ECO PARK SAPI D

·

Mexico

Tien Thinh Agricultu

·

Vietnam
Joshua Lim

·

Malaysia

City fresh fruit co.

·

Thailand

Chun lin orchard-Sel

·

Taiwan nan
China Market Access List