You are here
Back to top
Pagoda Completes $62 Million Series A Financing Round
September 22, 2015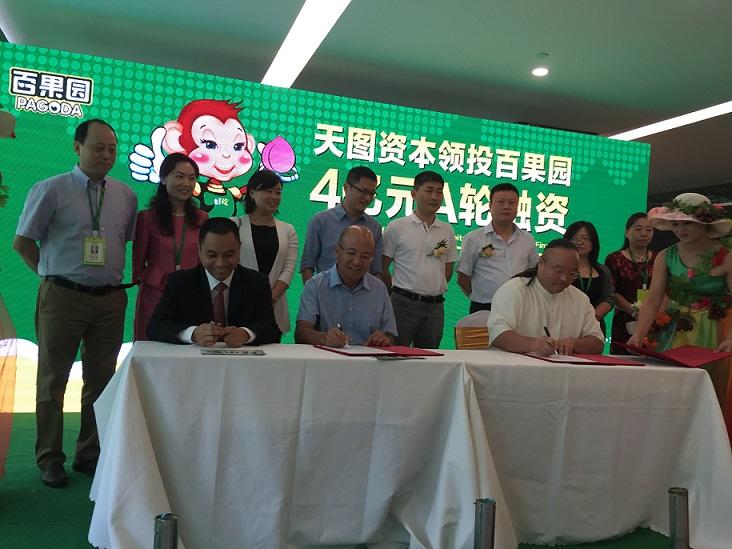 Pagoda, the fruit chain store giant in China, announced its completion of Series A financing round, lead by VC Tiantu Capital, at the signing ceremony and press conference held at the Wisdom Plaza in Shenzhen on 22 September 2015.
Mr. Yu Huiyong, Chairman of the Board at Pagoda, recalled that his idea of starting a fruit chain store came up by chance back in 1997, then Pagoda opened its first fruit franchise store in 2002 and the 100th store in 2009. With the total number of stores exceeding 1,200 as of today, their franchise business model has gained international recognition and they have just won the Asia Fruit Award as the "2015 Produce Retailer of the Year" at the Asia Fruit Logistica in Hong Kong.
Fruits are the default healthy foods and the spending on fruits as a proportion of food consumption is growing every year. A small proportional increase in fruit spending represents a market growth of billions of US dollars, and Mr. Yu believes that the greatest market opportunity lies in becoming the leading brand in the industry.
Mr. Yu indicated that the $62 Million Series A funding will be used for rapid market expansion, industry creation, and comprehensive upgrade on IT applications, in order to maintain the Pagoda brand as a leader of the fruit industry. The Beijing market will be the main focus for store expansion and DC construction.
Upcoming Events
October 19, 2023

to

October 21, 2023
Produce Marketplace
Elangeni Food Group

·

South Africa

Universal Capital Gr

·

Ecuador

AGRI GATEX LIMITED

·

Africa
Joshua Lim

·

Malaysia

City fresh fruit co.

·

Thailand

Chun lin orchard-Sel

·

Taiwan nan
China Market Access List