You are here
Back to top
New Zealand's Lani™ Cherry Finds a Creative Way into China
December 13, 2016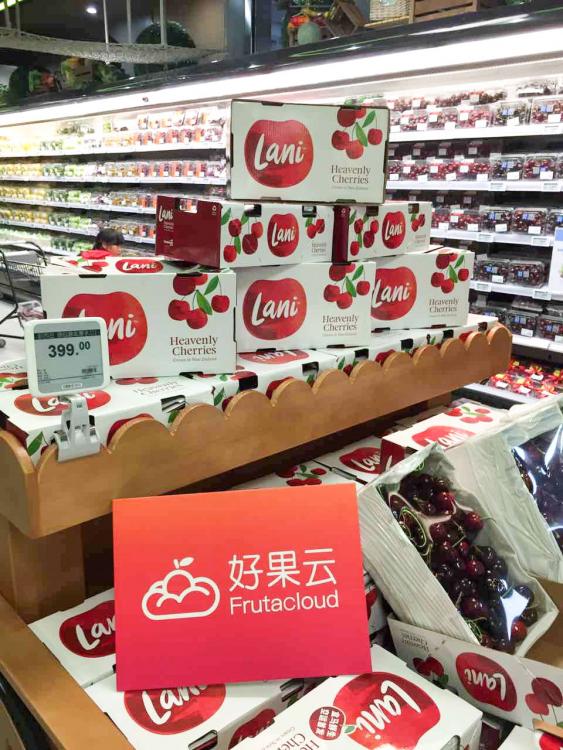 December 12, 2016, Frutacloud, a new set-up for online wholesale-distribution of fresh fruits, teamed up with HEMA Fresh, a start-up O2O fresh produce retailer to launch Lani™ cherries at the latter's store at Shanghai Bay, in the heart of Shanghai, eastern China. The product launch took place on "Double Twelve", the second biggest shopping day in China, behind the record breaking 11/11 or "Double Eleven".
Though equally new (both opened up for business in 2016), the two companies have very respectable pedigrees. Frutacloud is a new project by Kingo, the major fresh fruit importer / distributor with 30 years of history, operating out of Shanghai. It was created on the backbone of strong operating experience in sourcing products, plus professional and efficient management of the cold-chain. HEMA Fresh, on the other hand, was founded by the former logistic director, a 20-year veteran, of JD.com – one of the two largest e-commerce platforms in China. HEMA Fresh also has strong links to Alibaba. Unlike a traditional grocery store, this Alipay only hypermarket merges the online ordering convenience and offline shopping experience. It is equipped with an innovative system which allows its employees to assemble the fresh produce and other items for customers who order through HEMA's mobile App without visiting the store. HEMA Fresh promises to bring its customers "optimal service", and guarantees "29 1/2 minutes" delivery to doors for customers within a 5km vicinity.
Developed by the Freshmax Group, Lani™ is a patented, new variety produced in Central Otago, New Zealand. It has been commercially available only since 2015. It is an early season cherry variety with sizes averaging 30-32mm, and brix levels as high as 17-18. Lani™ cherries (also known as "Heavenly Cherries") are highly sought after throughout Asian countries like South Korea, Taiwan, and China. With limited production and only a two-week harvest period, Lani™ cherries are expected to be sold out shortly after its season begins.
According to Frutacloud's spokesperson, end to end, unbroken cold-chain logistics are still very hard to achieve in China. The collaboration between Frutaclound and HEMA Fresh would come close to bringing the freshest possible fruits to the customers. With Frutacloud's supply chain expertise and HEMA Fresh's rapid delivery, customers would be able to experience the unforgettable freshness of New Zealand cherries right from their phone.
The launch of Lani™ cherries not only signifies the growing demand for premium produce in China but also demonstrates the different operating methods of new retailing concepts.
Photo source: Frutacloud
Featured Produce
Produce Marketplace
Elangeni Food Group

·

South Africa

Universal Capital Gr

·

Ecuador

AGRI GATEX LIMITED

·

Africa
Joshua Lim

·

Malaysia

City fresh fruit co.

·

Thailand

Chun lin orchard-Sel

·

Taiwan nan
China Market Access List