You are here
Back to top
Jiawo.com Enters the Online Market with Ingenuity
August 18, 2015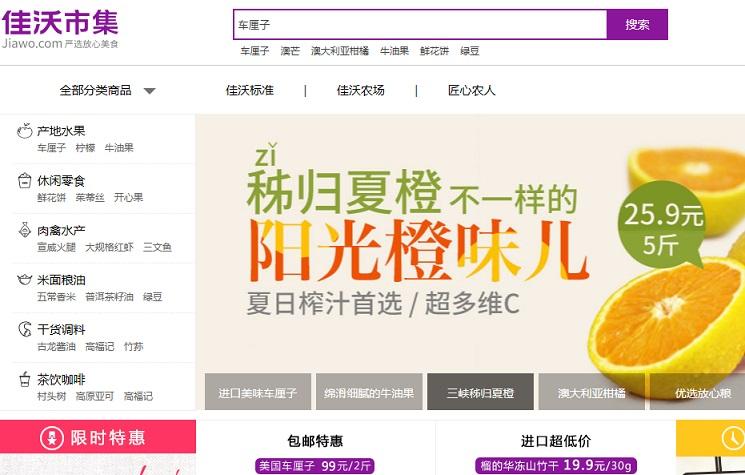 Agricultural company Joyvio formally launched their new online fruit provider, Jiawo.com, on August 14, and held a launch event.
At the event, Joyvio's chairman and general manager Chen Shaopeng said, "Doing business makes money slowly, buying and selling goods of course makes money quickly, but to do business in a way that earns respect, especially in agriculture, is an unspoken expense. Many farmers are needed, day after day, year after year, to do hard work."
With competition in online fresh produce sales heating up, what will Joyvio need to do to be a strong entry in the field? Jiawo.com CEO Cui Xiaoqi stated in an interview with Produce Report that current suppliers for online fresh produce are competitive, but the market structure has not yet fully formed. Current providers focus mainly on ordinary sales platforms, for the purpose of providing fresh produce for the target consumer groups. The difference with Jiawo.com is "providing good products from the country's most innovative farmers." Jiawo.com offers "New Farmers" an environment for developing new ideas, and provides consumers with a good place to get safe, delicious, and reasonably priced products.
Jiawo.com has certain requirements its products must meet in order to maintain a good market presence. Cui said that products go through many layers of checks, including passing safety and flavor standards, factory quality audits, and environmental checks. Because of this careful selection, consumers have an assurance of quality from Jiawo.com produce.
Cui additionally told Produce Report that Jiawo.com has defined "New Farmers" as those who "are strongly eco-conscious...specialize in the application of new technologies, and express themselves as agricultural practitioners." It is understood that Joyvio will continue to pave the way, working with farmers to develop the field, and providing support for online product solutions and services for New Farmers throughout the country. Thus, consumers can quickly and easily purchase safer, higher-quality agricultural products.
Image Source: Jiawo.com
Upcoming Events

September 06, 2023

to

September 08, 2023
October 19, 2023

to

October 21, 2023
Featured Produce
Produce Marketplace
Elangeni Food Group

·

South Africa

Universal Capital Gr

·

Ecuador

AGRI GATEX LIMITED

·

Africa
Joshua Lim

·

Malaysia

City fresh fruit co.

·

Thailand

Chun lin orchard-Sel

·

Taiwan nan
China Market Access List