You are here
Back to top
JD.com and eJiangnan Work to Speed Access to Overseas Produce
January 12, 2016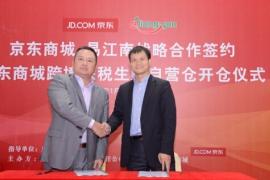 Recently, JD.com joined eJiangnan in opening the country's first cross-border bonded warehouse for fresh products at Baiyun Airport in the Guangzhou Free Trade Zone.
This cross-border bonded warehouse will use JD.com's distribution system and will handle imported fruit, imported flowers, and mported dairy products. JD.com plans to open multiple bonded warehouses like this one in China this year.
JD.com stated that their company is committed to shortening the overseas fresh produce supply chain processes, improving distribution, and offering competitive prices to provide a one-stop shop for consumers. Per industry analysis, JD.com is signaling an increase in the speed of direct sourcing overseas fresh products.
Guangzhou Jiangnan Fruit and Vegetable Wholesale Market is one of the country's largest wholesale markets for agricultural products, and its fruit and vegetable trading volume has ranked first in China for eleven consecutive years. Jiangnan imported fruit accounts for half of the country's total imported fruit transactions.
As a subsidiary of Jiangnan Fruit and Vegetable Wholesale Market, eJiangnan became the official supplier of fruit and vegetables for the 2010 Asian Games, held in Guangzhou. Early in 2013, eJiangnan began an online cross-border business platform, focusing on worldwide high-quality fresh produce. In September 2015, they were the first platform to go across borders with fruit from southern China.
A quick look at the fruit vending page of JD.com revealed Tasmanian cherries, blueberries from Chile, Sunkist oranges from the United States, and other popular imported fruits for sale.
Image Source: China Daily
Upcoming Events
October 19, 2023

to

October 21, 2023
Produce Marketplace
Elangeni Food Group

·

South Africa

Universal Capital Gr

·

Ecuador

AGRI GATEX LIMITED

·

Africa
Joshua Lim

·

Malaysia

City fresh fruit co.

·

Thailand

Chun lin orchard-Sel

·

Taiwan nan
China Market Access List