You are here
Back to top
Haisheng's Glasshouse-grown White Strawberries Shine
February 07, 2017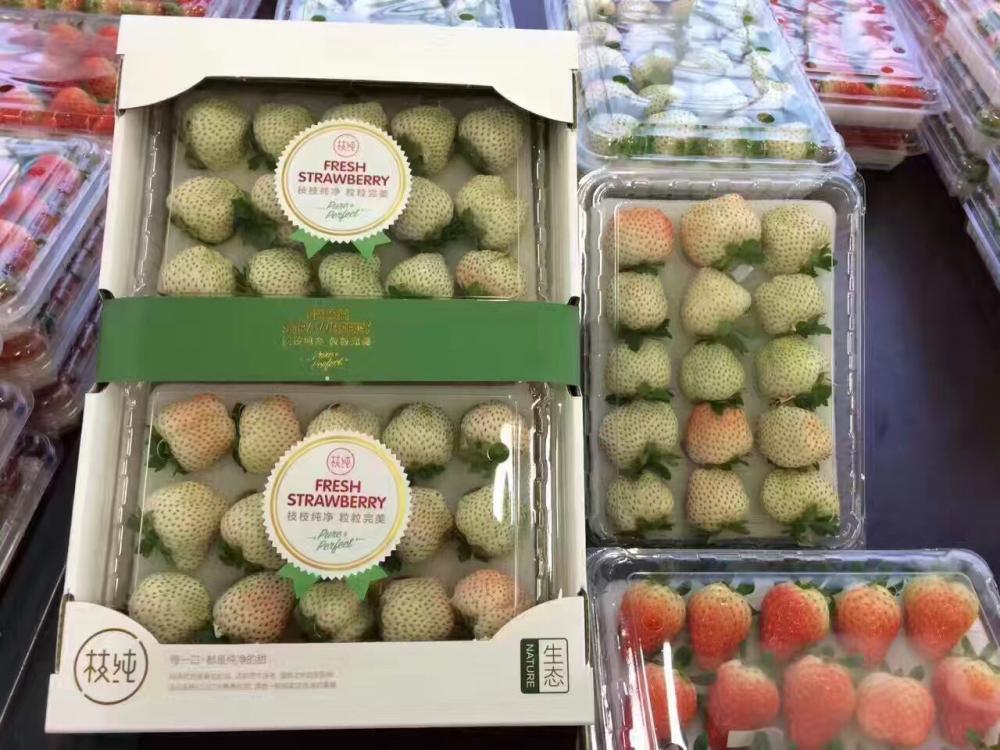 Last December, Produce Report reported on the establishment of a strategic cooperative partnership between Haisheng Group and Joy Wing Mau, briefly introducing Haisheng's intelligent strawberry glass-greenhouse in Tongchuan, Shaanxi Province. This glasshouse is one of the most advanced of its kind in the world and features increased production volumes, high output values, low human inputs, and efficient energy consumption methods.
Strawberries cultivated in this glasshouse are grown in ideal conditions, as strict control of the temperature, photosynthesis, water supply, and air and soil quality afford Haisheng strawberries a higher food safety standard, enhanced nutritional content, and a more delicious taste compared with other strawberries.
Recently, this intelligent strawberry glass-greenhouse was granted Global G.A.P certification by the SGS, leading Haisheng's strawberries to once again draw the attention of the industry.
Almost all Haisheng strawberry products are varieties from Japan and Korea, with the main destinations for the strawberries being high-end markets in both China and abroad due to their high price, limited supply, and low production output. Each variety has its own unique features and characteristics. Hong Yan strawberries, 'Beni-hoppe strawberries' in Japanese, have a pleasant smell and strike a good balance between sweet and sour; this variety is grown both conventionally and organically in the glasshouse. Li Yi Nv strawberries, known as 'Tochiotome strawberries' in Japan, are a more durable strawberry compared to the other varieties, making them more suitable for long-distance transportation. But by far the most eye-catching variety is Tao Xun strawberries. Called 'Shiroiichigo strawberries' in Japan, Tao Xun strawberries are a variety of white strawberry originating from Japan with its distinct peach flavor its key selling point. This variety boasts a planting area of 2,000 square meters in Haisheng's glasshouse and made its successful market debut in December 2016.
Although differing significantly from conventional strawberries in all respects, Tao Xun strawberries are not genetically modified. Following more than 20 years of complicated cross breeding experiments, these strawberries became to be commercially cultivated in 2012. In addition their unique peachy taste, these white strawberries also possess an average sugar content of 12% and reach upwards of 15%, much higher than the 10% sugar content of conventional strawberries. For these reasons, Tao Xun strawberries have earned the nickname 'the King of Strawberries,' even being playfully described as an addictive fruit by Japanese netizens. These strawberries are considered a luxury even in countries such as Japan, where a single strawberry of this variety can cost between $2.50 and $4.50 due to their limited supply and generally low production output.
Image source: Haisheng Group
Upcoming Events
October 19, 2023

to

October 21, 2023
Produce Marketplace
Elangeni Food Group

·

South Africa

Universal Capital Gr

·

Ecuador

AGRI GATEX LIMITED

·

Africa
Joshua Lim

·

Malaysia

City fresh fruit co.

·

Thailand

Chun lin orchard-Sel

·

Taiwan nan
China Market Access List