You are here
Back to top
Golden Wing Mau on board with Sapphire Organic Blueberries
May 20, 2015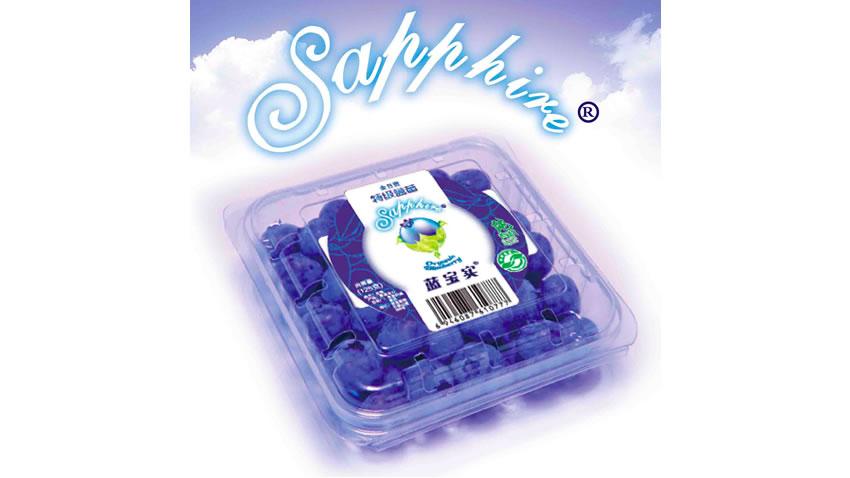 The blueberry industry has been booming for the past 15 years, experiencing a 50% annual increase in planting acreage and overall production. In terms of plantation, China has now become the second-largest grower of blueberries in the world. Chinese consumers currently enjoy a wide-range of choices for blueberries, which include local productions from companies like Joyvio, Driscoll's, the berry tycoon presently operating a blueberry plantation in Yunnan, and imported fruits from South America during the counter season. Blueberries are no longer confined to the high-end market; nevertheless, some companies refuse to engage in price wars with other producers and instead had opted to focus on certain niche markets.
Guo Ming, the brand manager of Golden Wing Mau (GWM), confirmed with Produce Report that the GWM Group had formed a strategic partnership with Qingdao Jiecheng Foodstuff Co., Ltd. to promote their organic blueberries, Sapphire.
Jiecheng is a Japanese-owned enterprise with a total investment of $1.15 million in Qingdao and produces organic blueberries targeting high-end markets. Its planting base in Baoshan is the only organic base recognized by the National Ministry of Environmental Protection in China. Furthermore, Sapphire blueberries have also been granted many organic certifications, including the Japan JAS, U.S. NOP, EU organic certification in Europe, and the domestic China Organic Food Certification.
Although the yield of Sapphire blueberries is only a quarter of that of conventional blueberries, Jiecheng stated it remains steadfast in its resolve to resist mass production and reiterated its commitment to producing a high-quality, albeit low-yield, product. Liu Yuenian, the general manager of Jiecheng, explained that the company's adherence to pure organic farming lies in their firm belief in the importance of fruit quality and food safety.
Guo Ming told Produce Report that Jiecheng's corporate philosophy closely coincides with GWM's vision of being "committed to remaining an excellent company promoting the sustainable development of China's fruit industry." GWM plans to market Sapphire along with its own brand, Color, and other various imported blueberries. According to Guo, Sapphire will reach market availability by mid-June; greenhouse Sapphire blueberries have already been available for purchase for some time now.
Upcoming Events
October 19, 2023

to

October 21, 2023
Produce Marketplace
Elangeni Food Group

·

South Africa

Universal Capital Gr

·

Ecuador

AGRI GATEX LIMITED

·

Africa
Joshua Lim

·

Malaysia

City fresh fruit co.

·

Thailand

Chun lin orchard-Sel

·

Taiwan nan
China Market Access List