You are here
Back to top
Eye Witness Report: Peru's Booming Grape Industry
October 11, 2016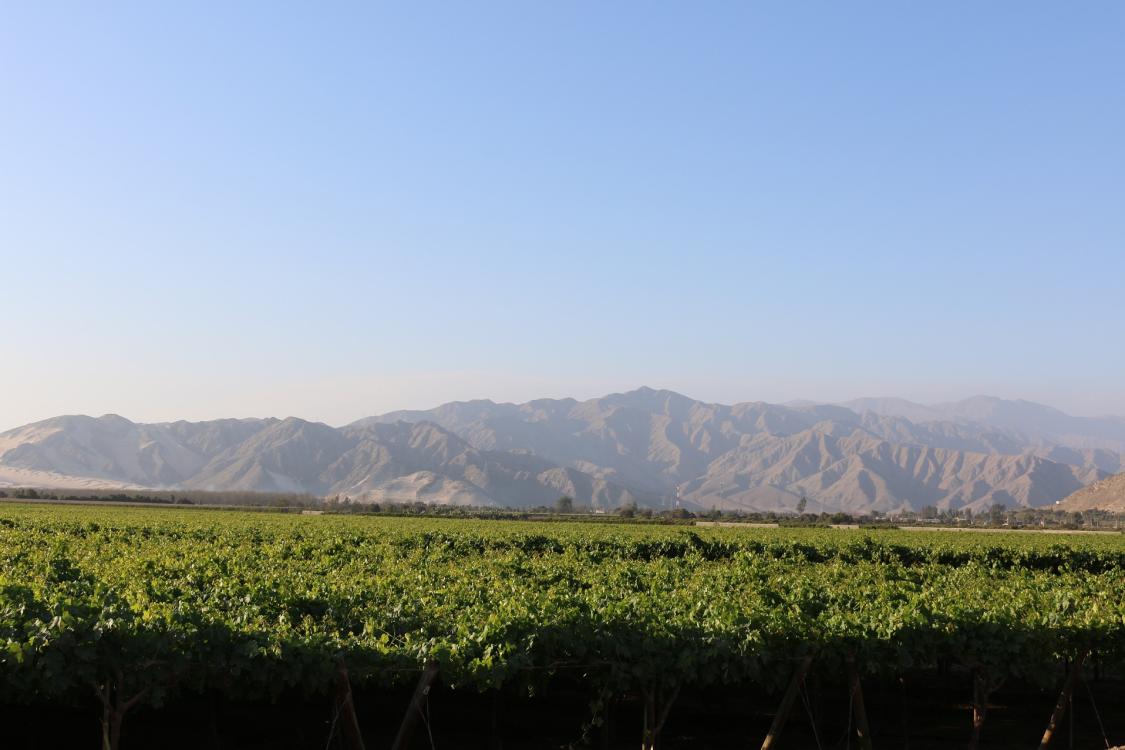 As an up-and-coming force in South America's fruits and vegetable export sector, Peruvian table grapes industry is growing rapidly.
According to the Peruvian national agricultural health service bureau (Servicio Nacional de Sanidad Agraria, SENASA), Peruvian grapes' export has been experiencing a whopping 25% annual compound growth over the last 10 years. In the next two year, a handsome 15% growth per year is still expected. China has already become an important market for Peruvian grapes. Most of Peru's Red Globe variety is aimed at the China market. However, Peruvian growers have started to develop seedless varieties. Produce Report brings you the latest developments in Peru's grape production and export, from Ica in the South to Piura in the North.
There are three distinct landscapes in Peru. The coastal region in the west is a plain with dry weather. The Andes Mountain Range situates in the middle while the eastern portions of Peru, including the Amazon Basin, represent 60% of the country's territories. Grape plantations are located in the western coastal region. With the help of modern agricultural technology, particularly drip irrigation, this region produces grapes, asparagus, avocado, blueberries and oranges in big quantities. It is a booming, lively oasis in the dessert.
Mr. Salvador Garces, sales manager of Agricola Don Ricardo in Ica, told Produce Report that Peruvian grape industry would borrow from the successful experience of Chilean grape industry in China and sign trade agreements with as many countries as possible. It would also diversify its product range as much as possible as this has been seen as the key success factor in the medium to long term. Different from other Peruvian companies, Red Globe only accounts for 10% of the grapes that Agricola Don Ricardo exports. Seedless varieties are the majority and targeted at the US market. Mr. Garces was rosy about seedless grapes' future and believed that seedless varieties would become more and more important in many countries, not just China. Agricola Don Ricardo's vineyards currently occupy 893 hectares of land.
Agricola Chapi was originally established in the Southern region with Ica as its production base and has since developed a new base in the Northern city of Olmos for producing seedless grapes which are to be launched in the market in the 2017/18 season. The company's product manager, Mr. Rafael Martin, told Produce Report that different markets have different needs. The US, China, and Europe are not the same. On a world-wide basis, the demand for seedless varieties would become bigger and bigger. To cater to the market globalization, more seedless varieties that are better suited for long haul transportation are being developed. He gave the example of Sable Seedless which is one of those varieties that have good tolerance to temperature change during transportation. It is more suitable for exporting to China. Currently, Agricola Chapi's seedless grapes are mainly for the US market while in the past mainly Red Globe was exported to China. However, more seedless are now exported to China and Europe, achieving more balanced development. In the future, Peru would have more and more seedless grapes. Red Globe's 70% share of total exports would be gradually reduced but its total volume would remain to be very big.
Ecosac is located at Piura in the North, close to the important port of Paita. Its business director, Mr. Gerd Burmester, told Produce Report that, since as early as 2008, the company had been exporting grapes to China. Currently, it is shipping around 200 containers a year. The company is now testing seedless varieties and its Sable Seedless has already reached commercialization scale. Ecosac is planning to export to China 5-10 containers of seedless in a few weeks, such as Crimson, Autumn Royal and Sweet Globe. Previously, the company has already experimented with shipping seedless grapes. At present, its main markets for seedless grapes remain to be US, UK, and other European countries.
The current season for grapes in the Northern parts of Peru began in September. However to avoid the peak in the supply in China, exports would actually begin only in November and December. Image: Produce Report
Featured Produce
Produce Marketplace
Elangeni Food Group

·

South Africa

Universal Capital Gr

·

Ecuador

AGRI GATEX LIMITED

·

Africa
Joshua Lim

·

Malaysia

City fresh fruit co.

·

Thailand

Chun lin orchard-Sel

·

Taiwan nan
China Market Access List