You are here
Back to top
2018 Year in Review: China's Cherry Market
May 30, 2019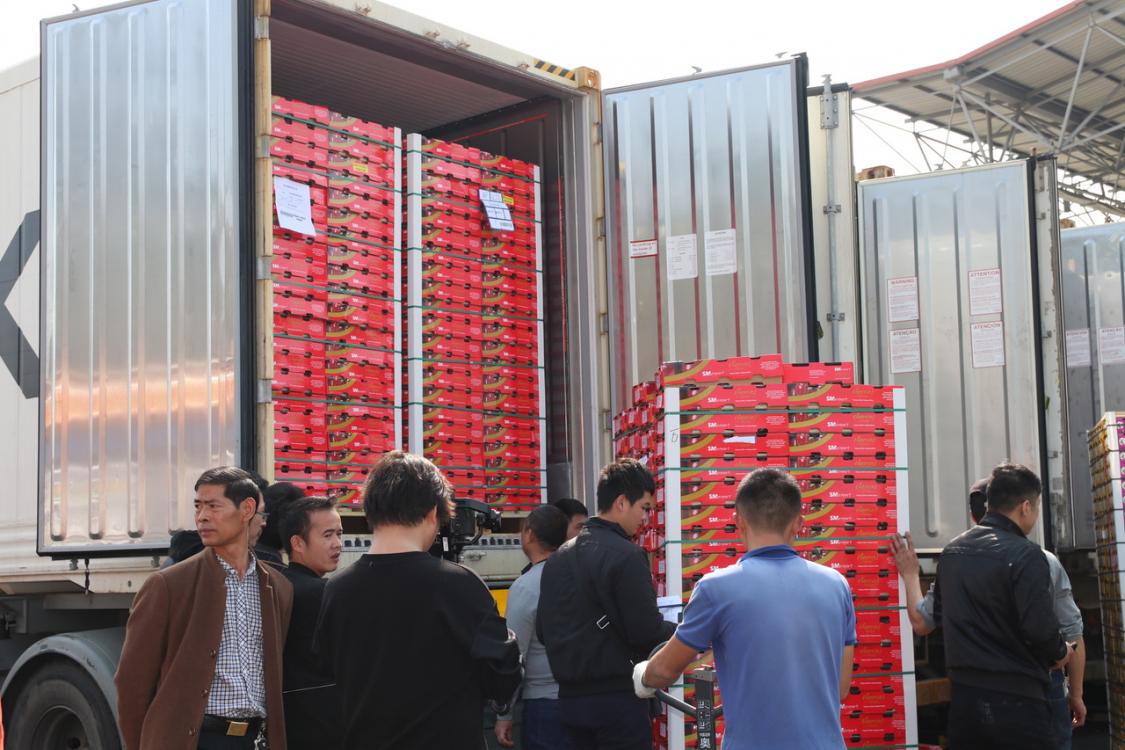 In 2018, the popularity of the cherry in China remained strong and is not expected to falter any time soon. Cherries, especially those from Chile, were the 'ace up the sleeve' of supermarkets, fruit e-commerce sellers, and fruit specialist chain shops across China, as cherries have a significant impact on an entire year's revenues. Since cherries were among the most expensive fruits available on the market, Chinese netizens even began to use the cherry as a marker of disposable income.
According to data obtained from China Customs, China imported 186,263 tons of cherries valued at USD 1.30 billion in 2018, an increase of 182.82% in volume and 169.42% in value compared to 2017 (102,000 tons and 770 million dollars, respectively). In 2018, cherries from night countries were imported into China those being, in order of market share: Chile, U.S., Canada, Australia, New Zealand, Uzbekistan, Kyrgyzstan, Tajikistan, and Turkey.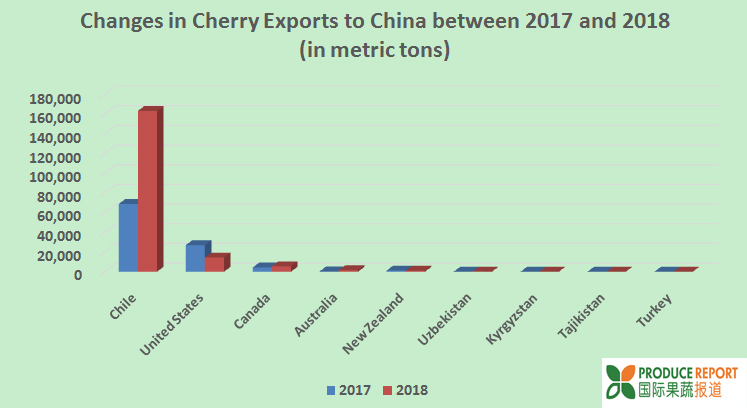 Chilean Cherries
As the primary supplier of counter seasonal cherries to China, Chile exported 163,475 tons of cherries to China in 2018, up 137.09% on the previous year. Since the cherry season in Chile does not line up with the calendar year, both the 2017/18 season and the 2018/19 season will be taken into account when analyzing the performance of Chilean cherries in 2018.
In the 2017/18 season, harvesting was two to three weeks later than normal, which caused most shipments to China to be made in 2018. Adverse weather conditions in November 2018 resulted in damage to several cherry growing regions in Chile during the 2018/19 season. This reduced production, along with other factors such as high expectations from Chinese fruit dealers and the depreciation of the Renminbi, forced the farm gate prices of Chilean cherries up in 2018/19. Even so, the particularly high quality of these cherries still led to repeat purchases by Chinese consumers. It is also worth noting that the Chinese Spring Festival holiday has always been a peak period for cherry sales. In 2019, the holiday fell on February 5, or ten days earlier than 2018, which shortened the prime selling period for the 2018/19 season and led to more shipments in late 2018.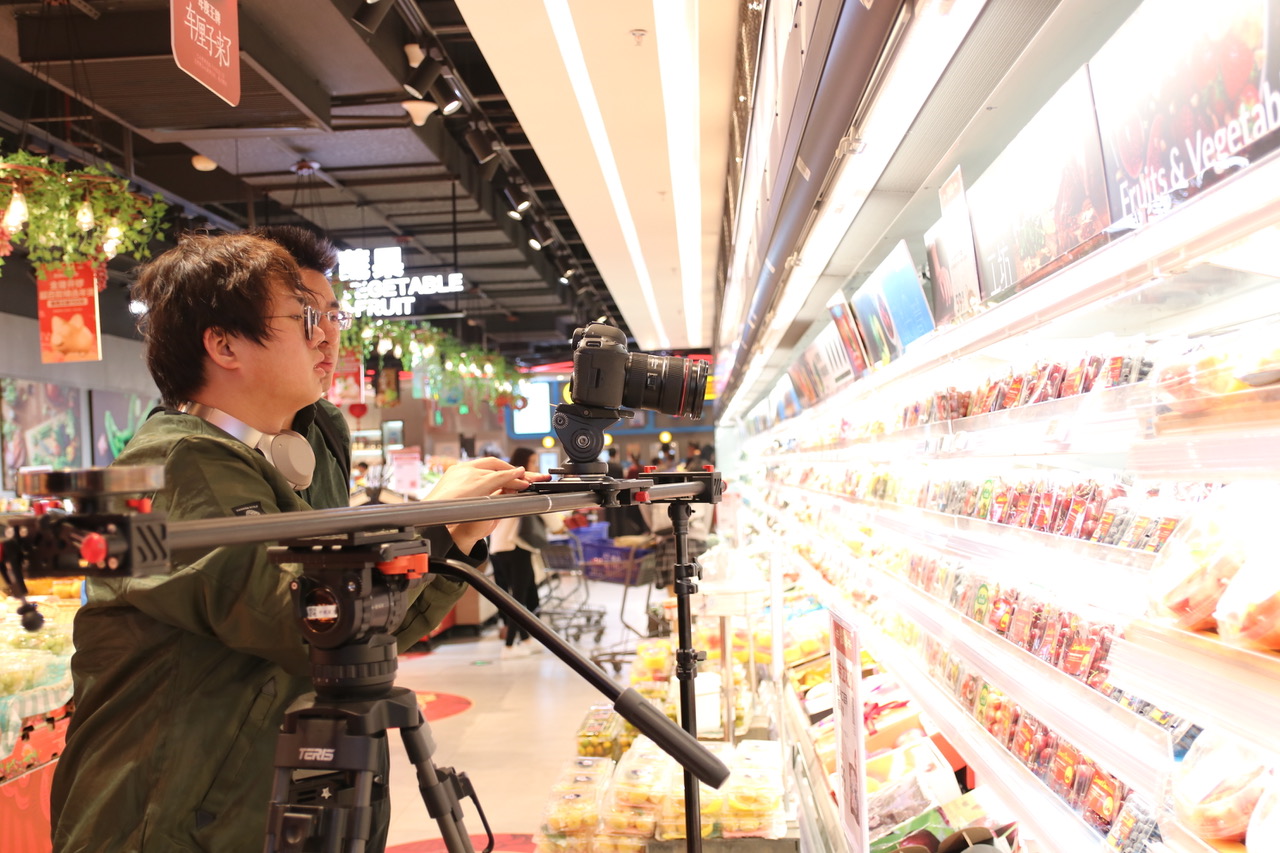 ▲China Central Television films a documentary about Chilean cherry exports to China
The frequency of shipments of Chilean cherries via sea also made a significant difference in 2018 – generally, there was one consignment of a very large volume of cherries per week as compared with previous years. In 2018, in addition to Hamburg Sud "charter" vessels arriving weekly from Chile, there were also shipments via vessels operated by Hapag-Lloyd and Evergreen. As a result, although total volumes stayed roughly the same as year before, there were 2-3 arrivals per week instead of just one. Smaller, yet more frequent, shipments mitigated the risk of long delays and dramatically cut loading times, resulting in a superior taste and continuous supply of fresher cherries. Sources in the Chilean cherry industry told Produce Report that they remain optimistic about the potential of the China market to continue demanding higher volumes of cherry via more frequent shipments in the coming seasons.
Another characteristic of the 2018/19 season was that a larger portion of Chilean cherries exported to China were routed directly to retailers and secondary wholesalers, a trend which benefited all involved. Direct routing relieved pressure on primary wholesalers to absorb large volumes of the fruit in a short amount of time and caused the wholesale price to remain high during the season. Chilean cherry exporters were also pleased with the broadening of distribution channels as it increased product turnover and may help to spread Chilean cherries further into second- and third-tier cities in China. Large retailers were also able to bypass wholesale markets and reduce the number of links in the supply chain, affording them more direct control over product quality and reducing logistics costs.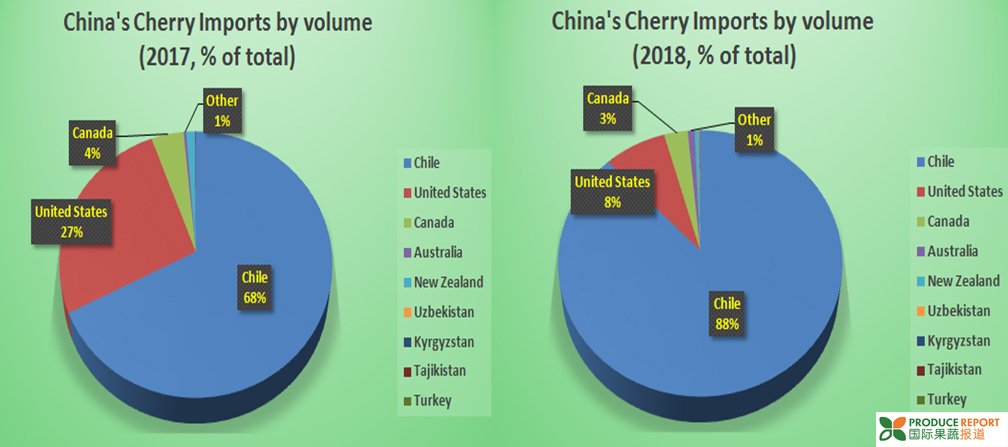 The growing prevalence of Chilean cherries in China is also inseparable from a number of fruitful marketing activities hosted by the Chilean Fruit Exporters Association (ASOEX) in recent years. At Asia Fruit Logistica 2018 held in Hong Kong, ASOEX and its Chilean Cherry Committee won the Marketing Campaign of the Year award for their impressive campaign to promote Chilean cherries in China during the 2017/18 season. To further expand the presence of Chilean cherries in China, the committee opened its first China office in Shanghai in 2018.
American Cherries
California and Northwest cherries both celebrated record production years in 2017 with shipments of American cherries to China amounting to 27,000 tons in 2017, a 95% increase over 2016. In 2017, China also edged out Canada as the top export market for Northwest cherries. However, 2018 was a completely different story, as the continuing trade conflict between the world's two largest economies caused farmers on both sides of the ocean to feel the pain.
For American cherry growers, trade disputes and tariffs have been more difficult to deal with than even adverse weather conditions. In 2018, the export volume to China of American cherries only totalled 14,398 tons, representing a decrease of 46.73%. According to the Northwest Horticultural Council, the retaliatory tariffs imposed by China have resulted in a loss of USD 96 million to Northwest cherries' exports in 2018.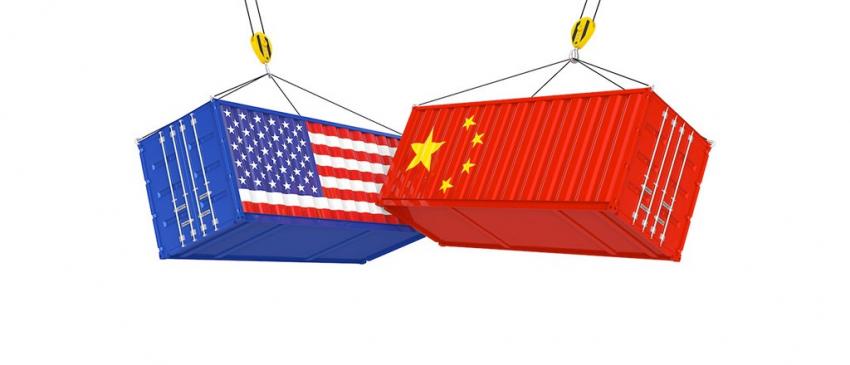 As a significant supplier of fruit to China, the United States witnessed its fresh fruit exports to China in 2018 shrink by 27.03% in volume and 31.03% in value. In addition to cherries, other premium American fruit such as table grapes, Washington apples, oranges, and plums also suffered drops of varying degrees in their shipments to China.
At the present moment, there seems to be little hope for a swift and amicable resolution to the still on-going U.S.-China trade war.
Canadian Cherries
In the past, Canadian cherries exports to China mainly capitalized on the supply gap between the American and Chilean cherry seasons. However, due to China-US trade tensions and the resulting tariff increases on U.S. cherries, the Chinese market has started to pay closer attention to Canadian cherries. Historically, due to geographic proximity, a large portion of Canadian cherries are destined to the United States each year. However, as the U.S. market was oversaturated in 2018 with domestic cherries originally intended for China, this negatively affected exports of Canadian cherries to the United States. As a result, the Canadian cherry industry has started to pay special attention to China as a destination market for its exports.
Globally, Canadian cherries stand out more for their quality rather than quantity. In addition to ensuring a high quality of fruit and consistent flavor upon arrival, Canadian cherries achieved noticeable improvements in post-harvest management, sea transport, and market expansion in China in 2018. The confluence of these positive factors led Canadian cherry exports to China to increase by 27.83% to 5,482 tons.
Australian Cherries
Australia accounts for only 1% of global cherry production. The cherry season runs from mid-October through February in Australia. In late 2017, Chinese and Australian government authorities struck a deal to allow for air shipments of mainland Australian cherries to arrive in China. Thanks to this, as well as the close proximity between the two countries, Australian cherries are able to arrive in China roughly 96 hours after being picked, which is the fastest arrival time of any counter-seasonal supplier of fresh fruit.
Australia produces 16,000 tons of cherries annually across its six states. Victoria, New South Wales, and Tasmania are the largest producers and each has their own complementary supply window and cherry varieties. According to Tom Eastlake, President of Cherry Growers Australia, approximately half of all Australian cherries produced were expected to be exported in the 2018/19 season, with China among the leading export destinations.
Data from China Customs indicates China imported 1,597 tons of cherries from Australia in 2018, which is a substantial increase of 345.12% over the previous year. Another piece of good news for the Australian cherry industry is that as of January 1, 2019, tariffs have been removed on the vast majority of Australian fruit exports to China, including cherries.
New Zealand Cherries
After mainland Australian cherries were permitted export to China via air shipments, the competition in China's counter-seasonal cherry market has become even fiercer. Cherries from New Zealand are known for their ideal growing conditions and world-class quality, but their relatively high price means that they are almost fully confined to China's high-end cherry market. Due to unfavorable climatic factors during the 2017/18 season, New Zealand's cherry exports to China fell to 1,043 tons in 2018 for a decline of 11.44%.
Cherries from Uzbekistan, Tajikistan, and Kyrgyzstan
On May 30, 2018, Uzbek cherries completed the final step to gain import access to the China market, becoming Uzbekistan's first and only fruit category to be allowed export to China. On June 4, Uzbek cherries made their debut in China via a flight loaded with eleven tons of cherries from Uzbekistan to Beijing. In 2018, Uzbekistan exported 148 tons of cherries to China.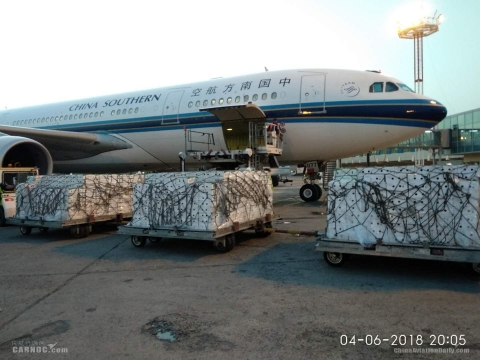 ▲Uzbekistan's first cherry shipment to China lands in Beijing on June 4, 2018
Kyrgyzstan and Tajikistan face similar challenges as Uzbekistan in exporting cherries to China, such as outdated cultivars, a lack of cold storage facilities, and inefficient transportation links. China imported 67 tons and 46 tons of cherries from Kyrgyzstan and Tajikistan respectively in 2018.
Turkish Cherries
Turkey has been among the top global cherry producers and exporters. Acreage dedicated to cherry planting in Turkey continues to expand due to new investments, which have been stimulated by demand for Turkish cherries in overseas markets. In recent years, Turkey has also been gradually changing from traditional to modern cherry production methods, which feature new high-yield cherry varieties and advanced growing techniques.
Given that Turkey's cherry harvest season overlaps with the United States and that imports of American cherries in China were greatly hampered by the on-going trade conflict, Turkish cherries may have been expected by some to benefit from this and fill this gap in the China market. Therefore, it is somewhat surprising that Turkey only shipped eight tons of cherries to China in 2018, demonstrating limited progress from the two tons it exported to China in 2017. According to industry insiders, Turkey's inefficient cherry cold treatment and the limited air transport resources between Turkey and China remain detriments to Turkish cherry exports to China.
Argentine Cherries
On the heels of the Buenos Aries G20 summit, China and Argentina signed the phytosanitary protocols agreement for Argentine cherries on December 2, 2018. Soon after gaining market access to China, air-freighted Argentine cherries made their China market debut in January 2019, followed closely by the inaugural sea shipment which arrived in China in early February 2019. Two Argentine cherry industry insiders told Produce Report that although it was already the tail end of the season when Argentine cherries were officially allowed to come into China, they still valued these shipments to China as an excellent opportunity to test the market and better prepare themselves for the next season.
China's Domestic Cherries
China's cherry season starts with greenhouse cherries from Dalian arriving on the market in early March, followed by field cherries harvested in May and June, with the season normally ending in early July.
According to a report issued by the USDA, China's cherry production was estimated to have reached 340,000 tons in 2018, shrinking more than 10% from the previous year due to severe frost in northern China in early April. Currently, greenhouse cherries account for 5% to 10% of the total production in China.
Cherry planting area continues to expand, as market returns for cherries remain quite attractive compared to other fruit crops. To fully capitalize on the higher prices early season cherries fetch on the market, the planting area for greenhouse cherries has grown at a rapid pace. In 2018, total cherry acreage in China was forecast to increase to 125,000 hectares, up 9% from 2017.
The majority of cherry varieties that Chinese farmers plant have been introduced from Europe and the United States, such as the Brooks, Bing, Lapins, and Rainier varieties. In China, these varieties are sometimes referred to by a totally different name, for example, the 'Red Lantern' for Brooks and 'Meizao' for Bing.
Although China's domestic cherries have achieved steady improvements in both production volume and overall fruit quality, inefficiency in post-harvest management still acts as a bottleneck for further development.
Image Source: MZMC
 
Featured Produce
Produce Marketplace
Elangeni Food Group

·

South Africa

Universal Capital Gr

·

Ecuador

AGRI GATEX LIMITED

·

Africa
Joshua Lim

·

Malaysia

City fresh fruit co.

·

Thailand

Chun lin orchard-Sel

·

Taiwan nan
China Market Access List