You are here
Back to top
Yidu Imports First Victorian Nectarines to China
December 02, 2016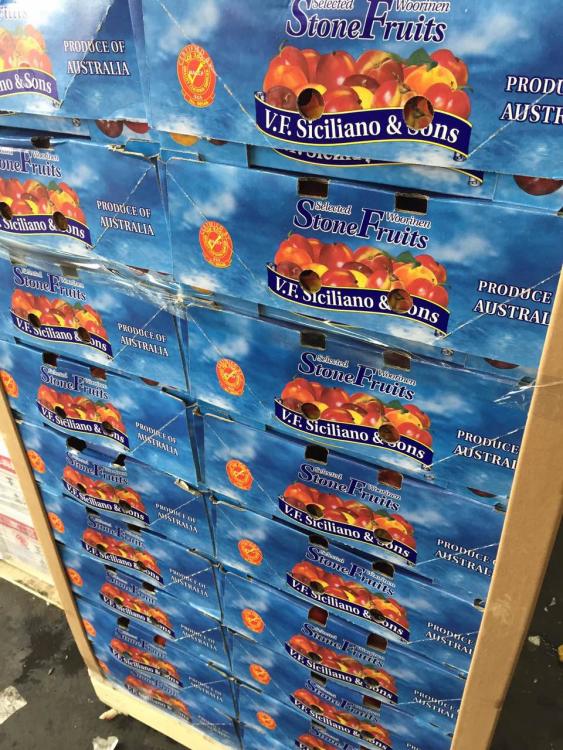 First batches of Victorian nectarines imported to China
Photo: Yidu
On November 30th, the first deliveries of nectarines from Victoria, Australia arrived at Shanghai's Huizhan wholesale market. "The fruit was delivered to the market in great condition," V.F. Siciliano & Sons, the Australian grower and exporter of fruit which organized the initial shipment, stated in its newsletter. Colleen Dangerfield, the company's export manager, told Produce Report that this shipment was a trial run and was primarily aimed at ensuring that all quarantine negotiations were completed and all requirements were complied with appropriately; as a result, the quantity of fruit transported was relatively modest, amounting to only 54 boxes at 10 kilograms per box.
Colleen Dangerfield gave a detailed account as to the end-to-end quarantine and shipment process for the nectarines. On November 27th, the fruit was packed in the town of Woorinen in Victoria and transported to Melbourne for fumigation quarantine treatment. As per Chinese protocol requirements for Australian nectarines, the fruit underwent mandatory fumigation lasting five and a half hours. Upon completion of this process, the nectarines were inspected by the Australian quarantine authorities, cleared for export to China, and subsequently loaded onto Air China aircraft in Melbourne and sent to Shanghai via direct flight. Arriving in Shanghai in the evening of November 29th, the nectarines were cleared through customs and on the morning of November 30th, quarantine inspectors approved the fruit for immediate sale on the China market.
These first shipments of Victorian nectarines were received by the Chinese importer Dalian Yidu Group Co., Ltd. Zhou Yujie, director's assistant at Yidu, spoke highly of the product: "The fruit is of premium quality and is much juicer than we expected. Considering the fairly cold weather in Australia this year, the firmness of the fruit is quite appropriate".
Due to the cool spring and a lack of sunshine, Australia's nectarine season has been delayed this season and the sugar content of the fruit shipped to Shanghai is still quite low, which is expected to put some pressure on local traders. Nevertheless, when these new arrivals of Victorian nectarines appeared on Huizhan, they immediately attracted the attention of vendors and e-commerce buyers alike. Furthermore, the most sugary and highest quality fruit will be harvested and delivered to China in December and January. It was announced in the newsletter that "as nectarine season in Australia shifts into high gear, the first airfreights will be backed by a series of nectarine ocean containers, which have already begun to depart from Australian ports this week." In roughly three weeks, given the transit time of 18 days, large quantities of high-quality Australian nectarines will become available in China. While early-season, white flesh Polar Light nectarines were chosen for the initial shipments, mid-season and late harvest varieties of nectarines with both white and yellow flesh will be exported to China in the coming months.
According to Zhou Yujie, Yidu plans to launch numerous promotional campaigns targeted at consumer education in order to support Australian nectarines in China. "We have been working with Yidu for more than 10 years, and have a history of cooperation in supplying China's market with other Australian fruit," Colleen Dangerfield told Produce Report. She also noted that V.F. Siciliano & Sons was fortunate to have Yidu as one of their partners in China and was grateful for its assistance in organizing the very first Victorian nectarine shipments to China.
Featured Produce
Produce Marketplace
Elangeni Food Group

·

South Africa

Universal Capital Gr

·

Ecuador

AGRI GATEX LIMITED

·

Africa
Joshua Lim

·

Malaysia

City fresh fruit co.

·

Thailand

Chun lin orchard-Sel

·

Taiwan nan
China Market Access List