You are here
Back to top
Importance of Branding to Export Growth – Hebei Pears
December 29, 2016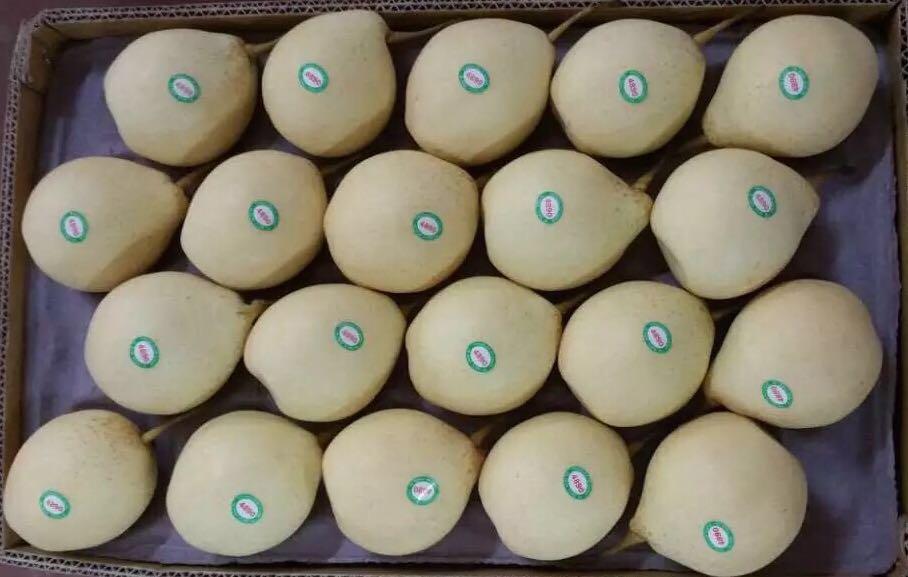 China ranks first in world's production of pears (the world's third largest fruit behind apples and oranges), in terms of growing areas, number of variants, and export volumes. It has been said that seven out of ten pears in the world are produced in China.  At the China Fruit and Vegetable Fair (FVF) 2016 Conference, Mr. Bian Qing-gang, director and general manager of Hebei Tianbo Industry and Trade Co., presented the current outlook for Hebei pears' export. Heibei Tianbo is one of China's largest exporters of pears. 
Hebei is China's largest producing area for pears and has long seen the fruit as the province's leading agricultural export item. Hebei exports more than 100 thousand tons of pears every year or up to 70% of China's total export volume for the fruit, generating more than USD100 million of revenues. In recent years, export of Hebei pears has experienced rapid growth. According to Mr. Bian, export of Hebei pears has been growing despite the weak global economy and the emergence of new trade barriers.  Between January and September this year, Hebei pears' export volume increased by 68% compared with the same period last year, selling to USA, Canada, Australia, the EU, SE Asia, Middle East, Mexico and South Africa etc. Indonesia has become a key market for Hebei pears, accounting for 40% of the province's total export of pears.  The volume of pears exported to Indonesia by Hebei province equals 50-60% of the total qualities shipped by China as a whole. In just the 3 months after Indonesia reopened the market to Chinese pears in June this year. 30,100 tons of Hebei pears were shipped to this SE Asian country, at a value of USD18,740,000, representing increases of 113% and 141% versus same period year-ago, for volume and value respectively.
On the other hand, competition has also intensified. Hence developing brands for differentiation has become the trend. Mr. Bian commented that many good exporters have appeared in Hebei province since pears were first allowed to export in the 1990s. This also attracted from around the country other companies serving different functions of the supply chain such as packaging materials suppliers, packers, depots, and trading service providers etc. Along with the ever increasing competition, the industry has been repeatedly restructured. As a result, the industry and its players have become more mature and professional. A number of well-known brands have also emerged and Tianbo is one of them. Various government bureaus, including the Hebei Entry-Exit Inspection and Quarantine Bureau, have extended their support to the high quality export brands. These supports come in the forms of efficient customs procedures, organizing special conferences as well as assisting companies in creating brands and raising their influence.
According to Mr. Bian, export of pears involves high amounts of risk. Risks come not only from global economic factors and collection of trade debts but also from the importing countries' trade policies and quarantine requirements as well as quality issues and transportation risks at the domestic end. Active risk management and brand development are the key success factors for Hebei pears' export business.
Regarding the performance of various variants of pears in the export markets, Mr. Bian told Produce Report that among the newer varieties, Crown pears have become familiar to the overseas customers. Their volumes have been increasing continuously and have surpassed the traditionally popular Ya pears. However, newer varieties have been slow in gaining acceptance in export markets. They are either high priced or having the issue of short shelf-life. In Mr. Bian's opinion, market development often involves high promotion cost and local companies do not have the organization or budget for such efforts. To compete successfully in export markets, companies need to provide high quality and competitively priced products. For the whole of 2016, export performance of pears and the business results of the related areas, from growers to sales companies, have fallen short of expectations. Growers have a good year in terms of harvest but supplies have exceeded demands. While total volumes are big, financial returns are not satisfactory. Industry players should reflect on these issues and find their solutions.
Images: Tianbo Industry and Trade Co.
Featured Produce
Produce Marketplace
Elangeni Food Group

·

South Africa

Universal Capital Gr

·

Ecuador

AGRI GATEX LIMITED

·

Africa
Joshua Lim

·

Malaysia

City fresh fruit co.

·

Thailand

Chun lin orchard-Sel

·

Taiwan nan
China Market Access List