You are here
Back to top
Costa Rican Pineapple Imports Debut at Shanghai's Huizhan Fruit Market
June 29, 2017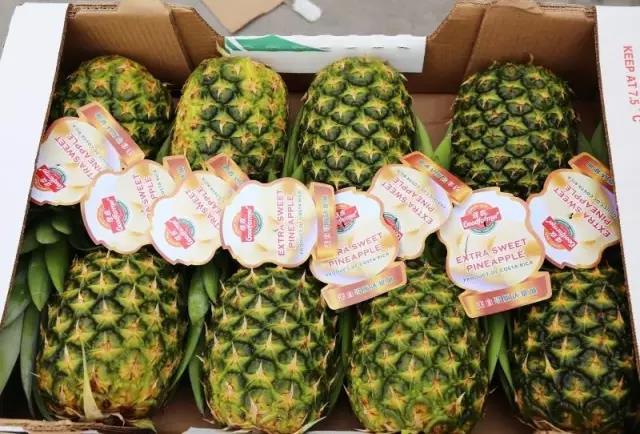 After being approved for import, Costa Rican pineapples have since arrived in Shanghai—imported by China's well-known produce and food product delivery service provider, Good Farmer. On June 29, the pineapples launched in Shanghai's Huizhan Fruit Market. To celebrate the occasion, Good Farmer held a ceremony concurrently with the debut. The Commerical Counselor Jose Pablo, stationed at Costa Rico's Embassy, was in attendance at the event. Another market launch celebration was held the day after at Carrefour's Wanli location in Shanghai.
Produce Report was informed by Good Farmer that the initial shipment of Costa Rican pineapples included nine containers of the MD2 variety. Currently, Good Farmer is evaluating the effect of lengthy shipping times, 25 days via sea transport, on the quality of imported Costa Rican pineapples.
Despite the lengthy transport time and high cost of importing pineapples all the way from South America, Good Farmer remains confident that these delicious high-quality pineapples will be competitive in the Chinese market. The distribution of imported pineapple sales will take on a ratio of 1:6:3 for wholesale markets, supermarkets, and online platforms respectively. Moreover, their main sales strategy will target supermarkets and user interface sales across mobile applications to reach consumers directly, eventually steering away from wholesale.
In recent years, Costa Rican organic pineapple exports to Europe have experienced steady annual growth. Last year pineapple exports equaled 60% of Costa Rica's total organic exports, reaching 1.37 billion kilograms. Good Farmer said they will consider importing organic Costa Rican pineapples according to market developments and receptiveness in China.
Upcoming Events

September 06, 2023

to

September 08, 2023
October 19, 2023

to

October 21, 2023
Produce Marketplace
Universal Capital Gr

·

Ecuador

AGRI GATEX LIMITED

·

Africa

Qualipac Pty Ltd

·

Australia
Joshua Lim

·

Malaysia

City fresh fruit co.

·

Thailand

Chun lin orchard-Sel

·

Taiwan nan
China Market Access List