You are here
Back to top
Chinese Customers' First Glimpse of PIQA®BOO®
May 06, 2017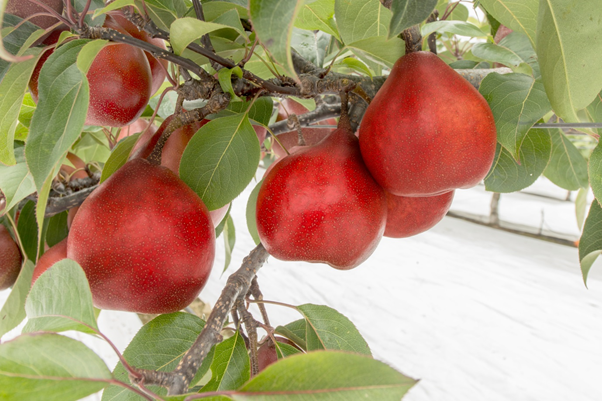 After the launch of the PIQA®BOO® pear on the Chinese market last week, Produce Report interviewed Brett Ennis, the CEO of Prevar Limited, and Greg Cassidy, the export manager for pip fruit of Freshmax, to find out more about this third generation cultivar breed, tailored to the tastes of Asian consumers.
The PIQA®BOO® is a deep-red, short, pyramid shaped pear that is crisp, juicy and sweet: ideal for Chinese taste buds, but which, according to Freshmax's export manager, appeals to all consumers. Bred by the world renowned fruit science company, New Zealand Plant & Food Research (PFR), PIQA®BOO® is exported to China by the Freshmax Group, which has an exclusive licence for the cultivation of the variety in Australia. In fact, Prevar, whose business is the global commercialisation of new apple and pear varieties developed by NZ PFR, "doesn't plant the varieties, but instead owns the intellectual property associated with a new variety and licences a third party (usually an integrated fruit company) the rights to grow, market and sell the variety via a licence agreement," said Brett Ennis.
"The goal of the PFR interspecific pear breeding programme, which commenced back in the 1980s, was to bring together the best attributes of European pears (such as flavour, aroma and skin colours) with the best of Asian pears (tree ripe convenience, good storage and shelf life) into a new range of fruits," added Prevar's CEO. Piqa is the family name and all commercial selections arising out of this breeding programme are marketed under the Piqa family brand with individual selections given a suffix name. In the specific case, PIQA®BOO® is a third generation cross involving selections of European, Chinese and Japanese origin.
In testimony to the company's faith in China's online fruit retail sector and the Chinese appetite for premium fruit, the packages of 32 pears went on sale to a select group of high-end customers in collaboration with online retailer Tmall with a price-tag of 899 yuan (U.S.130$). This season, with the limited supply available, PIQA®BOO® will be marketed through three retail partners: Tmall, Fruitcloud and Fruitday, the latter two of which will also distribute through high-end shops as well as online retail. "With Tmall and our other online partner we already have a strong track record of apple and cherry sales, so we know how the channels work and we know how to capitalise on their strengths," said Greg Cassidy.
The aim this first year will be to test the waters with shipments of only a few containers. However, according to Cassidy, "growers are very excited about this unique variety and the opportunities it offers and a strong managed planting programme is already in place." Both this year and in the coming seasons Fruitmax is expected to ship the products to China by sea and air freight in equal measure and in view of PIQA®BOO® being a premium product, this ratio of air to sea shipments is not expected to change over the coming years.
In addition to the PIQA®BOO® pear, Freshmax is also successfully exporting the Honeybelle pear to China and this year the company has enjoyed another very good season. "Demand is always strong for this crisp, sweet and juicy pear," said Cassidy, "and supply cannot keep up with demand! This year we shipped over 14 containers to Hong Kong and China alone."
Featured Produce
Produce Marketplace
Elangeni Food Group

·

South Africa

Universal Capital Gr

·

Ecuador

AGRI GATEX LIMITED

·

Africa
Joshua Lim

·

Malaysia

City fresh fruit co.

·

Thailand

Chun lin orchard-Sel

·

Taiwan nan
China Market Access List