You are here
Back to top
California Strawberry Marketing-Promotion Meeting Held in Beijing
November 12, 2016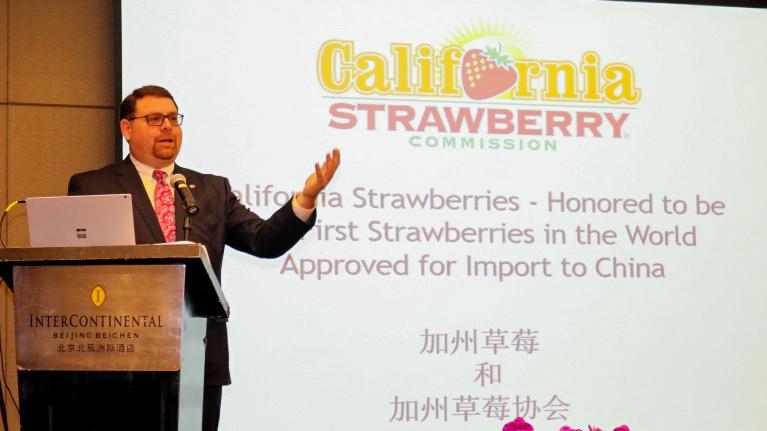 A 2016 California Strawberry Commission Beijing Marketing and Promotion Seminar Meeting was held in Beijing by the California Strawberry Commission on November 1 and 2. This meeting, attended by US embassy staff members, California Strawberry Commission representatives, shippers, domestic buyers and reporters, was a prelude to the strawberries' entry into the Chinese market. After 11 years of hard negotiation, California strawberries were granted market access to China on 27th June, 2016.
At the meeting, Mr. Rick Tomlinson, Chairman of the commission, briefly introduced the background of California strawberries and the state of the industry. California is the top strawberry producer among US states, with a planting area of more than 14,568 hectares and a favorable climate and geography for growing the fruit. California-grown strawberries amount to 88 percent of total US fresh and frozen strawberries. In 2015, more than 772 million kilograms of strawberries were harvested with an approximate value of 2 billion dollars. According to Tomlinson, the fruit is harvested year-round, also a big advantage for sales.
In addition to American market, California strawberries are exported to 31 nations and regions, with China to be the 32nd. At present, all the preparatory work before air shipment to China has been done. It was reported that after being picked, fresh strawberries will be sent to a cooling facility and then air freighted to China within 24 hours. During cold-chain transportation, berries will be kept at 32°F. Within 96 hours after harvesting, they will be able to hit shelves in a Chinese supermarket. A Produce Report representative was fortunate to have the chance of tasting the berries on the scene. Being hand-picked 12 days before, the berries, due to good cold storage during transportation, still had a bright red color and wonderful flavor.
So far, only four exporters have been granted permission by the Chinese government to export California strawberries to China: California Giant, Driscoll's, Naturipe, and Well-Pict. It was said that at least 15 to 20 other exporters have expressed interest on exporting the berries to China. Starting from 2018 the AQSIQ registered exporters list for California strawberries will be updated on a quarterly basis to accomodate new exporters. The California Strawberry Commission was very optimistic about China's market potential in the future. The organization is very likely to increase the exports to China if the berries are well received this year. Based on California strawberries' popularity in other Asian markets, the commission estimated that exports to China might reach 15 million dollars by 2018 and even double this figure in the future.
Image source: MZMC
Upcoming Events

September 06, 2023

to

September 08, 2023
October 19, 2023

to

October 21, 2023
Featured Produce
Produce Marketplace
Elangeni Food Group

·

South Africa

Universal Capital Gr

·

Ecuador

AGRI GATEX LIMITED

·

Africa
Joshua Lim

·

Malaysia

City fresh fruit co.

·

Thailand

Chun lin orchard-Sel

·

Taiwan nan
China Market Access List