You are here
Back to top
2017 China Blueberry Report Released - II
January 02, 2018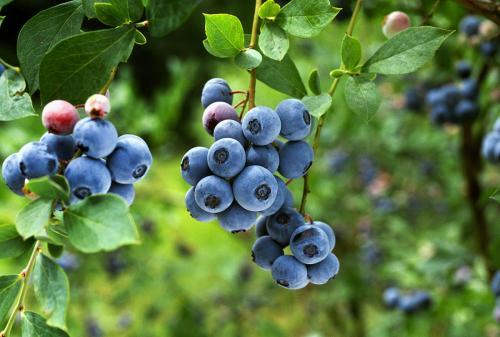 From blueberry's annual growth cycle perspective, China is able to achieve a 5-month supply season, from mid March to mid August, for the fresh fruit. This is realized by having open cultivation, greenhouse and cold shed methods employed in different production regions. Early maturity of good quality berries allowed China's Southwest, particularly Yunnan Province, to become the key region for early season blueberries. Liaodong Peninsula is also able to supply large batches of greenhouse blueberries by mid March. South China's late season blueberries ripen in August but their quality has room for further improvement. For now, the late season blueberries from Changbai Mountain and Liaodong Peninsula areas in the North cannot be replaced.
Having accumulated experience in growing many blueberry varieties and seen actual market responses in the past, various production regions have focused on different varieties. Jiaodong Peninsula produces mainly the Duke and Bluecrop varieties. Liaodong Peninsula produces more Duke, Bluecrop, Northcountry, and Reca. Changbai Mountain area is the region for Northcountry, Reca, Bluegold, and Meideng while South of the Yangtze River produces a wider range of varieties which includes O'Neil, Misty, Legacy, Brigitta, Baldwin and Brightwell. However, newer varieties, including Star, Emerald, Jewel and Purplelemon etc, are also gradually being adopted.
Imported blueberries have been popular in China during the last few years. In 2017, total import volume reached 8,738 tons. Of this, 85% came from Chile. South American countries are the major suppliers of blueberries to China during winter. On the other hand, with the advantage in late season blueberries, Canada is the key supplier during September and October. In addition to filling the shortage of supply, imported blueberries also serve the function of educating the Chinese consumers about and enhancing their interest in the fruit.
About the overall market trend, Chinese consumers have preference for bigger size blueberries that have good appearance, good texture and longer shelf-life. Their increasing demand for high quality fresh fruits have widened the latter's price premium versus lesser quality ones. This leads to the need for growers to upgrade their product varieties. Major international growers and brand owners, e.g. Driscoll's of the US, Costa of Australia, Hortifruit of Chile and SA Berry Fruit of the UK, are investing in growing blueberries within China. While making China an international producing country for blueberries, these overseas investments are forcing local companies to upgrade their planting technology. Guided by the concept of integrating geographic advantage, variety advantage and high fruit quality, regional mass production has become the mainstay. Less suitable areas' growth would slow down and even go on gradual decline. To control the value chain and exert influence on the market, family farms and large growers would become the main production modes. Blueberry juices, blueberry beverages, and dried blueberries are expected to have fast and steady growth while providing incentive for the development of other varieties for use in various processed products
This 2017 China Blueberry Report estimated that blueberry's production in North America have achieved 13% annual growth between 2008 and 2014. The growth rate in China over this same period was 50.7%. If this growth rate can be sustained through 2020 while slowing down by half after 2021, China's annual production volume would reach 1 million tons by 2026. By then, China would surpass North America as the world's number one blueberry producing country.
Photo source: Baidu
Upcoming Events

September 06, 2023

to

September 08, 2023
October 19, 2023

to

October 21, 2023
Featured Produce
Produce Marketplace
Elangeni Food Group

·

South Africa

Universal Capital Gr

·

Ecuador

AGRI GATEX LIMITED

·

Africa
Joshua Lim

·

Malaysia

City fresh fruit co.

·

Thailand

Chun lin orchard-Sel

·

Taiwan nan
China Market Access List