You are here
Back to top
Zespri: Kiwifruit shipments to China will resume this week
August 15, 2016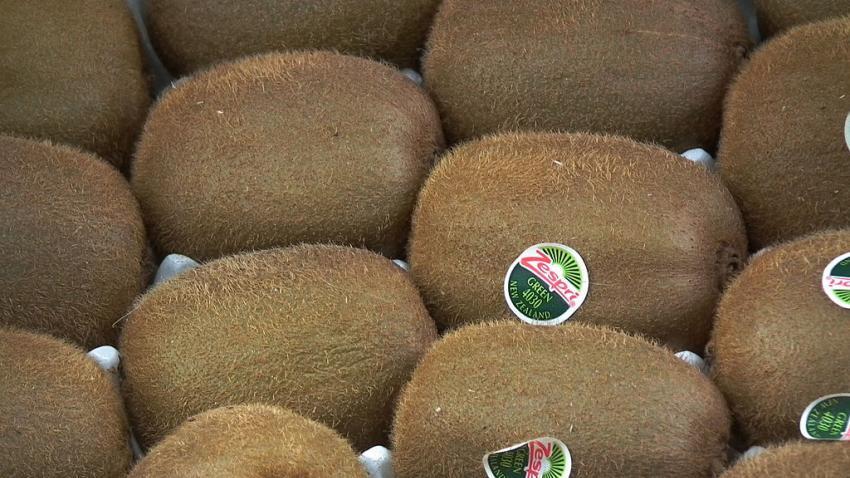 New Zealand's national kiwifruit marketer, Zespri, said on 13 August that the company expected to resume shipments of kiwifruit to China during the week beginning August 15, after the company undertook a voluntary halt in shipments to China on August 4 in response to concerns from Chinese authorities about the presence of a fungus in some shipments of kiwifruit arriving in China.
On July 29 China's national phytosanitary authority, AQSIQ, issued an advisory document urging import and quarantine staff at Chinese ports to strengthen inspections, testing and reporting for the presence of the fungus Neofabraea actinidiae in imported New Zealand kiwifruit. This followed the discovery by Chinese import staff of the fungus in two containers of Zespri kiwifruit that arrived in the port of Tianjin on June 8.
The advisory states that Neofabraea actinidiae is found only in New Zealand and Australia and can infect kiwifruit, apples, persimmons and other fruit, causing premature rotting during storage—and because the fungus is not found in China it poses a grave economic threat if it becomes established here.
In addition to Tianjin, the advisory also said that the fungus had been discovered in containers of New Zealand kiwifruit arriving in Shanghai. Zespri has confirmed that there have been two additional discoveries of Neofabraea actinidiae in kiwifruit arriving in China after the initial discovery in Tianjin.
On August 5 Zespri stated through spokeswoman Rachel Lynch that as of August 4 it had, "temporarily deferred exports to China until strengthened pre-export fruit checking processes are in place," and that it was working with suppliers and the New Zealand Ministry for Primary Industries (MPI), "to develop additional measures in response to the risk notification."
Meanwhile the majority of kiwifruit that was already in shipment when the deferment was announced has continued to be allowed to enter China, apparently because the fungus has not been detected in those shipments. According to Lynch, "this issue has only affected around 2 percent of the fruit which has arrived in China to date."
"Neofabraea actinidiae is a fungus that causes fruit to rot in long term storage and has no food safety implications," says Lynch.
MPI declined to provide an analysis of the risk the fungus poses to Chinese agricultural, stating that, "our focus is working with the kiwifruit industry to ensure the revised pre-export fruit checking processes are in place for New Zealand kiwifruit as soon as possible. The aim of this work is to minimize the risk of Neofabraea actinidiae rots being present on kiwifruit." He added that, "MPI is working to provide technical information that will assist the Chinese Authorities in undertaking an analysis of the presence of Neofabraea actinidiae on kiwifruit imported from New Zealand."
On August 13 Lynch told Produce Report that, "Revised pre-export kiwifruit checking processes are in place for NZ kiwifruit exports to China in response to the notification regarding the find of the fungus Neofabraea actinidiae. These processes have been approved by MPI which is notifying the Chinese authorities." She said Zespri's suppliers were currently following the new processes to recheck fruit destined for the Chinese market and that Zespri expects shipments to resume sometime this week.
Featured Produce
Produce Marketplace
Elangeni Food Group

·

South Africa

Universal Capital Gr

·

Ecuador

AGRI GATEX LIMITED

·

Africa
Joshua Lim

·

Malaysia

City fresh fruit co.

·

Thailand

Chun lin orchard-Sel

·

Taiwan nan
China Market Access List