You are here
Back to top
US-China Trade War to Impact Bilateral Fruit and Vegetable Trade
July 11, 2018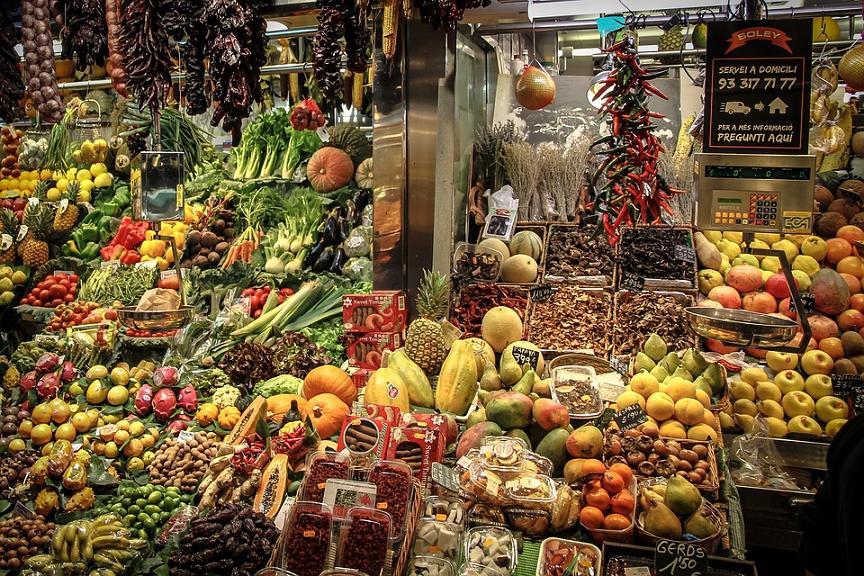 At 12:01 a.m. (Eastern Time) on July 6th, the United States officially commenced an additional 25% on duties of 818 Chinese products worth around 34 billion dollars—an act that signaled the start of a trade war between the world's two largest economies. The scale of this trade war is the largest in history. At the same time, China issued retaliation measures to take effect immediately. A spokesman of the Chinese Ministry of Commerce said that China promised not to shoot the first shotbut was forced to take counteractions in order to defend the interests of China and Chinese people. Shortly after, the U.S. government convened a hearing with business leaders to consult the list of 284 products worth of $16 billion—rebuttals will be presented on July 31 with the measures taking effect in August.
On July 10th, The White House said it was considering additional tariffs of 10% on products of China with an annual trade value of approximately $200 billion. This would be the third round of tariffs on Chinese goods imposed by the Trump administration. While the tariffs wouldn't go into effect for at least two months, they would be much more aggressive in the range of goods they'd apply to. A senior White House official:"that the reason for the $200 billion figure was that it's "roughly equal to their exports to us." Adding $200 billion in goods to the list of existing tariffs would bring the total value of tariffed goods to $450 billion—just shy of the $505 billion in exports that China sends to the U.S." Trump had threatened this level of escalation as early as last week, before the current tariffs even went into effect. Fruit and vegetable products from China not included in the previous two tariffs lists were also included in the proposed list.
The tariffs increase list on July 6 dramatically raised tariffs on fruit and vegetable products exported to China. According to the US Chamber of Commerce, the state of Washington will suffer more than any other state. Washington state's main products are cherries, apples, vegetables and fruit seeds. An additional tariffs increase of 25% has transpired, which will be calculated along with the 15% tariffs increase of April 2. As a result, if products fall within the two tariffs increases both from April 2 and July 6, a cumulative 40% rate increase will occur. The vast majority of US edible nuts and fruits exports to China defined incategory 8 of customs code are on both lists, which means the additional tariffs for those products will reach 40%. The original tariff rate on the main US fruit exports to China was 10%. That increased to 50% after July 6. The rate for cherry and plum exports rose from 10% to 50% while the rate for orange exports rose from 11% to 51%. As for nuts, the rate for in-shell walnut exports increased from 25% to 65%, in-shell Pistachios grew 5% to 45%, almonds rose from 10% to 50%, and in-shell hazelnuts climbed from 25% to 65%. For nuts and fruits, the extra 40% tariff will severely weaken future competition in the Chinese market.
Compared with the tariffs increase list from April 2, most category 20 and 07 HS Code fruit and vegetable products and edible vegetables were added to the tariffs increase list on July 6. Among those are three types of fruit and vegetable products. The first is prepared/preserved cranberries (not from vinegar), which saw a tariffs rate increase from 15% to 40%. The second is frozen orange juice that suffers an increase from 7.5% to 32.5%. The rate for unfrozen orange juice (Brix Value≤20) increased from 30% to 55%. Thethirdrate hike targets edible vegetables, which includes 61.6% of category 07 exports such as fresh-cold storage and dry vegetables (an increase of 25%). Furthermore, the other 38.4% of products in category 7, such as frozen vegetables and products with other ways of preservation (salt water, sulfur dioxide gas) are not targeted by the list.
At the same time, Chinese exports of fruits and vegetables to the United States will be affected in the $200 billion U.S. tariffs increase. Through the analysis of this product list, it can be found that there are more than 200 types of fruit and vegetable products in the HS code 07, 08 and 20 categories. The biggest impact is apple juice. The United States is the largest market for apple juice in China. Exports to the U.S. totaled 266,000 tons in 2017, worth $260 million, accounting for about half of apple juice exports. Garlic has also been greatly affected. In 2017, China exported 114,000 tons of garlic to the United States, amounting to $476 million, accounting for 6.6% and 16.1% of garlic exports respectively. The United States is also the sixth largest market for Chinese fresh pears, with an export volume of 10,353 tons in 2017, amounting to $1440.3. It is the seventh largest market for shiitake mushrooms, with an export volume of 4435.6 tons in 2017, amounting to $38 millions. It is the seven largest markets for leeks, exporting 140 tons in 2017, amounting to $349,000. In addition, lychee, grapefruit, canned mushrooms and dehydrated vegetables will be affected by the high volume of American exports. However, considering that the tariffs increase is only 10%, far lower than the previous 25% tariffs, and the overall quantity of fruit and vegetable products exported by China to the United States is not large, the impact on the production and sales of fruits and vegetable products in China is expected to be negligible except for individual products. The future export prospects of Chinese fruits and vegetables to the United States are hard to predict due to tariffs increase, exchange rate change and domestic market weakness.
According to professional analysis of the trade model, the export of American fruit and vegetable products to China dropped by 13.58% after the tariffs increases on July 6. In fact, July 6 might just be the beginning of this trade war. Before both sides make compromises, China and the United States still have the possibility of amplifying tensions to restrict each other in order to be in a favorable position for negotiations. As a result, the US side is likely to threaten further sanctions on additional Chinese goods. Moreover, China could also threaten to impose sanctions on service trading, revoking the promise of open markets and further increase the current tariff rate. American agricultural products are the target of China's retaliation, so in the future, American fruit and vegetable products on the tariffs increase list are likely to be expanded further, and the tariffs further increased.
Upcoming Events

October 27, 2022

to

October 29, 2022

November 02, 2022

to

November 04, 2022
Featured Produce
Produce Marketplace
AGRI GATEX LIMITED

·

Africa

ALOE ECO PARK SAPI D

·

Mexico

Tien Thinh Agricultu

·

Vietnam
Joshua Lim

·

Malaysia

City fresh fruit co.

·

Thailand

Chun lin orchard-Sel

·

Taiwan nan
China Market Access List