You are here
Back to top
Tmall Fresh CEO: How Big Is China's Fresh Product Market?
April 09, 2017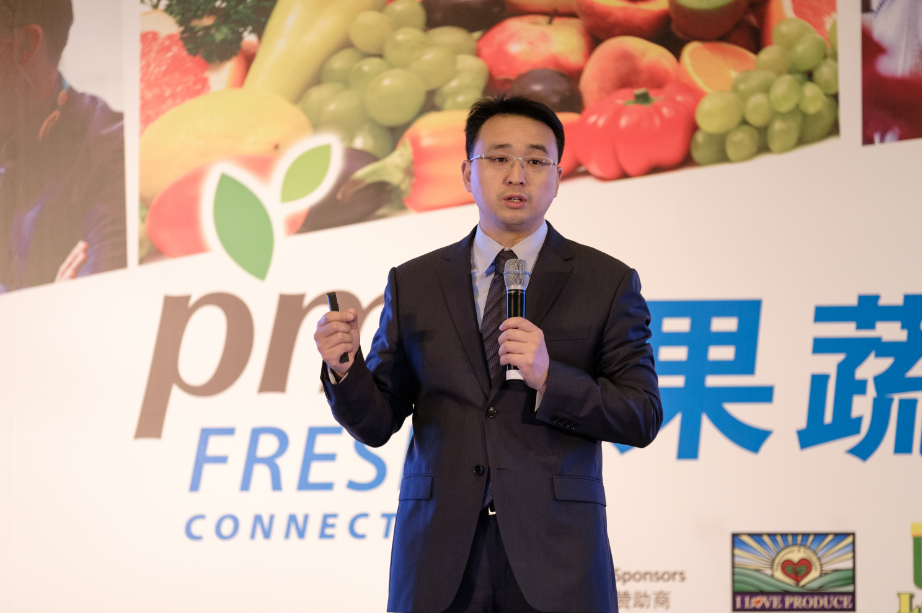 What is the driving force behind the increase of consumptive power in the Chinese market? Which specific aspects are Chinese consumers willing to expand their expenditures on? How big is China's fresh product market? What is new retail? At PMA Fresh Connections held in Shanghai on March 16, Ray He, the CEO of Tmall Fresh, Alibaba Group, answered the questions mentioned above and interpreted the changes behind the ever growing Chinese consumer market, Chinese consumers and consumption patterns in China, with the help of Alibaba Group's sophisticated and comprehensive ecosystems.
At the beginning of his talk, Mr. He indicated that China's consumer market is continuing to undergo further enhancements and growth. Regarding what drives its growth, Mr. He ascribed it to five major factors. First of all, the increasing numbers of upper middle class and above are responsible for 81% of the growth. This consumer group tends to spend more money on high quality imported fresh products. Secondly, the Millennial generation, people born in the 80's and 90's has a different consumption concept compared with its predecessors. Generation X, people born in the 60's and 70's are labeled as conservative in consumption and are more accustomed to a more traditional method of spending money. The third factor, which has been neglected by the industry for a long time, is that 51% of Chinese consumers are willing to pay for the service they receive. Fourthly, with the increasing consumptive power in lower tier cities, a nation-wide trend of high-value purchases is becoming increasingly evident. In the years to come, consumption habits between lower-tier cities and upper middle-tier cities will become more alike. Last but not least, a boom in online trading also is contributing to 42% of the consumption increase.
In the next three years, in which specific aspects are Chinese consumers willing to expand their expenditure? According to statistics provided by Alibaba Group, Chinese consumers prefer controlling expenditure in costume at the present stage so they can save money for traveling and vacation. In the near future, they will be more inclined to increase their expense on fresh products. Based on figures collected by Aliyun-Alibaba Cloud Computing, online purchase of fresh products had reached 95 billion yuan in 2016. The figure is predicted to rocket all the way up to 500 billion yuan in 2020. Mr. He stated that 36 million households in China had bought fresh products online in 2016 and this figure is expected to be at least doubled by 2020.
Later in his speech, all the guests present got a deeper understanding of how big China's produce market is by Ray's introduction to successful cases of imported fresh products on Tmall. In 2016, Chilean cherries were favored across China. Consumer packages of Chilean cherries, 1kg and 2kg, witnessed a robust sale on Tmall. In response to Chile being the top fruit exporter to China, Mr. He who has been to Chile personally expressed that Chile, a nation boasting a high level of agricultural industrialization, qualified fresh products and effective marketing tools, deserves this reward. On the day of the double 11 sales event in 2015, 1.2 million pieces of Washington apples had been sold on Tmall in just 24 hours, thus breaking the previous Guinness World Record. A broadcast for Washington apples streamed live on Tmall on November 11 last year, another double 11 sales event, saw 80,000 netizens joining in the show, even though it was broadcasted late into the night due to the time difference between China and the U.S.  "Nowadays, almost every live fruit broadcast streaming on Tmall attracts at least 1 million viewers." Mr. He added.
Regarding what new retail is, Mr. He said "In the past, retailers didn't know what consumers favor, what brand they prefer, which film they would like to watch and when they go to bed, but now we have all the information we could ever need at our fingertips. It seems to me that new retail means consumers and retailers can learn more about each other with the help of emerging technologies."
Assisted by its apps such as Alipay, Auto Navi Map, UCWeb, Aliyun, Cainiao Logistics, Alibaba group is able to outline its users, identifying their hobbies and interests, on the one hand, measuring their purchasing capacity on the other hand. "Alibaba Group retains around 450 million consumers visiting its websites or using it apps every month. Each user opens Alibaba's apps seven times a day, browsing 19 pieces of goods on average. After 11:00 p.m. every day, there are still 70 million users hanging out on Alibaba's apps searching for the goods they want. In 2016, around 30 billion parcels have been delivered by Cainiao Logistics." Mr. He said proudly.
When approaching the end of the talk, he concluded that "Rapid technological progress has driven the enhancement of China's retail industry, resulting in the change we see in Chinese consumers. This evolutional process is totally distinct from that of any other country. China is stepping into a new retailing era. It is meaningless to perceive China's retail industry and Chinese consumers against the backdrop of other nations' experience. "
Image sources: PMA
Upcoming Events
October 19, 2023

to

October 21, 2023
Produce Marketplace
Elangeni Food Group

·

South Africa

Universal Capital Gr

·

Ecuador

AGRI GATEX LIMITED

·

Africa
Joshua Lim

·

Malaysia

City fresh fruit co.

·

Thailand

Chun lin orchard-Sel

·

Taiwan nan
China Market Access List