You are here
Back to top
Thai Fruits Enter Chinese Market with Intense Thai Flavor
July 29, 2015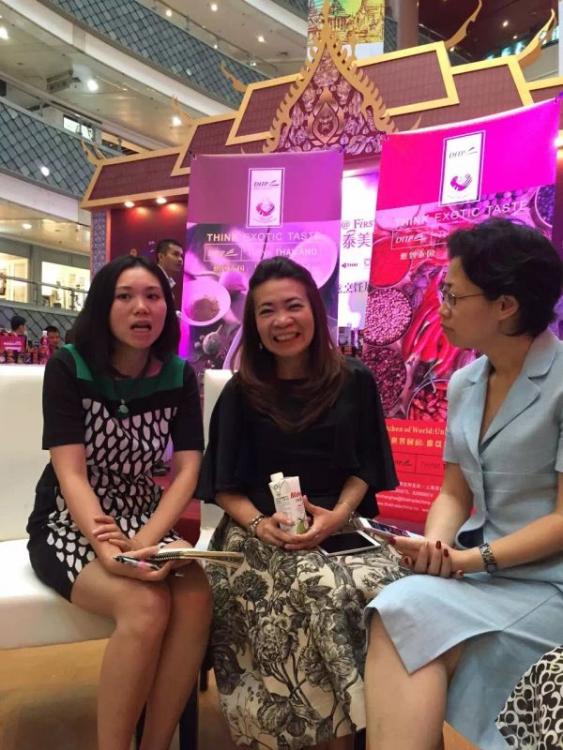 On the afternoon of July 23, in order to celebrate the 40th anniversary of the establishment of diplomatic relations between Thailand and China, the Royal Thai Consulate-General in Shanghai held a creative cooking show with Thai ingredients called "Fall in love at first taste with delicious Thai food" on the third floor of Golden Avenue at the Super Brand Mall. The sponsors included the Thai International Trade Promotion Center Shanghai Office, BOI Shanghai Office, the Ministry of Agriculture and Cooperatives of Thailand office in Shanghai, the Thailand Tourism Bureau Shanghai Office, Thai Airways International, and the Chia Tai Group.
As one of the media invitees, Produce Report was very fortunate to have the opportunity to interview Lady Buniga Chamsai, Director of the Commercial Consul, Office of Commercial Affairs, Royal Thai Consulate-General. During this interview she learned about how Thai fruits have recently entered the Chinese market with intense Thai flavor.
Lady Buniga Chamsai explained how China is still the largest importer of Thai fruits, and the value of Chinese imports has reached as high as 60% of Thai exports. In 2015, there were 23 varieties of imported fruits sold on the Chinese market. The newest variety is the wax apple. After receiving approval from the General Administration of Quality Supervision, Inspection and Quarantine of the People's Republic of China (AQSIQ), exports of wax apples from Thailand to China began on July 1, 2015.
It is not only the variety but also the full season of Thai fruits that Chinese consumers favor, not to mention their freshness, quality, and high nutritional value. Fruits such as durian, longan, mangosteen, pomelo, and mango are expected to have strong sales in China. The goal of the various events held at the Super Brand Mall over the five days was to allow local residents to experience the exquisite taste of Thai food.
As the attendees were delighted to discover, many of these Thai fruits can also be used to prepare a broad and delicious range of dishes and desserts. Mango sticky rice with coconut juice, fruit salad, and pineapple fried rice are the most popular desserts. Visitors had the chance to taste Thai fruits at the activities organized by the Thai official departments at City Shops and Carrefour in Shanghai. So let Thai flavor be a part of everyone's appetite!
Thai juice is another product to be exported to China. Exports of Thai juice soared by 300% compared with last year. One of the most popular juices is the natural green coconut water, which is renowned for its heat-clearing and fire-purging properties.
Lady Buniga Chamsai stated that the long stem (gan yao) durian currently appeared to be in excess demand on the market, even though it is an expensive premium product. From May to September annually, the Thai mangosteen and mango are in season, creating great market potential for this produce. During the hot season, whether one is in a comfortable air-conditioned room or under the blazing sun, nobody can resist fruit or juice as a weapon to quench their thirst. One such choice is the tart and crisp green mango, which, although it is not as well known as the sweet mango or yellow mango, has a unique taste and health benefits. Therefore, its presence on the market is highly recommended. Thailand also has a type of banana known as the egg banana, which is slim and small with mellow flesh. This cultivar is expected to launch on the Chinese market in the near future.
It is evident that there is a huge business opportunity for Thai fruits on the Chinese market. Unfortunately, some vendors have tried to take advantage of this with a negative effect on the overall industry, namely by falsely marketing their produce as Thai fruit. The question then arises as to how this fake fruit might be distinguished. Lady Buniga Chamsai described how one should pay attention to the time of year for seasonal fruits such as gan yao durian. As this premium variety is only available in June and attracts extremely high prices, if it is purchased outside of June, or at a low price, it is likely a fake.
She also reminded everyone that they should pay close attention to keeping the fruits fresh. They should store the fruits in a refrigerator and only leave them outside for limited periods. Fruits stored at room temperature or higher can go bad quickly because the succulent flesh is easily oxidized.
Finally, Lady Buniga Chamsai pointed out that Thai fruit imported into Shanghai Port is done mostly by air. However, the establishment of the Shanghai Free-Trade Zone and the point-of-entry inspection and quarantine have opened up new opportunities. Some of the major exporters, such as Thai Farm Fresh, will establish companies in the Free-Trade Zone in order to benefit from the preferential policies there.
Featured Produce
Produce Marketplace
Elangeni Food Group

·

South Africa

Universal Capital Gr

·

Ecuador

AGRI GATEX LIMITED

·

Africa
Joshua Lim

·

Malaysia

City fresh fruit co.

·

Thailand

Chun lin orchard-Sel

·

Taiwan nan
China Market Access List