You are here
Back to top
Starting from scratch, Introducing Aussie nectarines to Shanghai importers
October 14, 2016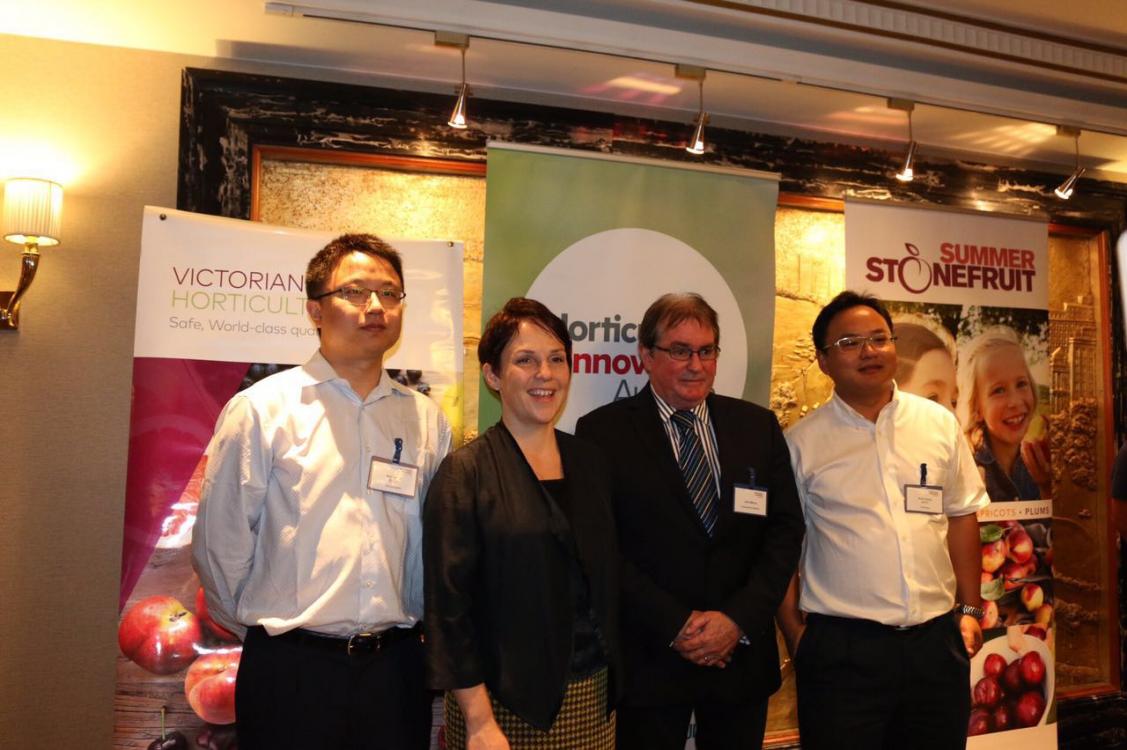 Following the signing of a new export protocol, Horticulture Innovation Australia and the Victorian Government showcased the Australian nectarines at a special event in historic Fairmont Peace Hotel in Shanghai. The event provides the opportunity for guest of honor, Victorian Government Minister for Agriculture Jaala Pulford, to launch new season Australian nectarines into China.
According to Summerfruit Australia Limited CEO John Moore"At this stage, the list of packing firms and the orchards, which are allowed to China have not been released yet. We have already sent the list of growers and exporters who showed the interests of exporting to China to AQSIQ. In the next month the process will be finished and we will have the name of the companies who succeed in approval. Afterwards, importers can contact with the registered people in mid-of October."
Australian nectarines are renowned for their delicious flavor, and they are packed with vitamin C, potassium and dietary fiber –things that are expected to be very attractive in Chinese market. Minister Pulford said "Australia's strict bio-security measures and stringent safety controls at all stages of supply chain also makes our produce very popular. Fruit Flies had always been the concern of the Australian's nectarines entrance into China. Therefore, Victoria Government worked really hard on tackling this problem by raising funds and instructing farmers. After years of hard work, the problem has been remitted apparently."
World exports of Australian nectarines reached a total of $15.4M in 2015, and more than 5000 tons. The top three markets for Australia's nectarines in 2015 were: Hong Kong at $7.75M, the United Arab Emirates at $3.95M and Singapore at $870,000. The high acceptance in Hong Kong shows the potential of nectarines in mainland. In addition, Chinese has a tradition of eating peach products including nectarines especially in significant festivals. Peach products mean longevity to Chinese. Chinese importers are considering launching gift-package to cater the market during spring festival. Thus, Chinese importers hold a positive attitude toward the market of Australian nectarines in China.
Nectarines will attract a 6 percent tariff into China, falling to 4 per cent on January 1, 2017 after work from the Australian Government to secure the China-Australia Free Trade Agreement. After a further fall to 2 per cent in 2018, the tariff will be eliminated from January 1, 2019.
Unfortunately, due to the Australian nectarines off season we tasted China's nectarines in stead of Australian's on the site. While, because of the off season effect that also gives a great opportunity to Australian nectarines. CEO of T&G in China Ignacio Smith said " Australian nectarines will spot a gap in the China's market during the prime time – spring festival. And there will not be any other peach products to compare with." But he also pointed out "Chilean nectarine was also in the process of signing export protocol with China and Chile has already achieved the zero tax, which will be a huge challenge for Australia's in the future." Actually, Chinese nectarines were also permitted to export to Australian market and Chinese exporters had meant to export a container of Chinese nectarines to Australia in July. However, due to the continuous of heavy rain the plan was suspended.
China has been the single largest market for the state of Victoria. The government and the growers are well-prepared for getting into full swing of best quality nectarines in late October. Australian nectarine can be divided into two varieties. One is white and the other is yellow. White nectarine tastes sweet and yellow one tastes sour. According to the survey of Chinese consumers done by the government of Victoria, northern people prefer yellow nectarine with sour flavor while white nectarine is more easy to be accepted by southern people. It is probably because of the different diet habits. Therefore, exporters will select different nectarine according to the locations.
Upcoming Events
October 19, 2023

to

October 21, 2023
Produce Marketplace
Elangeni Food Group

·

South Africa

Universal Capital Gr

·

Ecuador

AGRI GATEX LIMITED

·

Africa
Joshua Lim

·

Malaysia

City fresh fruit co.

·

Thailand

Chun lin orchard-Sel

·

Taiwan nan
China Market Access List