You are here
Back to top
Pagoda Accelerates International Sourcing
January 17, 2017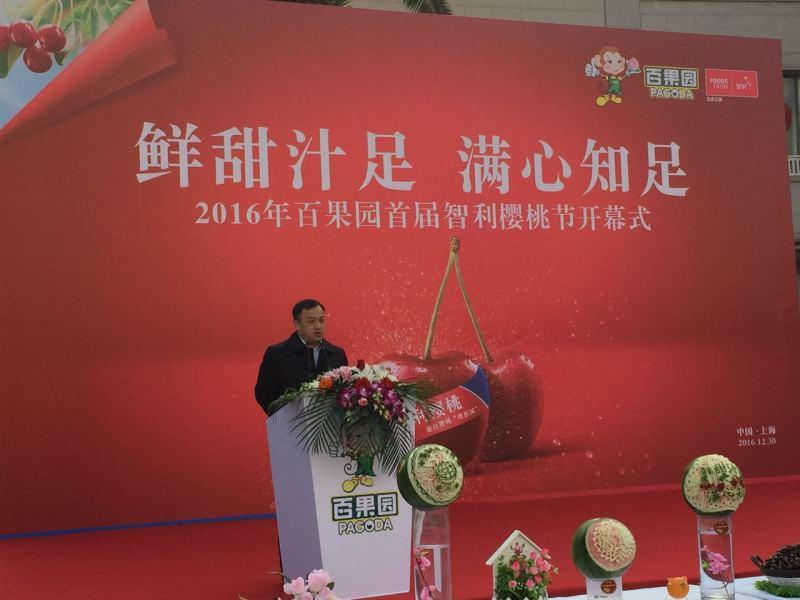 With the ever-increasing number of middle-class people in China, diversified varieties of fruits are popular in the Chinese market. High-quality imported fruits which were unaffordable decades ago are quickly gaining favor. Pagoda, the largest independent fresh produce chain in the world, is following the trend by bringing more premium imported fruits to Chinese consumers. At the event of the 1st Chilean Cherries Festival, held jointly by Chilean Cherries Committee and Pagoda on 30th Dec 2016, Mr. Zhu Qidong, General Manager of Commodity Center, Pagoda, announced that it is committed to introducing the world's leading fruit resources while continuing to  search for the best fruits globally. 
Producer Report was very fortunate to have the honor of interviewing Mr. Zhu on the scene.  Mr. Zhu explained his thoughts on Pagoda's strategy of international procurement.
Business trips to nineteen countries with an accumulated air mileage of 400,000 km
In addition to being the head of Commodity Center, Mr. Zhu is also the manager of International Procurement Department. Mr. Zhu implied that being the leader of the latter was a big challenge. He stated that he had made business trips to nineteen nations including America, Chile, Canada, Mexico, Australia, New Zealand, South Africa, Italy, Japan, South Korea, Thailand, Malaysia, Vietnam and some other countries with an accumulated air mileage of 400,000 km this year. Among the nineteen nations visited by Mr. Zhu, Pagoda succeeded in developing trade ties with eighteen of them. Based on all these efforts, it was a fruitful year for Pagoda's international procurement. As a result, sales of imported fruits amounted to 49% of total fruit sales at their store in 2016, a steady 2% increase over the last year.
Furthermore, Pagoda was quite clear about what to purchase and had a high expectation on quality, so the firm chose to reach out directly to those suppliers who have self-owned orchards and packing plants instead of solely depending on agents to make deals. By doing this, the company also sent a clear message to the suppliers that quality always a major concern for Pagoda. Some of Pagoda's best sellers during this season like cherries and blueberries from Chile, grapes from South Africa, oranges from America and avocados from Mexico were all imported in this manner.
Direct Purchasing- the priority among priorities
Direct purchasing, as one means of international procurement, is much more challenging than general international procurement and requires a higher input in human resources, capital and time cost. Fox example, Pagoda's purchasers were based in Chile for two months to ensure the quality of the cherries that were destined for China. "But in consideration of the reward, all these investments are worthwhile." Mr. Zhu told us. By joining hands with qualified global partners, Pagoda can gain access to primary sources of quality fruits with stable supplies. It was reported that direct purchasing of Chilean cherries this season had accounted for 33% of total Chilean cherry purchases. The percentage will be even higher in the years to come.
Among all fruits imported this year, 20% of them were purchased directly by Pagoda from their places of origin, a small leap over the last year's figure-6%. Surprisingly Pagoda's goal for the near future was far beyond our expectations.  Mr. Zhu said that Pagoda intends to raise this figure to 60%-80% in the next five years. Mr. Zhu also told Produce Report that Pagoda had already begun work to ensure the success of this goal. In addition to going head first in the search for ideal products from around the world, Pagoda is also willing to develop trade ties with all potential partners by small orders in the initial phase of collaboration. The mutual adaptation in the earlier stage of collaboration can be a sound foundation for the long-term cooperation. Regarding human input, there will be a threefold increase in the headcount of the International Procurement Department, so more employees will be assigned to the products places of origin to ensure the highest quality of the products that are destined for China.
Pictures: MZMC
Upcoming Events
October 19, 2023

to

October 21, 2023
Produce Marketplace
Elangeni Food Group

·

South Africa

Universal Capital Gr

·

Ecuador

AGRI GATEX LIMITED

·

Africa
Joshua Lim

·

Malaysia

City fresh fruit co.

·

Thailand

Chun lin orchard-Sel

·

Taiwan nan
China Market Access List